Celebrating Diversity
TCOP and TouroCOM Harlem Students Participate in 7th Annual Multicultural Day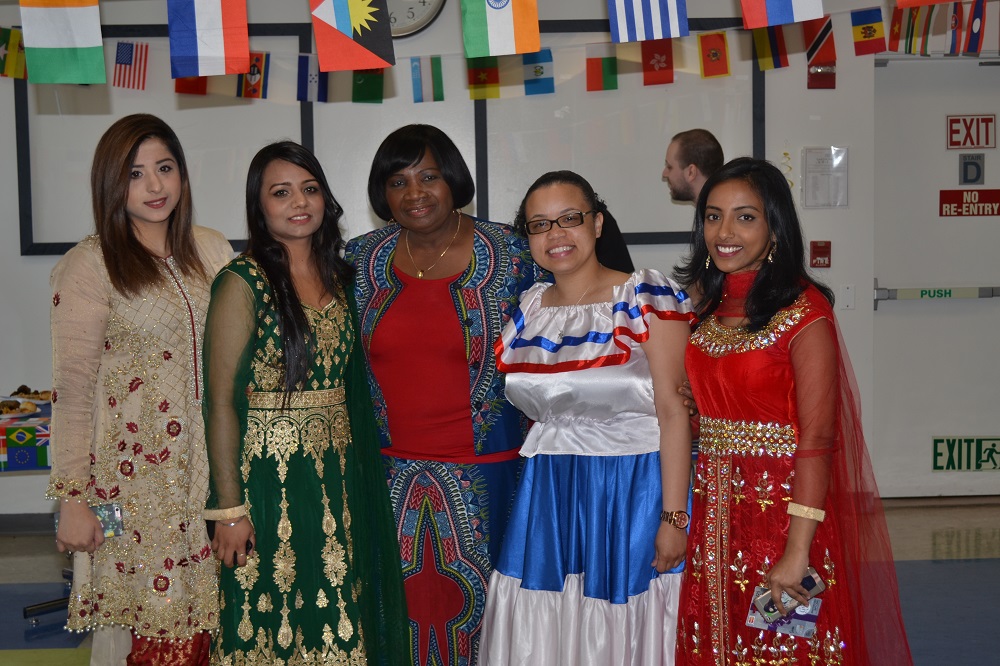 TCOP celebrated its seventh annual Multicultural Day on April 23.
Touro College of Pharmacy students had a chance to experience different cultures in the best way possible: by sampling the foods of their diverse classmates.
On April 23, students from TCOP and TouroCOM Harlem participated in TCOP's seventh annual Multicultural Day. The event, run by TCOP's Student National Pharmaceutical Association (SNPhA), featured a variety of home-made dishes from students in the programs. Dishes included jerk chicken, Haitian pork, Spanish rice, Indian rice, Korean chicken, empanadas and baklava to name a few. The event also featured a fashion show, where students dressed in their native garb gave an interesting fact about their homeland.
(Among the facts shared: Christopher Columbus is buried in Puerto Rico. St. Lucia has an active volcano. Grenada is known as the Island of Spice.)
"A lot of students don't know how diverse our student body really is," stated P1 and SNPhA member Merigme Sadiku whose family hails from Albania and who brought in delicious home-made baklava. "Having everyone bring in a dish is a delicious way to raise awareness."
Participants in the fashion show included students from St. Lucia, Puerto Rico, Bangladesh, India and Pakistan. P1 Patria Clauzelma, who hails from St. Lucia, won first place and received a $100 gift card.
TCOP SNPhA president-elect P2 Tracy C. George dressed in an outfit emblazoned with her home country, Grenada. "This is a great way to bring together all of the Harlem community for our Multicultural Day," she said. "We have almost every ethnicity in TCOP and we believe in creating unity through our diversity."
"This is an opportunity to celebrate our diversity," said TCOP professor Dr. Joyce Addo-Atuah, the faculty advisor to SNPhA. "This year's celebration takes on an additional significance because it is not just the student organizations promoting the event but TCOP as a college, is using this event, as proud members of the United Nations Academic Impact (UNAI) program, to meet our obligation to organize at least one event every year to demonstrate our commitment to support the UNAI Principle #10: Promote inter-cultural dialogue and understanding, and the 'unlearning of intolerance through education."
TouroCOM-Harlem Dean Dr. David Forstein also joined the program. "We've got an incredibly diverse student body and faculty and it's great for everyone to celebrate their community and their heritage and do that while we all come together," he said.
Touro College of Pharmacy Dean Dr. Henry Cohen added that "Multicultural Day is not just fun, with food, music and fashion, it also reflects our values; the importance of cultural competency and caring for under-served populations."