Fighting Infectious Disease
Making a Difference in the Lives of Those Touched by Ebola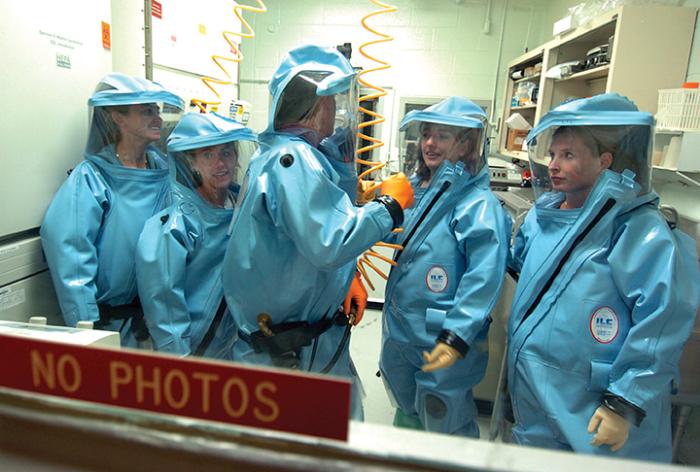 Professor Kathleen DiCaprio, second from left
The 2014 outbreak of Ebola in West Africa, the most widespread in the history of the virus, has evolved into one of the gravest and most urgent medical concerns of our time. At Touro's Colleges of Pharmacy (TCOP) and Osteopathic Medicine (TouroCOM), professors are sharing with students their knowledge of and experiences with this virus, both clinically and via secondary research. Their goal? To publicize the importance of identifying precautions and seeking treatments for infectious diseases such as Ebola, and to inspire future healthcare leaders to pursue research in the field.
A Fondness for "Bugs" at the College of Osteopathic Medicine
On the first day of Microbiology and Immunology class at TouroCOM, Professor Kathleen DiCaprio, Ph.D., flashes a photo on the lecture screen of herself in what she calls her "blue space suit," along with some powerful images of Ebola's lethal impact. Ten years ago, Dr. DiCaprio worked at the U.S. Army Medical Research Institute of Infectious Diseases, where she researched the Ebola virus in a BSL-IV lab, one of a handful in the world at the time.
There she and the team that she was part of developed a potential Ebola vaccine proven to work with monkeys. "When my students first see this photo and hear my story, their mouths drop. They aren't expecting this at all," says the diminutive five-foot, 98-pound, Dr. DiCaprio.
"I describe what it is like to work in the field as a young researcher in my specialty of microbiology and infectious disease. After this kind of introduction, I have their attention for the rest of the year." Dr. DiCaprio loves teaching and watching her students grow excited about what she fondly calls, "bugs," aka bacteria, viruses, parasites and fungi. "Infectious disease is the one subject that is part of every medical specialty out there -- surgeons worry about sepsis, pediatricians worry about ear infections."
The vaccine that Dr. DiCaprio helped to develop, rVSV-EBOV, which was found to be 100% protective in primates, eventually was held up in the approval stages for use in human subjects. "Back then, Ebola wasn't impacting large groups of people or geographic areas," says Dr. DiCaprio.
"As a young scientist, I was impatient. I wanted to keep working to help people." Dr. DiCaprio made a career move into education where she could devote her passion and energy to teaching and inspiring future doctors and researchers. "There are so many people in the field of infectious disease doing great work. I am honored to be teaching future healthcare leaders here at TouroCOM."
Today things have come full circle. While working as a young researcher, Dr. DiCaprio had imagined a severe outbreak similar to the current one in West Africa. Now the rVSV-EBOV vaccine is undergoing testing on people, to see if it can prevent Ebola's spread. "It had been sitting on the shelf for years," Dr. DiCaprio said. "I'm happy to have been part of something that might help."
Looking at Patterns and Triggers at the College of Pharmacy
Faculty members and students at the Touro College of Pharmacy have been investigating ways to shift the medical community's response to Ebola from reactive to proactive by exploring novel treatments and precautionary measures.
The article, "Exposing the Origin of the Ebola Outbreak: Urging for a Shift in Response from Reactive to Proactive," authored by Assistant Professors Priyank Kumar, M.S., Ph.D. and Paramita Basu, M.S., Ph.D., as well as third-year students Arooj Akhthar and Eyerusalem Befkadu, was published in The American Journal of Infectious Diseases and Microbiology in November 2014. The article analyzed a range of influencers in the transmission and spread of the virus.
For Dr. Basu, the fear that developed in response to last year's Ebola outbreak was surprising. "I expected this level of worry in some settings, but here in the West where there is access to good healthcare and antibiotics, the amount of fear in the community was unexpected." Among the goals of this research was to identify ways to improve early screening procedures and to monitor and control infections through healthcare worker training. "Our research examined methods for communicating to at-risk populations and the ways these groups could minimize their risk of infection by modifying certain behaviors and practices."
For Dr. Kumar, some of the findings related to Ebola's spread were intriguing. After examining the dynamics of transmission and the impacts of community size and location in the spread of the virus, the team explored the underlying patterns of outbreaks and possible triggers. Among them: lower temperatures, high humidity, seasonal shifts, deforestation, porous borders and micronutrient deficiencies in populations. "I was surprised to see how the virus spread to other countries because of porous borders," says Dr. Kumar. "This finding made me look at the outbreak in a way that I hadn't before. As the world is made smaller through increasing connectivity, it is important to shift methods to deal with infectious diseases from reactive to proactive, to prevent future global epidemics."
Side Note: Treatment in Site
In August 2014, after participating in an Ebola forum at the United Nations, Haregewein Assefa, associate professor, Touro College of Pharmacy, felt inspired to apply her knowledge of anti-infective agents, mainly antibacterials and antimalarials, to the discovery of agents that could be used for the treatment
of Ebola.
Through a comprehensive review of existing research, Professor Assefa's goal was to identify a starting point from which scientists could pursue discovery of Ebola virus disease therapeutic agents. The review, which appeared in the Journal of Pharmaceutical Sciences and Pharmacology in 2014, assesses the efforts that are currently underway in discovering molecules that can potentially be used to treat Ebola virus disease. Says Professor Assefa, "One molecule that appears to be promising is Favipiravir. This drug is being studied for its efficacy in Ebola patients and initial results show that it may help in the early stages of the disease."
This article appeared in the Spring 2015 edition of Touro Links