"It's a Defining Moment"
TCOP's Class of 2021 Don White Coats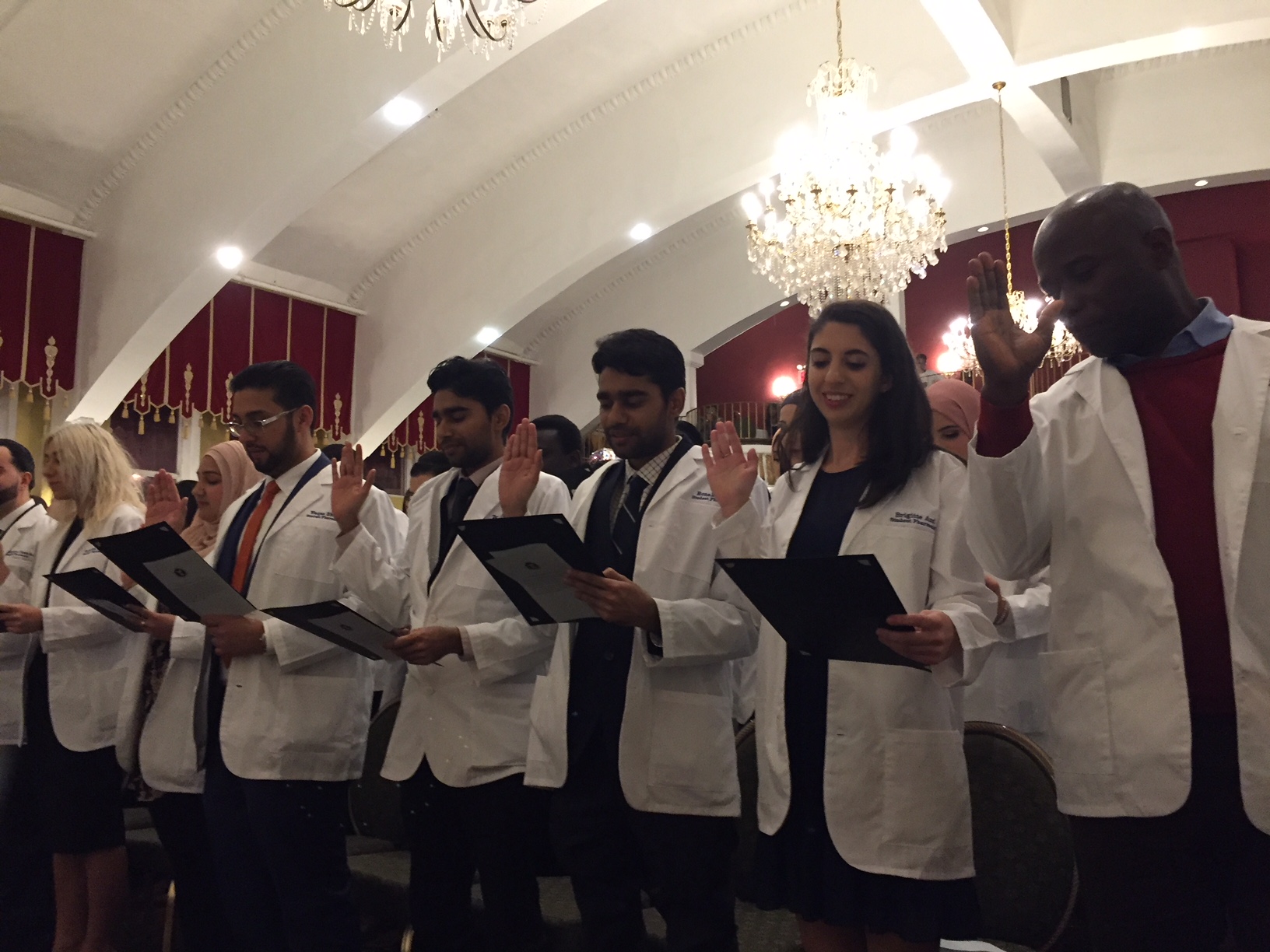 TCOP's class of 2021 donned their white coats on Nov. 16.
On Nov. 16, 68 first-year TCOP students donned their white coats for the first time, symbolically marking the start of a new chapter in their lives.
During his opening remarks, Dr. Henry Cohen, dean of TCOP, noted the illustrious history of the Alhambra ballroom where the ceremony took place. Decades ago, the luminaries of Harlem's jazz scene—musicians like Billie Holiday, Jelly Roll and Bessie Smith—created the template for the American sound. Dean Cohen spoke about the essential role of dedication in both art and scholarly pursuit. With pharmacists assuming new roles in the medical field, Dean Cohen said that the world was open to the new pharmacists. "Whatever path or role models you choose, we are proud of you," he said.
Patricia Salkin, Provost of Touro's Graduate Studies and Professional Division, urged the students to remember the Touro mission as they began their studies. "Remember our mission is to serve those that are underserved," she said. "People will always need education and access to healthcare. We take this mission seriously and so do you."
TCOP Assistant Dean Ronnie Moore spoke about the significance of the ceremony which began for pharmacy students in 1995.
"By donning your white coat you are now members of a highly trained group of individuals who have devoted themselves to the healing art," he explained. The coats marked the "formal initiation of our students to formal academic training."
Keynote speaker and TCOP professor, Dr. Lawrence Mokhiber, spoke about the changing and ever-expanding role pharmacists have in the medical field, including roles in immunization and drug development.
"In the coming years, pharmacists will be given new responsibilities and new roles; we won't have to ask for this, they will be given to us," said Dr. Mokhiber.
Dr. Mokhiber also spoke about the importance of innovation in the medical field.
"The real innovation comes from the ground-up," he said.
The evening concluded with a video presentation of the new students made by their elders, the class of 2019, followed by the recitation of the Oath of a Pharmacist.
Charles Sullivan, an affable former pharmacy technician, spoke for many of his colleagues when he explained. "I feel like I've finally reached the place I wanted to be."
Garima Dixit, who moved from India to Flushing seventeen years ago, struggled to define what putting on her white coat meant to her. "It's somewhat indescribable," she laughed. "It's really rewarding to get to this point, but at the same time it makes me want more."
Students and new friends Ran Fontenelle and Aleksandra Spektor posed for a photograph together.
"It's a defining moment," Fontenelle said about donning his white coat. "But it's also another beginning," Spektor quickly added.