Pharmacy Class of 2020 Don White Coats
An Emotional Day for the 85 Students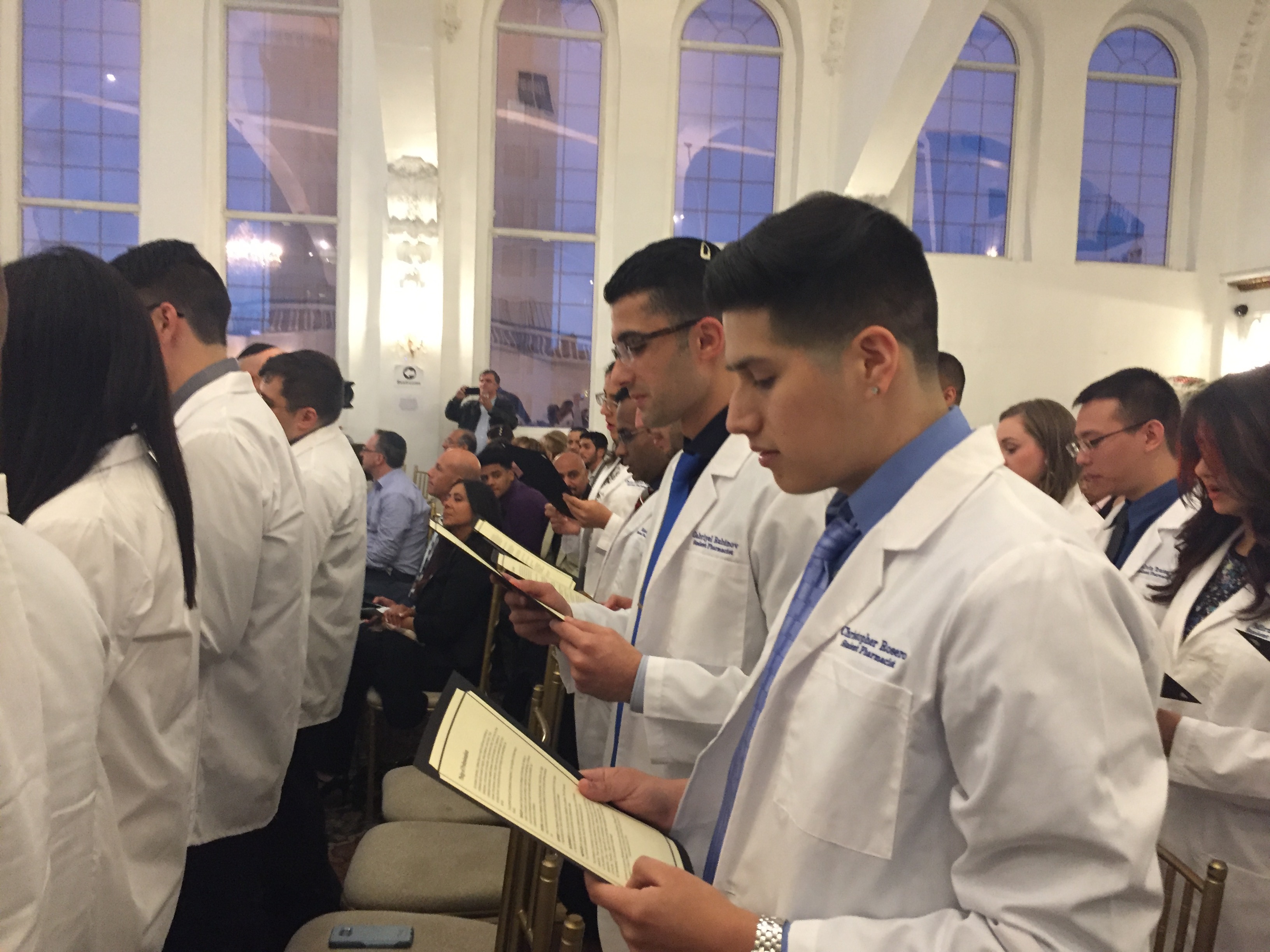 Members of Touro College of Pharmacy Class of 2020 recite the Oath of a Pharmacist during their White Coat Ceremony at the Al Hambra Ballroom in Harlem on Sept. 29.
Donning their white coats for the first time was an emotional experience for the eighty-five students of Touro College of Pharmacy's (TCOP) Class of 2020.
"I feel like it's a step in the right direction," said Rasheem Jones who, together with his classmates, received his white coat on September 29 at the Alhambra Ballroom in Harlem.
Others, like Anthony Gyamfi, were humbled by their newfound responsibilities.
"[Donning the white coat] is a recognition that we must strive to be our best," he said. "Everything has come to this point." Next to him, his friend Gloria Brobbey said that she was proud of him. "It's always been his dream," she added.
For the pharmacy students, the White Coat ceremony is a significant marker in their journey towards becoming full-fledged pharmacists. The ceremony was held seven weeks after their orientation.
Some students, like Lin Lin Lam and Shoa Javaid, knew they wanted to be pharmacists since high school—both spent time volunteering in local pharmacies. Other students, like Ryan J. Wolfe and Virleny Garcia, managed successful careers—Wolfe as a software developer and Garcia as a pharmacy technician—before deciding to join the ranks of the medical profession.
"It's a huge step for me," said Garcia. "I'm so grateful to be here."
The evening began with opening remarks by Dr. Henry Cohen, Dean of Touro College of Pharmacy. Dr. Cohen explained that the white coat is a symbol of professionalism and the high expectations Touro, and the profession, has for them. "You must adhere to the highest moral and ethical standards," he said. "You must be kind and caring to those you treat and focused on improving patient outcomes."
The invocation was delivered by Rabbi Baruch Fogel, of Touro's Office of College Affairs, followed by a short speech by Touro College Provost Patricia E. Salkin. The significance of the white coat was explained through a stirring oratory by Roopali Sharma, Pharm D, Associate Dean of Assessment for Touro College of Pharmacy. She urged the future pharmacists to allow their new responsibilities to infuse different areas of their lives, from their dress to their speech.
"Create a culture that fosters the development of professionalism," she advised. "Commit yourself to the standards of professionalism in all you do… Always act with respect, honesty and integrity."
After she concluded her speech, the students stood to receive their white coats from faculty members and then recited the Pharmacists' Oath.
"It feels great," stated Valerie Atong, who moved from Georgia to attend Touro College of Pharmacy. "Today is the foundation of the rest of my life."
It was also an emotional experience for friends and family that journeyed across the state to witness the ceremony.
Palak Golwala of New Hyde Park, NY, was there for her brother, Aalap.
"He's worked so hard and he's been such a mentor to me," she said. "I'm really proud of what he's accomplished and what he will accomplish."
"I feel very proud of my daughter," said Javid Setareh, whose daughter Chana Setareh Shenas is a member of the 2020 class. "She worked very hard to get here."