TCOP Holds Day of Service for Harlem Seniors
Community Members Visit Campus for Day Devoted to Healthcare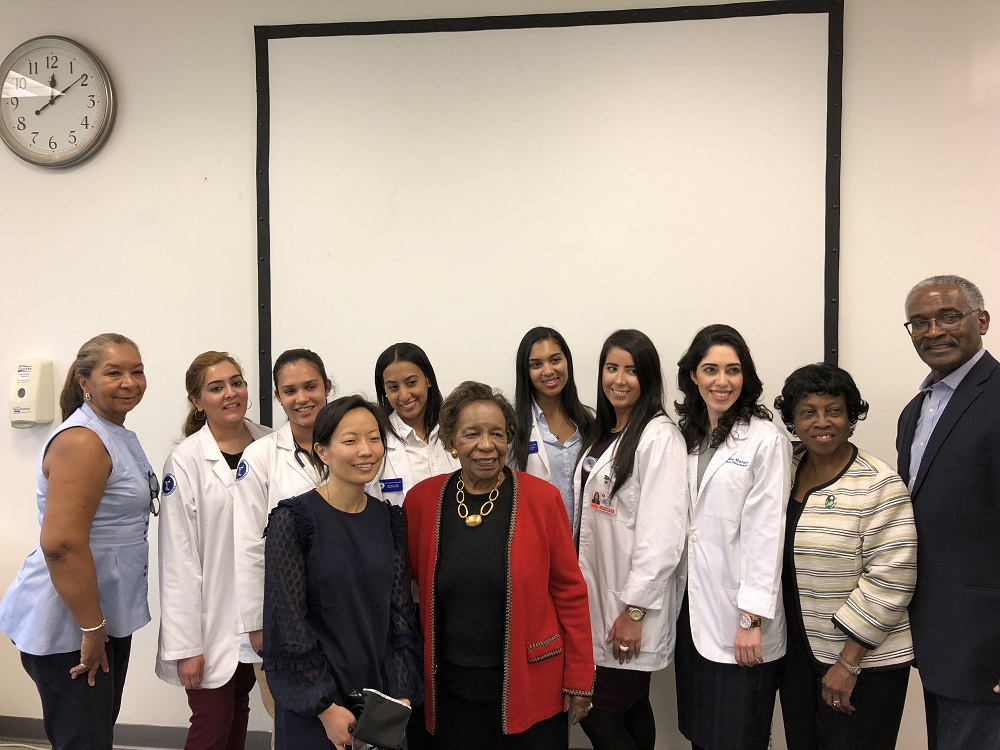 A group of 60 Harlem seniors visited TCOP for a day devoted to healthcare on April 27.
TCOP students welcomed a group of sixty Harlem seniors for an informative day dedicated to health and wellness on April 27.
The visit was partially organized by The Greater New York Chapter of Links, one of America's largest volunteer organization committed to supporting the African American community, as well as several Harlem-based partner organizations. Seniors included members of the Abyssinian Baptist Church and residents of Esplanade Gardens.
Dr. Marcella Maxwell, chair of health and human services of the Greater New York Chapter of LINKS, said that the event was "wonderful."
"Many people keep their prescriptions in their cabinets for too long and don't realize that they need to discard them," said Dr. Maxwell, who was a former dean of Medgar Evans College. "Our seniors had an opportunity to meet with medical and pharmacy students one-on-one and have their prescriptions evaluated."
Dr. Ruth "Cookie" Jean, a retired pharmacist whose 40-year career included stints as pharmacy manager at New York Presbyterian, was also involved in the visit.
"Everyone had a good time," said Dr. Jean. "Our seniors were able to talk to pharmacy students about other issues as well: like how their medicines interact, depression and the importance of exercise. It was a win-win for both of us—our seniors received medical advice and the students received vital training. Our seniors and the students came together as a group."
TCOP Dean Dr. Henry Cohen opened the event, welcoming everyone and describing how events like this are an important part of TCOP's mission and what Touro stands for.
"The mission of TCOP is to be involved in community health and patient wellness," Dr. Cohen stated.
Dr. Kenneth Rosenblum, TCOP Acting Associate Dean of Student Affairs, spoke of the history of the TCOP building from its genesis as the Jewish-owned department store Blumstein and its role in the civil rights movement and the Harlem community, a legacy of positive community involvement that continues in the school to this day.
Separate tables were set up for different activities. Seniors were able to have their blood pressure, blood glucose levels, and bone density measured during the event and provided with an explanation for the results. Pharmacy and TouroCOM students spoke to individuals about their medications and possible side-effects and complications. One table was devoted to discussing the benefits of exercise.
Harlem-resident Rosa Smith talked with a P3 about exercise and the diet sodas she drinks. (She was happy to know she could continue drinking diet soda, though the student advised moderation.) Senior Clara McNeill found a welcome ear to discuss the egregious cost of her medications. "They cost me an arm and two legs," she said.
Cecillia Small said that she arrived concerned that her medications were interfering with each other until a pharmacy student said that it was a common combination. Lucille Nash, an elegantly dressed women in her seventies, said she enjoyed the event and talked to a pharmacy student about her high blood pressure. Her secret to good health? "I walk and line dance."
Dr. Lillian Kang, TCOP's Director of Student Engagement, coordinated the visit.
"We are not just an entity in Harlem," Dr. Kang explained. "We are connected to our community. And that is important to our mission and objective of our school. We wanted the seniors to have an open dialog and feel welcome."
Dean Cohen stressed the importance of the event, "We got to know the people in our community, and our students got real-world experience. We look forward to building on the relationships we established at this event, and to many, many more years of service to the community."
"We are very happy," said William Hamer, chairman of Harlem Advocates for Seniors, who also helped organize the event. "The students were fabulous. People came with questions and they left with answers."
Hamer added that he felt the event was an exchange of knowledge. "We're big on intergenerational engagements," he said. "Seniors represent a cohort of people who have been in Harlem for decades and have so much wisdom to share."
P3 Lee Ben-David agreed, calling the people she met "inspiring."
"They were so eager to learn," added P3 Emily Reyes.
"Look at all the lives we just reached," said P3 Brianne Weiss, president of the TCOP chapter of the American Pharmacist Association (APhA) that brought several members to the event, "Every time we have these events, we learn about the impact we, as pharmacists, can make."
Several pharmacy students said they were impressed by the close-knit nature of the group they met. "That seems to be why a lot of the women are so healthy. A lot of the women exercise together," said Reyes. "It helps that everything is in walking distance so they can maintain their lives as they age."
Reyes said that the lesson she took from it was to take care of aging complications before they get too serious. "Some people we saw had comorbidities that could have been prevented with better care."
Ben-David added another lesson. "The women looked amazing. Keep dressing fabulously. It keeps you young."