TCOP Honors Graduates and Faculty
Students and faculty receive commencement awards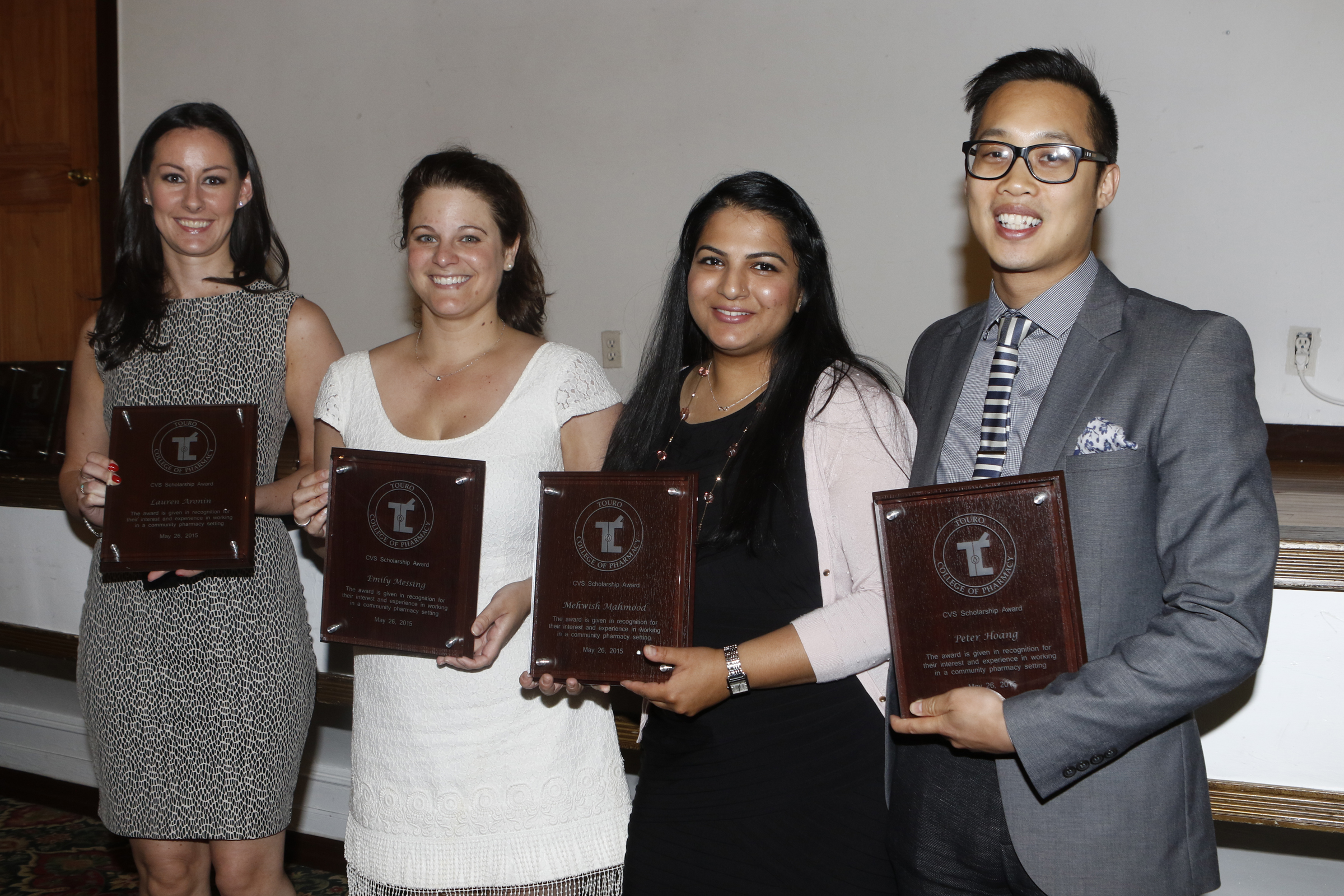 Frpm L-R: Lauren Aronin, Emily Messing, Mehwish Mahmood and Peter Hoang pose with their CVS Scholarship Awards.
On the eve of commencement, outstanding Touro College of Pharmacy (TCOP) graduates, as well as the top students and faculty of the 2014-2015 academic year, were honored at the annual awards ceremony and banquet held at the Alhambra Ballroom in Harlem, New York.
Emceed by Dr. Thomas Cook, assistant dean for academic affairs, the evening included remarks from Dean Zvi Loewy and Dean Michael Escott.
"Tonight, we acknowledge all the hard work and dedication these students put into their pharmaceutical studies, day in and day out, over the past few years," said Dean Zvi Loewy in his welcoming remarks. "We also honor our world-class faculty who have invested a tremendous amount of effort into their teaching and research."
The awards ceremony featured a gourmet dinner and musical entertainment by CrossFire Steel Orchestra (of which TCOP P1 student Arielle Chase is a member).
Congratulations to all the awardees!
Class of 2015 Commencement Banquet Award Recipients
Academic Excellence Award: Victor Chen
American Pharmacists Association, Senior Recognition Certificate: Avanti Kallianpur
Walgreens Diversity & Inclusion Excellence Award: Kingsley Ohikuare
Walgreens Diversity Scholarship Award: Sefa Kploanyi
CVS Scholarship Award: Lauren Aronin, Emily Messing, Peter Hoang, Mehwish Mahmood
Mylan Pharmaceutical's Excellence in Pharmacy Award: Paulina Rozenfeld
USPHS Excellence in Public Health Pharmacy Practice Award: (Presented by Dr. Liatte Krueger, Public Health Service investigator for the U.S. Food and Drug Administration): Colleen Kim
Pharmaceutical & Biomedical Sciences Department Award: Malka Fuzailov
Pharmacy Practice Department Award: Tiffany Murray
Social, Behavioral and Administrative Science Department Award: Ama Marfo
Student Ambassador Award: Kwadwo Korsah
Best Individual Tutor Award: Evet Soliman
Best Group Tutor Award: Emily Messing
SNPhA Outstanding (Past) President Award: Kristina Luo
SNPhA Outstanding (Current) President Award: Kingsley Ohikuare
SNPhA Student Regional Facilitator Award: Olawonuola Abiona (P3)
Capstone Awards: Avanti Kallianpur, Christine Kim, Tiffany Murray, Nidhi Modi, Mohamad Saleh, Philip Villasurda and Stefanie Wong
Student Ambassadors-Student Affairs: Christine Kim, Colleen Kim, Marisol Ibarra, Christine T. Nguyen, Ravi Thakore and Sabrina Truc
American Society of Consultant Pharmacists (ASCP-TCOP) Student Excellence Award: Sabrina Truc
American Society of Health-System Pharmacists-Touro Student Society of Health-system Pharmacy (ASHP-SSHP) Award: Victor Chen
Recognition of Residents Award: Drs. Pavel Goriacko, Harshal Shukla, Christina Ng, Johnny Wong (Montefiore) Shana Jiang (Mount Sinai St. Luke's)
Professor of the Year Award: Drs. Bardia Askari, Haregewein Assefa and Keith Veltri
Faculty Research Award: Drs. Haregewein Assefa, Paramita Basu, Priyank Kumar and Martha Rumore
Faculty Service Award: Drs. Keith Veltri, Nataliya Shinkazh and Deborah Williams
Faculty Preceptor of the Year Award: Dr. Keith Veltri
External Preceptor of the Year Award: Dr. Peter Lao