The Menace of Counterfeit Medicines
TCOP Students Learn About Stopping Counterfeits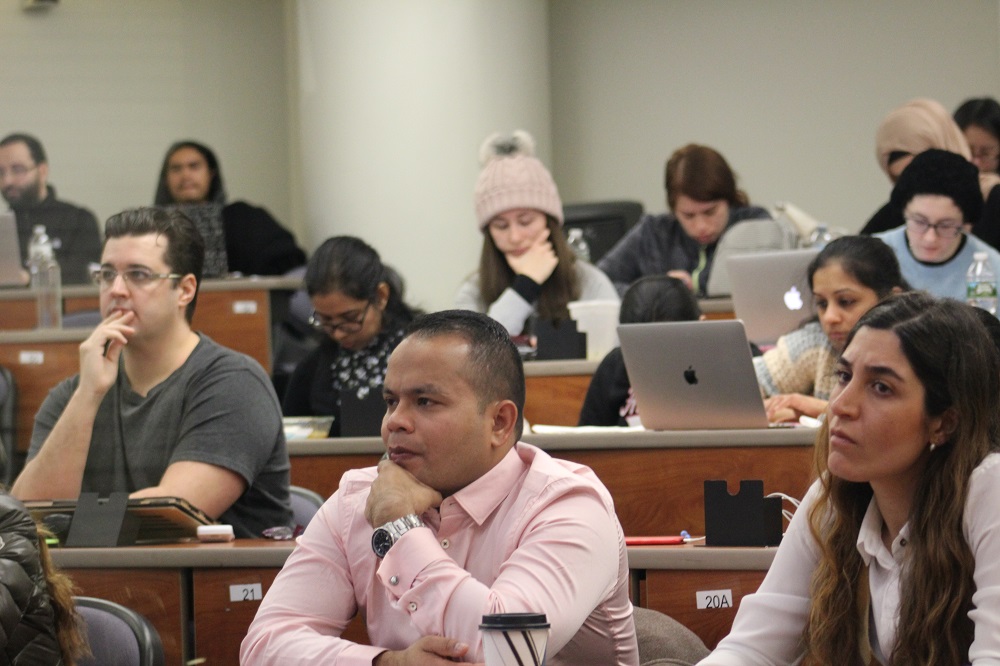 TCOP students learned about combating counterfeit drugs during a lecture on Feb. 5
They can be found in street markets, on unregulated websites and in pharmacies, clinics and hospitals. Often, they are disguised in fake packaging that appears identical to the real thing. They are sold worldwide, though the main sources today are India and China.
Counterfeit medicines make up 10 percent of the global drug market, which was estimated at $1 trillion in 2016 according to the International Federation of Pharmaceutical Manufacturers Association and the World Health Organization (WHO). Yet the greatest burdens fall on low and middle-income countries, where health systems and governance are weak.
"Counterfeit drugs can be toxic and [counterfeiting] is happening everywhere," said Dr. Albert Wertheimer, a visiting professor at Touro College of Pharmacy, who delivered a talk to a packed lecture hall of pharmacy students and faculty on "Identifying and Fighting Counterfeit Pharmaceuticals" on February 5. "Drugs have become an attractive commodity to counterfeit. They are expensive, easy to ship and not fragile," he said.
As defined by the WHO, a counterfeit drug is one that is deliberately and fraudulently mislabeled as to its source and identity. It can have the correct—but wrong quantity of—active ingredients; no active ingredients; or the wrong active ingredients.
North America, Western Europe and Japan account for only 1-2 percent of the counterfeit drug market, yet they account for 80 percent of the global pharmaceutical market, according to Dr. Wertheimer.
How does one fight back? Vigilance by pharmacists, doctors, patients and industry is the best way, according Dr. Wertheimer. Pharmacists need to carefully examine drugs for the slightest variations and have patients report even tiny differences in shapes, sizes, colors, tastes and effects of medications. Anything suspicious should be reported to manufacturers and the Food and Drug Administration, and medications should be bought only from known, reliable sources. Patients whose therapy is failing should buy their drugs from a different source, and the professionals should talk to colleagues about what they are seeing.
Second-year pharmacy student Lori-Ann Foster, who attended the lecture, suggested others have vital roles to play as well. "Policymakers are key players in ensuring that the proper measures are taken to prevent the entry of counterfeit drugs into a country," said Foster, who plans to pursue a career in public health as a pharmacist. "The counterfeit industry is a global entity that threatens lives everywhere. Public awareness and quality control are tools that we can use to empower the masses to identify, report and reject counterfeit products."
Dr. Joyce Addo-Atuah, interim department chair and associate professor at TCOP who organized the event, noted that she is most concerned about the packaging of drugs. While the practice of copying labels and packaging is not new and may be easy with a scanner and color printer, she mentioned that counterfeiters seem to be getting cleverer.
"They are getting more and more sophisticated in copying the packaging of big international pharma companies. Their branded medications are more expensive so the culprits would want to copy these for higher returns on their illicit activities. It's a huge problem," she said.
Dr. Wertheimer agreed that detecting counterfeit drugs has become much more difficult. "Counterfeiters today have mastered making capsules and tablets that are nearly identical in color, shape and weight to the legitimate items even with the correct numbers or letters embossed on the tablet."