TCOP Names COO, Associate Dean for Student Affairs
Prestigious Research Scholar, Educational Leader to Enhance Student Life on Touro College of Pharmacy Campus
Date: August 15, 2018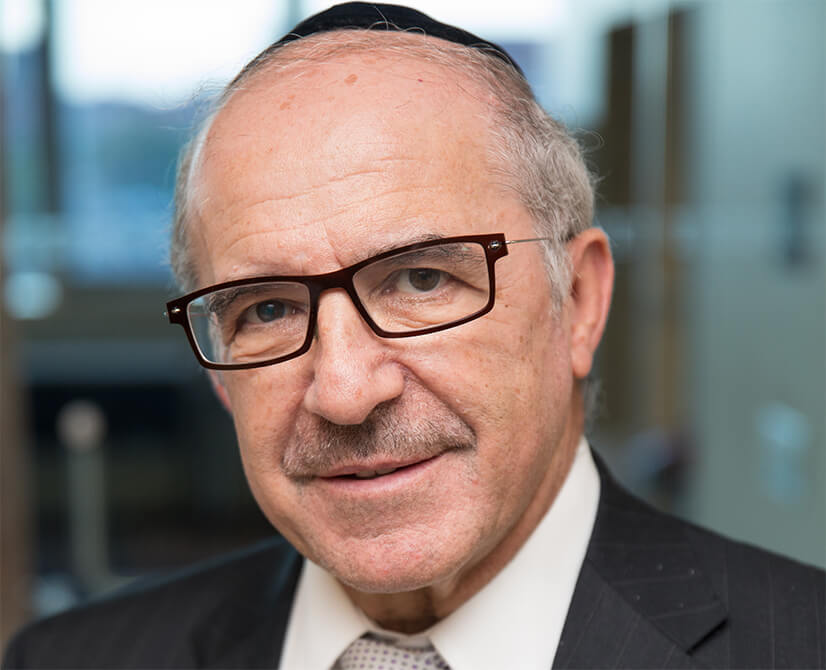 Dr. Abraham Jeger
New York, NY — Dr. Abraham Jeger was appointed Chief Operating Officer (COO) and Associate Dean for Student Affairs at Touro College of Pharmacy (TCOP), Dean Henry Cohen announced today.
Dr. Jeger served at the New York Institute of Technology College for more than 40 years, most recently holding the title of Assistant Dean for Academic Outreach and Site Development, where he formed new and critical partnerships for academic affiliations and developed a vital school-wide mentoring program. He also holds the rank of Professor of Psychiatry and Behavioral Medicine, and has published more than 80 research contributions including journal articles, book chapters and conference presentations.
"The entire TCOP family is honored that distinguished scholar and veteran administrator, Dr. Abraham Jeger, will be joining us as COO and Associate Dean for Student Affairs. His rare combination of decades of higher education leadership, extensive student counseling experience as well as teaching and scholarship in a healthcare setting makes him the perfect choice to help lead TCOP to an outstanding future," said Cohen.
Dr. Jeger earned his Ph.D. in Psychology from the State University of New York at Stony Brook and his bachelor's degree in Psychology from Brooklyn College where he graduated Summa Cum Laude. He has received distinguished awards including a Citation for Rural Medical Education, NYITCOM's Standard of Excellence Award, and the Lifetime Achievement Award from the Association of Osteopathic Directors and Medical Educators.
Dr. Jeger's vast experience in student services ranges from integrating academic resources, psychological support and career advisement to serving as faculty advisor for student organizations, leading student community service activities and outreach programs, directing the clinical clerkship program for third and fourth year students and providing expertise and presentations to faculty and hospital administrators on effective communication and leadership. He is a member of the American Osteopathic Association, the American Psychological Association, and the New York State Psychological Association.
His research focuses on vital aspects of medical education including communication skills for physician leaders and educators and the role of psychiatric educators. He has contributed to numerous initiatives related to addressing student challenges including academic, professional and integrity issues throughout his career, and has coauthored a book, "Community Mental Health and Behavioral Ecology: A Handbook of Theory, Research and Practice," that highlights current topics in community mental health worldwide.
"I am humbled by the confidence, and greatly appreciative of the privilege, to join the TCOP leadership team. I'm especially enthusiastic by the opportunity to collaborate with Dean Henry Cohen, the entire TCOP faculty, its student body and the extended Touro family, as we forge ahead to take the College to its next qualitative leap," said Dr. Jeger.
Touro's College of Pharmacy develops the next generation of pharmacists dedicated to promoting wellness, especially within underserved populations in Harlem and beyond, while also expanding the roles and competencies of the profession to drive improved patient-centered care processes and outcomes.
About the Touro College and University System
Touro is a system of non-profit institutions of higher and professional education. Touro College was chartered in 1970 primarily to enrich the Jewish heritage, and to serve the larger American and global community. Approximately 19,200 students are currently enrolled in its various schools and divisions. Touro College has 30 campuses and locations in New York, California, Nevada, Berlin, Jerusalem and Moscow. New York Medical College; Touro University California and Touro University Nevada; Touro University Worldwide and its Touro College Los Angeles division; as well as Hebrew Theological College in Skokie, Ill. are separately accredited institutions within the Touro College and University System. For further information on Touro College, please go to: www.touro.edu/news