A Healthy Dose
Touro College of Pharmacy Jabs Land a Healthy Punch in Leading a Community-Wide Vaccination Effort
July 14, 2021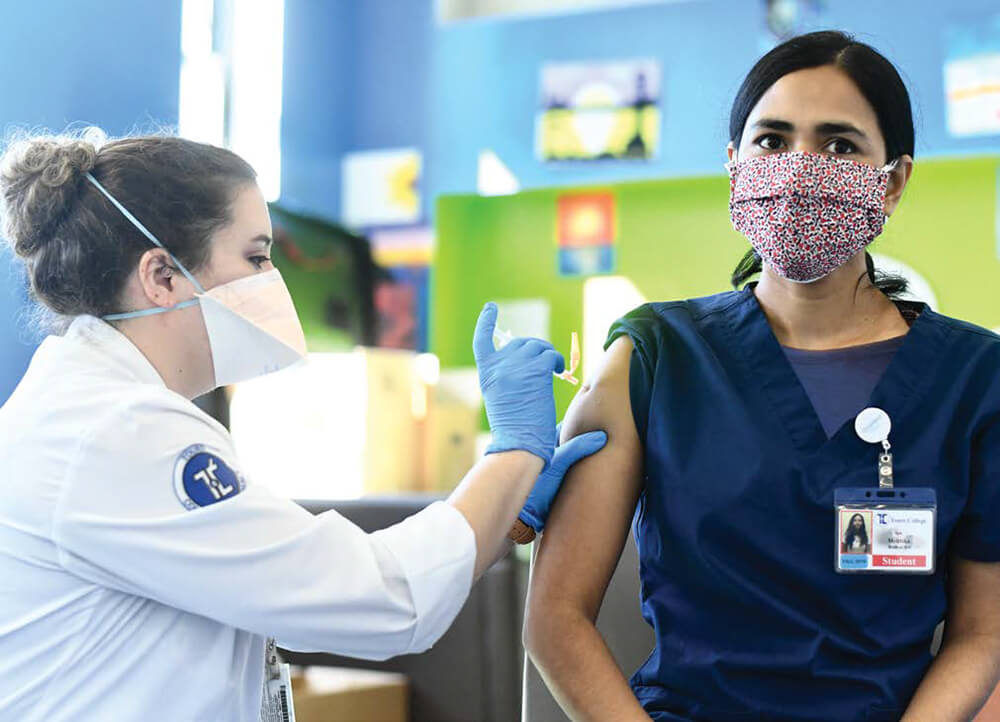 Professor Rebecca Kavanagh, Pharm.D., administers a vaccine to a student.
It was barely 11 a.m. on a winter morning, and already more than 30 people had found their way to Touro College of Pharmacy in Harlem. The School had that day launched a COVID-19 vaccine clinic, transforming its fourth-floor cafete­ria into an immunization site. "We are booked solid," said Assistant Dean Dr. Michael Liu. "At least 100 are signed up, and already we have a wait list. Everything is going really well."
In more ways than one. Those who came to the Clinic received their first dose of the Moderna vaccine and a follow-up appointment. Equally satisfying for Liu and other faculty and staff members was that Touro's pharmacy students were getting real-life lessons to complement their academic studies. The students, faculty and staff all had volunteered to work staggered shifts at the Clinic to make certain everyone was cared for.
"It feels great to be a part of this," said fourth-year student Sheril Al­exander, as she greeted patients, steered them to registration and helped them fill out forms. "Soon we will be in the field and we're learning a lot. It's a good opportunity to show our expertise."
Touro's team didn't just get vaccines into the arms of those in the com­munity. They had been taking care of their own. In addition to the vac­cination clinic, the pharmacy school began offering COVID-19 testing last fall, when Touro College and Univer­sity System launched a mandatory screening program at a dozen of its New York schools to help ensure its campus communities were COVID-19-free.
"Part of our mission is to provide wellness and health care to our Touro community and beyond," noted Dean Henry Cohen, Pharm.D., M.S. "Our role here is intricate and critical."
It can also save lives. Dr. Mary Ellen Dean, assistant professor of medi­cine at TouroCOM Middletown, laud­ed Touro's efforts after receiving her first shot at the Clinic. "As health care providers as well as teachers of future caregivers, I feel [immunization] is our responsibility. It sets an example that we believe in this public health measure and think it's safe and effec­tive—and that we believe in science."
The Clinic followed on the heels of the launch of Touro's "Proactive Sur­veillance Testing for COVID-19 of As­ymptomatic Individuals" program, which operated from September 2020 through April 2021. The College of Pharmacy team sprang into action. By late February, some 3,600 asymp­tomatic students and employees had been screened using saliva samples or nasal swabs, with an overall posi­tivity rate of only 0.02 percent.
"Leveraging our own strengths by us­ing our pharmacist faculty and stu­dent pharmacists, who are certified immunizers, made it easier than hiring a pharmacist or sending people to a vaccine facility," said Dean Cohen. "We could test and vaccinate safely and appropriately and at a lower cost. No one had to wait long, and we brought the tests and vaccines to patients. It doesn't get more convenient."