A Student Perspective on Learning Remotely
The Impact of COVID-19 at Touro College of Pharmacy
October 08, 2020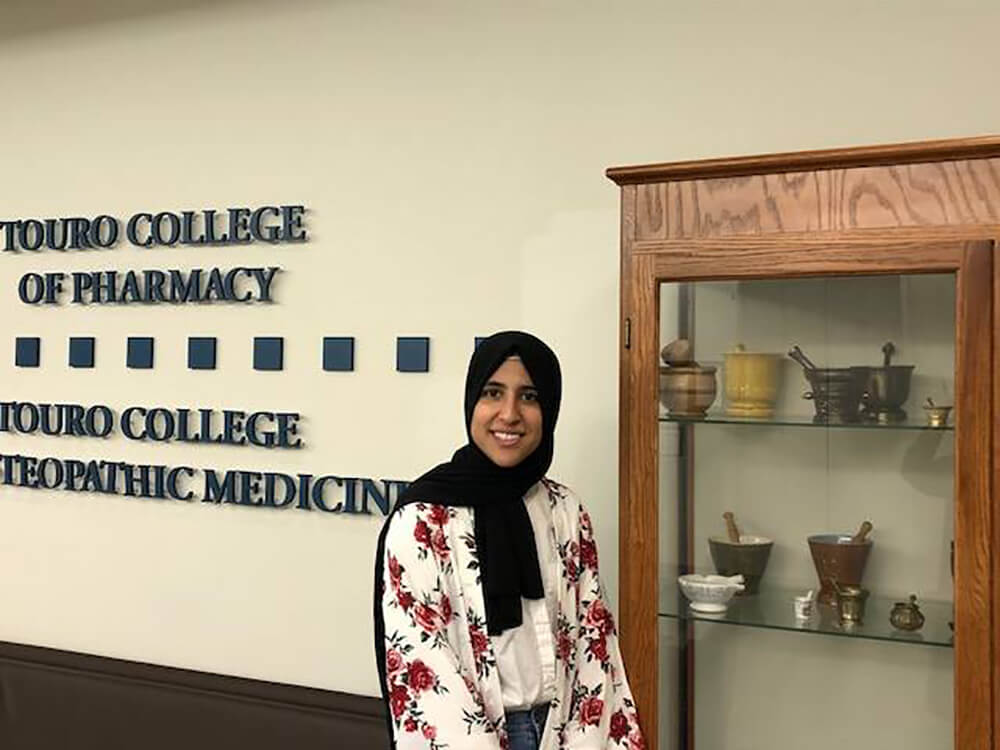 Aya Hammouda, PharmD candidate at Touro College of Pharmacy, reflected recently on the transition to online learning for her and her classmates during the past several months. While there were many challenges, over time they learned to acclimate and found they could survive and even reap benefits from the new way of doing things.

Touro College of Pharmacy closed our Harlem campus and transitioned to remote learning beginning on March 13th, 2020. We embarked on a new method of learning—virtual—that had to be integrated with on-site instruction. This took everyone by surprise. The change, while protective of the safety and well-being of our community, had a far-reaching impact on every student, faculty member and employee.
Even our rotations went remote, at least in part. The transition was difficult at first: getting clinical experience virtually was a brand new experience to be tested, and students felt the adjustment. However, over time we learned to acclimate and found we could survive and even reap benefits from the new way of doing things.
New Learning Methods
Our new learning methods with Canvas brought us recordings of lectures posted after class. This meant we could learn at our own pace and time, with the advantage of making learning more individualized.
We enjoyed meeting by Zoom and the varied ways to communicate that it offered. Some students even felt more comfortable in the virtual environment. We could message professors while online during class sessions, which put some of us more at ease about asking questions and raising our voices than when together in the physical classroom.
Some of us had internet issues that led to miscommunications, but those were overcome and soon we saw that remote learning did not have to be very different from learning on campus. Class material did not seem changed from what we were used to, though it seemed like each class had to find their own way of adjusting by trying various approaches.
Some students found it hard to be "in class" while working at home. If they lived with other family members, the environment could not always be controlled. Also, exam time was reduced, and test-taking methods did not always align with what was familiar to us from in the physical classroom. These issues, coupled with the heavy reliance on testing for grades, made exams more stressful.
The switch to remote learning also meant adapting to drastic changes in how we met with professors for "office hours". Familiar face-to-face meetings were replaced with formal phone or Zoom meetings. But we got used to this along with the other changes, and learning remotely, we found, has definite pluses. We can be comfortable at home and relieved of the stresses of a school environment. Time is saved without having to commute, providing more time to study. The daily schedule did not take away from our learning experiences.
Future Plans
We hope to return to how things were before COVID-19 changed our educational journey, but of course when that might happen is uncertain. Our pandemic recovery plan considers all options for teaching and learning, where flexibility is the primary player. The plan also allows for uncertainty; changes in pandemic safety guidelines can be implemented during a semester.
Overall, virtual learning has made it possible to have learning experiences very similar to those we enjoyed on campus. We have achieved an almost seamless transition for attending class in-person or remotely. Our college has made tremendous efforts to mimic the benefits of on-campus learning as closely as possible while meeting all accreditation standards. They've adjusted schedules and given us the means to reach professors when needed, and our education is not suffering. We recognize there are challenges even with face-to-face learning. As a P4 student, I look forward to even better online education experiences as we move ahead.