Alumni Judge Poster Presentations at Pharmacy
Winning Projects Examine Pharmacogenomic Testing, Probiotic Control of Pathogenesis, and Gene Expression in Colon Cancer
February 12, 2021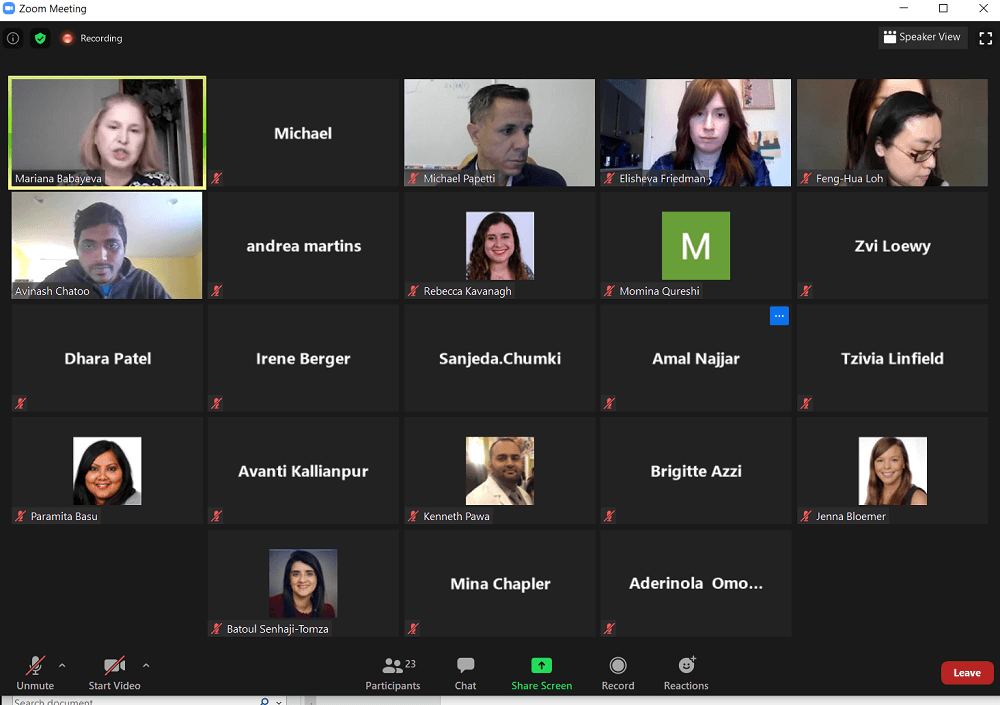 Five TCOP alumni gathered to judge a poster presentation competition in TCOP, held on January 14. The competition was held over Zoom.
Five Touro College of Pharmacy (TCOP) alumni returned, albeit virtually, to judge a research competition held on January 14.
"We want to keep our alumni involved and this is a way to involve them in a key initiative of the College," explained Dr. Zvi Loewy, Associate Dean of Research and Professor of Pharmaceutical and Biomedical Sciences at TCOP. "The competition allowed us to connect our students with well-placed alumni, which will help them when they graduate. The competition also allowed our students, alumni, and faculty to come together for a common initiative of evaluating science and research."
Dr. Loewy stated that the alumni were selected based on the strength of the research they did during their time at TCOP and their current position in the pharmacy world. More than a dozen posters were offered ranging from basic science research to the development of a novel way of distributing probiotics to combat a respiratory disease. Dr. Mariana Babayeva, Associate Professor of Pharmaceutical and Biomedical Sciences at TCOP chaired the poster session.
Alumni included:
Rivka Katz ('12), a hepatology clinical pharmacy specialist at University Hospital in Ohio.
Avanti Kallianpur ('15), an associate manager of medical information at Regeneron Pharmaceuticals.
Sanjeda Chumki ('16) a medical affairs manager at Alfasigma.
Elisheva Friedman ('17) a pharmacist at CareOne Pharmacy Services.
Svitlana Abramov ('20), a regulatory affairs specialist at Kyowa Kirin.
The poster competition was part of TCOP's virtual research week, which featured lectures and symposiums on research open to TCOP faculty, staff and students. Poster presentations were delivered to the judges early in the week and students presented their posters over Zoom on the final day of the research week.
P4 Brigitte Azzi received first prize for her poster presentation, Impact of Pharmacogenomic Testing on Chronic Pain Management. Azzi's work focused on adjusting dosage and medication based on a patient's pharmacogenomic profile. Her results indicated that this method of altering dosage was a reliable means of increasing pain relief for patients suffering from chronic pain.
P2 Irene Berger received second place for her presentation, Effect of Probiotics on Respiratory Pathogens. Berger identified a probiotic that inhibits the growth of pathogens that lead to Chronic Obstructive Pulmonary Disease (COPD)—the third leading cause of death by disease in the US. In addition to identifying the probiotic, Berger is working to develop a novel delivery method with faculty members in the Columbia School of Engineering.
P3 Saloomeh Noochirwani Tehran and P3 Swapna Ann George received third place with their poster presentation, The Role of Tropomyosin 4 Overexpression in the Balance between Differentiation and Tumorigenesis in Colon Cancer. Tehran and George, together with TCOP professor Michael Papetti found that the overexpression of the Tropomyosin 4 gene influenced the balance between differentiation and tumor genesis in colon cancer.
Posters were judged across a rubric factoring in the quality of research, the clarity of the presentation, and the creativity of the research itself.
"We raised awareness of the quality of research occurring in the College of Pharmacy," concluded Dr. Loewy. "The three winning studies are extremely promising. Not only do we excel in teaching at TCOP, but we have really raised the bar in terms of the quality of research our institution produces."