An Investment in Herself
Former Sales Director Succeeds at TCOP
December 27, 2016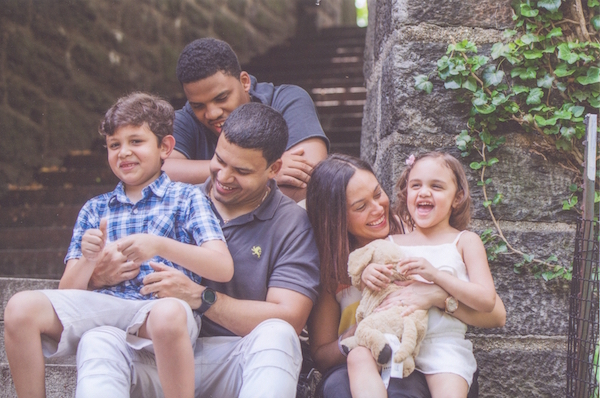 When the financial collapse happened in 2008, Sybil Goday-Pena decided to make an investment in herself.
"I got laid off and was devastated," said Goday-Pena who was a sales director at Brioni, a luxury men's clothing company. "I never wanted that to happen again, and realized it was time to take the next step in my education."
Goday-Pena, who is originally from Kentucky, had always thought about a career as a pharmacist. "I was fascinated by medications early on," she said. "If you had a headache you could take something to feel better. You could also help someone with a life-threatening illness and help save their life. This always intrigued me and furthered my passion to want to pursue a career in pharmacy."
After finishing her associate's degree at Lexington Community College, she moved to New York with one month's rent and a lot of determination. Needing to pay rent she landed a sales job at Brioni, where she later met her husband, and life happened. Her pharmacy dreams were on hold as she rose within the company… That is until, the market collapsed.
Goday-Pena turned an unfortunate layoff into an opportunity and decided to go back to school. She finished her BS at Long Island University, where she received Cum Laude honors, and applied to Touro College of Pharmacy (TCOP). TCOP's application wasn't the only one Goday-Pena had on her plate: she juggled that application with her oldest son's high school application and her second son's kindergarten application. "By the end of it, I became a pro at filling out applications!" she remarked.
Completing pharmacy school wasn't an easy task, especially with three children. Each morning, Goday-Pena arrived at TCOP at six in the morning to study before class began. After class and a few hours with her family, she studied until she went to sleep. But studying wasn't the only thing on her mind. She wanted to be involved in extracurricular activities associated with TCOP and the community. She pursued many leadership opportunities throughout pharmacy school including the secretary and volunteer chair of the school's American Society of Consultant Pharmacists chapter, the student chair representative for the Academic Standing Committee (ASC), and a student ambassador. As a member of the Academic Standing Committee, she worked with faculty to generate ideas regarding academic progress policies for current students that needed additional academic support, which she found quite rewarding. As an Ambassador for Touro, she said, "I take great responsibility to help the incoming students feel motivated, eager and inspired to join our unique and culturally diverse student body".
For her extensive involvement at TCOP, she was recognized by her peers and inducted into Phi Lambda Sigma, an honorary leadership society. Despite her busy schedule, Goday-Pena also found time to give back to the community as well by volunteering at health fairs, fundraising and educating patients at health awareness events.
Goday-Pena said the support of her husband Miguel and family were crucial to her success.
"It's such a rigorous program," she said about TCOP. "You have to be able to complete your work but also have time for your family. Finding a balance is key. I found my balance early on; otherwise it would have been difficult to manage."
Goday-Pena is set to graduate this academic year and is looking forward to furthering her education. Her post-graduate applications aren't the only ones she's working on. Now, four years later, the application process begins again. Her eldest son Jose is applying to colleges and her daughter Alexandra is headed to kindergarten. "I feel so full and blessed to be able to fulfill my dreams with my family by my side," she said.