College of Pharmacy Holds Escape Room for Healthcare Practitioners
Escape Room Teaches Pharmacy, Dental, and Medical Students about Interprofessional Collaboration
May 11, 2020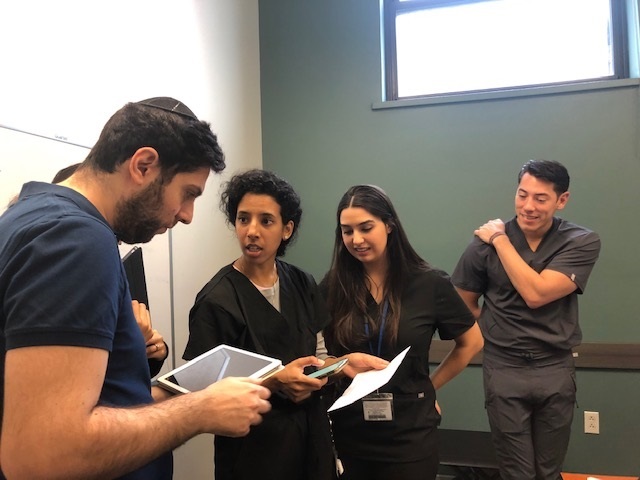 Students from Touro College of Pharmacy, Touro College of Osteopathic Medicine and Touro College of Dental Medicine worked together during an innovative medical-themed escape room.
A room. A patient with a constellation of symptoms and only a vague idea of their medications. A mystery.
This was the situation that confronted 88 students from Touro College of Osteopathic Medicine (TouroCOM), Touro College of Pharmacy (TCOP), and Touro College of Dental Medicine (TCDM) in an innovative interprofessional educational (IPE) event that was a combination of the popular Escape Room experience and a test of their communication skills and medical knowledge. The event, which took place at TCOP in February, was organized by TCOP's Catherine Liu, PharmD, BCPS, BCGP, director of the school's interprofessional education curriculum, and Jeeseon "Rosa" Kim, PharmD, TCOP's Director of Drug Information Services. The medical escape room was funded with a Touro College Faculty Innovation Grant.
"IPE is something we highlight in general throughout our schools," said Dr. Liu. "When students are exposed to IPE before entering the healthcare field, once they are in the healthcare field it is easier for them to understand each other's roles and responsibilities as well as communicate more effectively with their fellow practitioners."
"Not only does IPE training reduce significant adverse effects like medication errors, but it also reduces issues like fatigue by balancing the workload for medical practitioners," continued Dr. Kim. "Our end goal is patient-specific care and having various disciplines working together helps provide students with a better understanding of how to treat patients holistically."
Dr. Kim developed the idea after hearing about a pilot program in another university. She workshopped the escape room idea with her P1 classes and, together with Dr. Liu, applied for the grant.
"Our whole purpose was to get our students to ask questions and articulate their thoughts to one another and learn how to communicate effectively with other disciplines," said Dr. Kim. "Medical school, pharmacy school and dental school are all incredibly stressful and we thought if we could do something fun with our students while reinforcing their studies it would be a win-win."
For the event, students were divided into teams with members of the other schools. (The event occurred Pre-Covid-19 social distancing rules.) Teams were placed in a room with an actor who simulated a variety of symptoms and then provided them various clues to understand his condition. In one clue, students were required to scan a QR code to identify the patient's medication and then use that medication to appropriately assess the patient's condition. Students successfully completed the escape room when they were able to evaluate the patient's conditions and created a valid treatment plan.
"It was very interesting and very enjoyable," said P2 Divya Sarvaiya. "Everyone on our team had a definite role. This is what we will do in the real world: collaborate. This event gave us our first experience of it along with a good time."
"It was great working with medical and dental students as it showed us the value of interprofessional collaboration—especially when dealing with a patient with lots of complications," said P3 Maria Shah. "Each health care professional is able to bring their specialized knowledge to the table to help the patient get better."
Dr. Kim and Dr. Liu were hush-hush about some of the other clues and puzzles the escape room featured since the two hope to run a similar escape room event next year.