Dr. Mary Choy, National Immunization Champion
TCOP Professor is Recognized by the APhA Immunization Champion Awards for Her Community Work in Immunization
March 30, 2015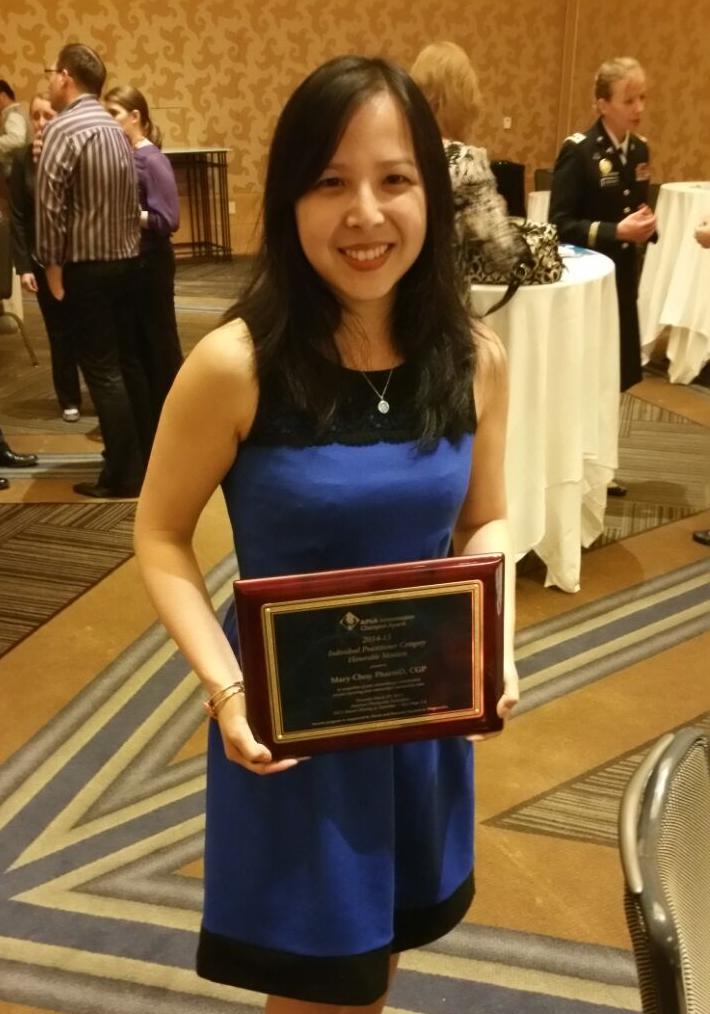 Touro College of Pharmacy (TCOP) Associate Professor Dr. Mary Choy was recently honored by the American Pharmacists Association (APhA)'s Immunization Champion Awards in the category of Individual Practitioner.
The APhA Awards and Honors program, the most comprehensive recognition program in the profession of pharmacy, recognizes individuals and organizations in the field that have made extraordinary contributions towards improved vaccination rates within their communities. Dr. Choy, who was selected out of more than 80 nominees from across the nation, received the Honorable Mention award for her impressive work in reducing health disparities in the underserved and low-income Asian-American and Hispanic communities in Brooklyn.
Dr. Choy was officially recognized at the APhA's Annual Meeting and Exposition on March 29 at the Hilton San Diego Bayfront Hotel in San Diego, California. Upon learning that she had won the award, Dr. Choy admitted that she was very surprised. "It is truly an honor to receive this distinction," she said.
An active public health advocate, Dr. Choy completed training as an immunization provider in 2010, and teaches at TCOP while also working as a clinical pharmacist at the Metropolitan Hospital in East Harlem. For as long as she remembers, Dr. Choy has always been involved in community service. "Once I became a pharmacist, I wanted to use my knowledge and skills to educate the community. I really enjoy teaching people and I think education is key for people to understand how to stay healthy."
Dr. Choy served as an active member of the New York City Society of Health-System Pharmacists (NYCSHP) for over 10 years, and was its President in 2013-2014. As founding faculty advisor of the ASHP-SSHP student organization at TCOP, this professor has guided numerous students in research and presentations at the local, state, and national levels.
"I think it's important to inspire students to get involved in public health early on in their careers. Our Touro students are very active and are always coming up with great ideas to support our public health mission," she says.
In what is perhaps her most influential initiative to date, Dr. Choy organized a successful flu clinic that vaccinated more than 120 residents in the underserved area of Sunset Park, Brooklyn in the fall of 2014. The pharmacist-run clinic (which was done at no cost to the residents) was the first of its kind for the community. According to Dr. Choy, community members began lining up an hour prior to the posted start time to receive immunizations.
"It was definitely a nice surprise that we had a great turnout and were able to vaccinate so many people in four hours. Everyone worked hard to advertise, and we even managed a registration list. We had a hundred people who signed up prior to the event, and it's wonderful to see that we surpassed our goal.
"Pharmacists are quickly becoming the main immunizers, and I am glad to be a part of this important initiative in reducing disparities and boosting the immunization rates in underserved communities."
To organize the event, Dr. Choy collaborated with the Chinese-American Planning Council and government council members, such as Assemblyman Peter Abbate, Jr. and Council Member Carlos Menchaca to raise awareness about the importance of immunizations. She also recruited eight TCOP students to assist in marketing the event and providing translation services; each student volunteer spoke either Cantonese, Mandarin, or Spanish as a second language. Media coverage included newspapers Sing Tao and World Journal, and magazine CompactNews. She and her volunteer students are already planning their next flu clinic for this upcoming fall, but this time, they're applying for a grant to successfully reach even more residents.
Touro College of Pharmacy extends its congratulations to Dr. Mary Choy on receiving this great honor.