Driving Quality in Patient Care
Managed Care Pharmacist Ramya Devineni, Pharm D, Helps Meet Patient Needs While Keeping the Business Running Smoothly
September 23, 2021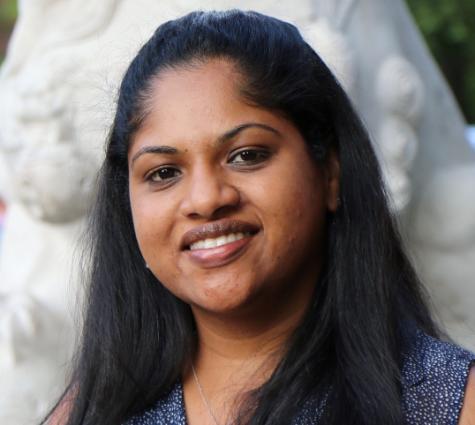 Ramya Devineni, PharmD
As a managed care pharmacist for the Visiting Nurse Service of New York, Touro College of Pharmacy Alumna Ramya Devineni, PharmD, Class of 2012, strives to get clients the medications they need while complying with state and federal laws regulating Medicare and Medicaid plans. The job keeps her on her toes and up to date in the evolving healthcare environment.
How did you become interested in a career in pharmacy?
I was always drawn to science-related subjects when I was in school, so, when it came time to choose a career path, I chose pharmacy. Pharmacy allowed me to combine two topics I was very interested in—chemistry and biology. It also helped to have my dad, a pharmacist and pharmaceutical company executive, as a mentor.
Why did you choose Touro?
While I was certain I wanted to pursue pharmacy as a career path, I wanted to go about it by first acquiring a Bachelor of Science degree. In this way, there would be prospects to grow through obtaining a master's degree in a related field down the road, or pursuing a PharmD after completing my bachelor's degree. TCOP was one of the few schools that accepted students with only an undergraduate degree. Touro also opened in New York, with a mission to advance public health in underserved communities. Studying in New York City was a dream of mine. Many things aligned in choosing Touro, so I applied and was fortunate to be accepted into the inaugural class that graduated in 2012.
What is your current position and can you describe a day in your life on the job?
As Manager, Pharmacy Services for a health plan that offers Medicare and Medicaid plan options, my responsibilities are to maintain continuity of business in providing pharmacy benefits of health plans. Each day, I simultaneously work on the upcoming year's plan benefits, while also overseeing and ensuring Centers for Medicare & Medicaid Services (CMS) compliance for the current year's plan benefits. Here's a snapshot of what I do:
Meet and communicate with our organization's Pharmacy Benefits Manager (PBM) and oversee any delegated functions such as formulary management, claims adjudications, prior authorizations etc.;
Connect with internal departments about topics related to the clinical and administrative functions of a health plan;
Evaluate future pharmacy benefit strategies while considering past and current performance and trends in the marketplace;
Facilitate communications directly with CMS;
Work on deliverables for audits.
I also oversee staff in contributing to departmental and organizational objectives.
What are some of the challenges and what do you like about it?
Every day as a managed care pharmacist is challenging because my role, apart from driving quality in a member's care, is also heavily focused on regulatory compliance. Staying current on CMS regulations is a necessary but challenging and time-consuming part of my job. Whenever federal and state regulations are involved, minor errors can result in my organization becoming non-compliant with a federal or state law governing managed care plans. I like that it keeps me on my toes, and informed about the ever-changing landscape in healthcare.
How did TCOP prepare you for your professional role?
Apart from the didactic curriculum that prepared me for a career as a pharmacist, TCOP also offered plenty of sites for clinical practice experience electives while in school. We could tap into our interests and potential career paths. I wanted to explore and learn more about managed care, and within a few days of working as an intern on-site, I knew this was the career for me. I am very grateful for the insight into the field provided by that rotation and the door that opened for me right after graduation to become a managed care pharmacist.