"Failing, to Succeed"
Regeneron Pharmaceuticals, Inc. Co-Founder Shares Inspirational History of Biotech Innovator at Touro College of Pharmacy
May 25, 2022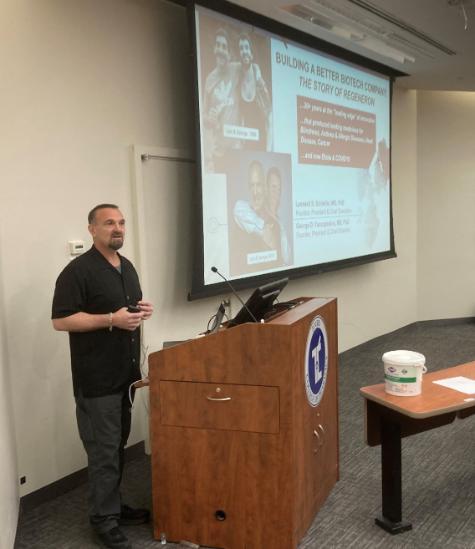 Dr. George Yancopoulos
George Yancopoulos, M.D., Ph.D., co-founder, president and chief scientific officer of the biotech giant Regeneron Pharmaceuticals, Inc., got hooked on science at Bronx High School of Science, where he was class valedictorian and participated in the Westinghouse Talent Search.
Known as the nation's largest and most prestigious science competition in the country, the program rewarded talented students for their work on research projects. Today, the competition, begun in 1942, is still operating but under a new name – the Regeneron Science Talent Search.
"I couldn't be prouder that the program that got me started is now sponsored by Regeneron," he told a packed lecture hall at Touro College of Pharmacy, where he was the school's 2022 Student-Invited Speaker at a recent lunchtime event.
Road to Success
After welcoming remarks from Associate Dean Dr. Zvi Loewy and Student Government Association President P2 Dorina Birce, the Queens, N.Y. native and physician-turned-scientist shared that Regeneron, founded almost 35 years ago, was on a mission to become a fully integrated biopharmaceutical company that would research, develop, make and commercialize medicines to treat serious medical conditions that would change lives.
"We had this dream. We wanted to have the ability to go from an idea to an important medicine not once, but over and over again," something few companies have been able to do, Dr. Yancopoulous said. "When I went into this field…I had no idea how hard it was going to be."
Success would be many years in the making, he noted, with the first product approval taking 20 years and profits out of reach for another five. "Analysts used to mock us. We became an overnight success after 20 years of perceived failure. It's important not to see failure as the end, but merely as the potential stepping stone to success. Our story is one of coming across failure after failure and consistently reinventing ourselves…and figuring out how to ultimately succeed."
Today, Regeneron, based in Tarrytown, N.Y., proudly boasts development of a record 10 FDA-approved or authorized treatments for eye diseases, allergic and inflammatory diseases, cancer, cardiovascular and metabolic diseases, hematologic conditions and infectious diseases, including Ebola and COVID-19.
"There are thousands of major academic centers worldwide, thousands of biotech and biopharma companies, millions of researchers -- including probably many of you," he told the audience. "There's only a few dozen approvals every year by the FDA and only a handful are first-in-class. Very few are game-changing drugs that really impact major diseases."
Pioneering "Humanized Mice"
Dr. Yancopoulos attributed the company's success to two factors: breaking new ground in the ability to manipulate mouse DNA to enhance drug research, and its Genetics Center, which has more than two million people sequenced and all DNA sequences linked to detailed electronic health records.
"It's the largest 'Big Data' linking human genetic variation to biologic variation, disease and wellness," he said.
Regeneron's patented "Veloclmmune Mouse" – mice with genetically humanized immune systems, produce human antibodies as a new class of medicines against any target. The method was used to create REGEN-COV, an antibody "cocktail" that was the first combination therapy to receive FDA emergency use authorization for COVID. It was given to former President Donald Trump when he was hospitalized but does not work against Omicron. Regeneron is working on a next-generation treatment that it hopes will be effective against Omicron and other variants.
P1 Robert Valmont was inspired by the lecture, "The public is often afraid of what technology can do, but Regeneron has shown safe and promising outcomes. Listening to Dr. Yancopoulos has shown me that small life events can make a big impact on one's career, and the importance of following one's passion."
Added Dean Henry Cohen, "Dr. Yancopolous' inspiring life journey from the son of Greek immigrants in Queens to worldwide renown as a scientist, entrepreneur and developer of lifesaving medications is an inspiration for our students to reach for the stars."