Fall into Good Health
By Elisheva Swartz, Touro College of Pharmacy, Class of 2017
November 15, 2013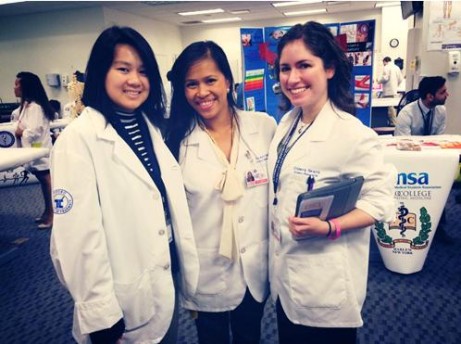 I had the privilege of volunteering at the Touro Fall Health Fair.
I worked at the health literacy station together with fellow P1 Mi Bui, under the guidance of Dr. Shelley Warwick. Our job was to reach out to Harlem residents visiting the fair and educate them about questions they should be asking their doctors and pharmacists, as well as direct them to quality sources of health information.
Initially, this seemed a daunting task – how could I approach strangers and expect them to trust me, let alone have the patience to listen? It was striking to see how wrong I was.
Our mission was empowerment. We were teaching community members that they are responsible for their own well-being, that they can take control of their lives and seek the medical answers they need.
Many of the visitors responded with great openness and sincerity, asking follow up questions and even asking us questions about their health conditions. While we were not able to provide them with the precise guidance they needed (yet), we were able to listen. And sometimes having a listening ear can make all the difference.
This is what being a healthcare professional is all about. Yes, it is crucial to have the foundation of knowledge to heal on a physical level, but it is perhaps just as important to treat on an interpersonal level, be it in an emotional or psychological sense. It is the small gestures of kindness in the workplace that differentiate between a good pharmacist and an outstanding one, and the Touro College of Pharmacy, we strive to be outstanding.
This health fair was my first opportunity to interact with the community, and I now am sure that I have chosen the right profession for me.