Finding Solutions for Patients
For Danielle Cabral, PharmD, AAYHIVP, Touro College of Pharmacy '18, Clinical Practice + Teaching Strikes the Right Balance
October 07, 2021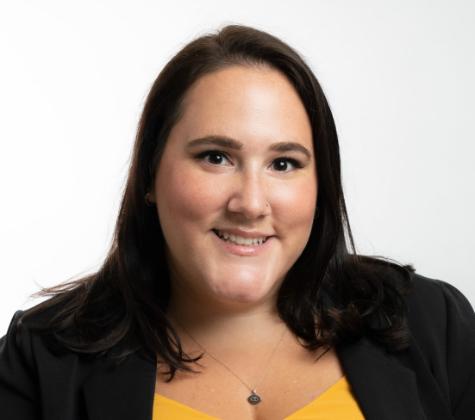 Danielle Cabral, PharmD, AAYHIVP
TCOP Alumna Danielle Cabral, PharmD, AAHIVP, is an assistant professor at Binghamton University School of Pharmacy and Pharmaceutical Sciences, and a clinical pharmacist at Northwell Health Division of Allergy and Immunology and its Center for Young Adult, Adolescent and Pediatric HIV. The combination is challenging, yet provides the opportunity for both personal and professional growth.
How did you become interested in a career in pharmacy?
Growing up, I was always interested in the sciences. However, as like most college students, I was unsure of the exact postgraduate path I wanted to take for my career. Throughout my undergraduate studies, my interest in careers that combined biology and chemistry grew. After a college professor suggested researching the field of pharmacy, I pursued and accepted a position at a long-term care pharmacy, where I was exposed to geriatric pharmacy, polypharmacy, and medication interactions, as well as the impact pharmacists can have on patient care. Seeing the passion that pharmacists have for patient care firsthand cemented my desire to pursue pharmacy as a career path.
Why did you choose Touro?
As a resident New Yorker, albeit living on Long Island, remaining in the state was a high priority when looking into pharmacy schools. The defining factor that separated Touro from other schools in the area was the smaller class size Touro offered. I knew that I would have a more personalized experience with my pharmacy professors in a class size of fewer than 100 students, in comparison with other schools with class sizes of 200 or more. Also, given Touro's geographic location, I knew that the extracurricular opportunities and rotations offered would provide unique educational experiences that would enhance my application when applying for pharmacy residency programs after TCOP.
What is your current position and can you describe a day in your life on the job?
I am currently a clinical assistant professor at Binghamton University School of Pharmacy and Pharmaceutical Sciences, with a clinical practice site at the Northwell Health Division of Asthma, Allergy and Immunology and its Center for Young Adult, Adolescent and Pediatric HIV in Great Neck, New York. As an assistant professor at BU, I teach classes to the second- and third-year pharmacy students and precept third- and fourth-year pharmacy students on their introductory pharmacy practice experience (IPPE) and advanced pharmacy practice experience (APPE) rotations. At the clinic, I work collaboratively with an interdisciplinary team to provide optimal patient care. I assist with initiating, obtaining, and monitoring immune globulin (IG) therapy, asthma inhalers, biologics, and antiretrovirals. I also provide patient counseling regarding IG therapy, HIV, PEP (post-exposure prophylaxis), and PrEP (pre-exposure prophylaxis) initiation.
What are some of the challenges and what do you like about it?
Challenges that I encounter include finding alternative options for patients when they are prescribed medications that may not be financially feasible. Through working with the collaborative team of outreach workers, case managers and physicians, we are able to find solutions for our patients. Other challenges include developing and establishing a clinical practice site while also adjusting to academia. On the plus side, these challenges ensure that I continue to grow personally and professionally.
How did TCOP prepare you for your professional role?
TCOP helped prepare me for my professional role by providing training that developed skills for adapting to change and for lifelong learning. Throughout my post-graduate training and in my current position as a clinical pharmacist, thinking on my feet and being able to adapt have served me well. The skills of lifelong learning, developed through rotations and exposure to professional organizations, have provided me with continuous education and networks that span the different fields of pharmacy.