Harlem Week 2013
By Janet Lee, TCOP Class of 2015
October 04, 2013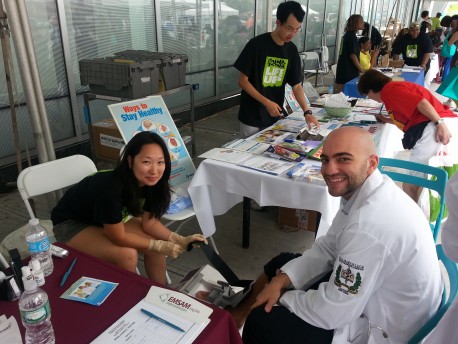 During Harlem Week, I was in a practice experience rotation at Harlem Hospital – one of the sponsors of Harlem Week.
We provided health literature about diseases such as diabetes and osteoporosis. We were specifically pinpointing osteoporosis, and conducted bone density testing using ultrasound sonogram technology. After conducting the testing, we consulted our patients on the results and alerted them on whether they were within normal range or if they needed to see a doctor. We conducted tests on over 70 people throughout the day. We even conducted tests on our fellow D.O students from TouroCOM since they also had a table at the event. It was interesting…Pharmacy teaching D.O!
It was a tiring but a fun and valuable experience! When we were training for the event and learning how to use the machine, I found that even I had low bone density! Based on my age and my bone mineral density (BMD), I was slightly under range. I followed up with my primary care physician and confirmed that my BMD was indeed lower than it should be, and that my vitamin D levels were also low. I'm now taking a 1000 mg vitamin D supplement and exercising more to prevent osteoporosis!
Overall, with these additional skills I feel more confident as a future pharmacist.