Honored to be 100
Touro College of Pharmacy Students are Inducted Into the Rho Chi Honor Society
May 09, 2013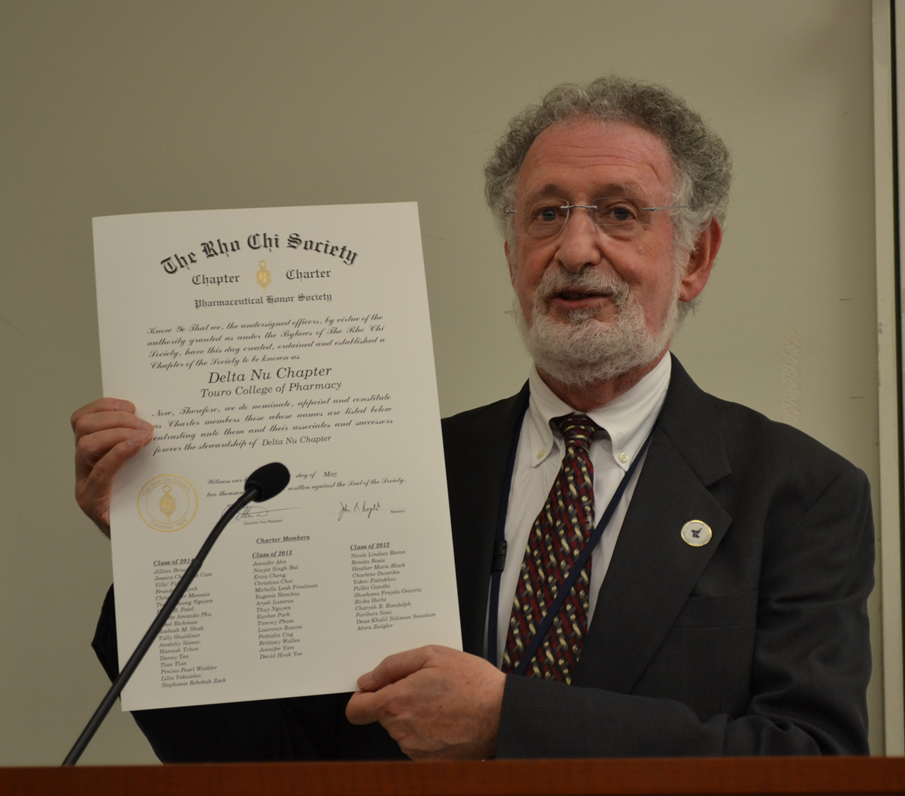 Last year Touro College of Pharmacy graduated it's first-class and was accredited by ACPE, both prerequisites to be inducted as members of the prestigious pharmacy academic honor society, Rho Chi. This year, Touro College of Pharmacy became the 100th active member of Rho Chi, with the forming of their chapter, Delta Nu. Forty-five students were inducted as the newest members of the Delta Nu Chapter.
Dr. Karl Fiebelkorn, Region I Councilor of the Rho Chi Society, installed the chapter: "The vision of the Society is to instill in its members, the desire to pursue intellectual excellence and critical inquiry to advance the Pharmacy profession. By striving to fulfill this vision, Rho Chi has become a well-recognized symbol of academic excellence. Today, as you join our ranks, you not only accept the honor and privilege of Rho Chi membership, but also, you dedicate yourself to a lifetime of commitment to the Society and its values."
Congratulations to these students for achieving this honor. You will forever be known as a member of the first Charter Class of Delta Nu in Rho Chi!
Delta Nu Members:
Officers:
President – Jessica Christine Cate
Vice President – Danny Tea
Secretary and Treasurer – Penina Pearl Winkler-Segal
Historian – Hannah Tchon
Class of 2012: Nicole Lindsey Baron, Renata Basis, Heather Marie Black, Charlene Dwarika, Yakov Fattakhov, Pulkit Gandhi, Shoshana Frayda Gewirtz, Rivka Hecht, Charysh R. Randolph, Fariborz Sani, Doaa Khalil Soliman Sowelam, Atara Ziegler
Class of 2013: Jennifer Ahn, Navjot Singh Bal, Erica Cheng, Christina Choi, Michelle Leah Friedman, Eugenie Hambou, Aryeh Lazarus, Thuy Nguyen, Eunbee Park, Tammy Pham, Laurance Rances, Pethidin Ung, Brittany Wallen, Jennifer Yam, David Hyuk Yoo
Class of 2014: Jillian Brown, Jessica Christine Cate, Villo' Fiddler, Brandon Huynh, Christopher Manesis, Trung-Duong Nguyen, Hiren B. Patel, Linette Amanda Phu, Mikel Richman, Rashesh M. Shah, Tally Shuldiner, Anatoliy Sionov, Hannah Tchon, Danny Tea, Tian Tian, Penina Pearl Winkler-Segal, Lilia Yakutelov, Stephanie Rebekah Zack
In order to be eligible for collegiate membership, students must be enrolled in a professional pharmacy program fully accredited by ACPE, completed no less than one-half of the required professional didactic coursework and rank in the highest 20% of their class attaining a minimum GPA of 3.0 on a 4.0 scale.