Managing Pain
Marla Bowie, PharmD, MPH, Touro College of Pharmacy '14, Paves the Way for Patients in Emerging Cannabis Industry
November 07, 2021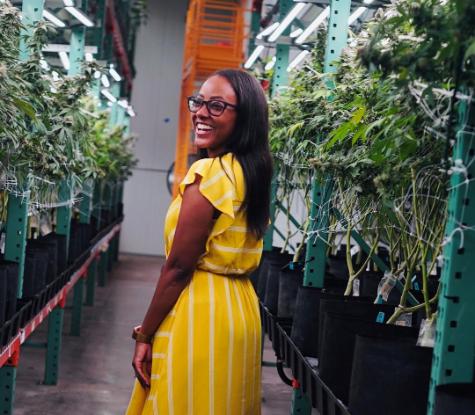 Marla Bowie, PharmD, MPH
TCOP Alumna Marla Bowie, PharmD, MPH, finds it rewarding to work one-on-one with patients and help them find relief with cannabis, particularly after they have exhausted more traditional treatment approaches.
How did you become interested in a career in pharmacy?
From a young age, I was always intrigued by science. I knew that I wanted to go into the medical field but was unsure of which exact discipline. In college, I worked during summers at a chain retail pharmacy as a cashier. One busy day, I was asked to cover a shift in the pharmacy department, and I loved it. I continued to cover shifts in the pharmacy as needed. The pharmacist encouraged me to pursue a career in pharmacy and the rest is history!
Why did you choose Touro?
I chose Touro because of the diversity of New York City and the unique structure of the program, giving students an extra year of clinical experience. Going to school in NYC provided a variety of rotation experiences that I don't think would have been possible anyplace else. Through Touro, I had an opportunity to gain experience in so many different pharmacy specialties including retail, hospital, ambulatory care, public health, governmental organizations, and clinical research. I feel that this sets Touro graduates apart from other pharmacy school graduates.
What is your current position and can you describe a day in your life on the job?
I have worked in the cannabis industry for the past three years. Initially, I was a dispensary manager for three retail dispensary locations in N.J. Recently, I moved into a new role as director of patient and customer care for Ayr Wellness, a multi-state cannabis company. I oversee patient verification, scheduling and counseling programs in N.J./Pa. I respond to patients and customers via telephone, email, website, and social media that require clinical answers. I develop and implement educational training programs for pharmacists and other dispensary staff. I am also involved in clinical cannabis research and act as the clinical medical professional representative for all community outreach and initiatives.
What are some of the challenges and what do you like about it?
The two biggest challenges that I face in my industry are the lingering stigma of cannabis and the lack of research. Because the federal government still classifies cannabis as a Schedule I drug, research has been limited in the United States, resulting in many health care professionals and policymakers not entering the industry.
I am happy to work for a company that has partnered with other health care professionals who are passionate about cannabis education and who are embarking on cannabis research. I feel a strong sense of fulfillment, in that I am helping to pave the way in this emerging industry. It is rewarding to be able to work one-on-one with patients and help them find relief, particularly after they have exhausted more traditional treatment approaches.
How did TCOP prepare you for your professional role?
Touro prepared me for my career by placing an emphasis on the important role that pharmacists play in public health. Incorporating public health courses and rotations into the curriculum led me to pursue and obtain a master's degree in public health. Because pharmacists offer a high level of visibility and accessibility that is often rare among health care professionals, they are in a unique position to provide a variety of health services, thus filling a void related to access to care. Because of our well-rounded education, pharmacists are a valuable addition to any health care team. As such, there are many different career paths for pharmacists, including the exciting field of cannabis!