More Options as a Pharmacist
Discover the Many Exciting Career Opportunities Available in the Pharmacy Field
May 31, 2022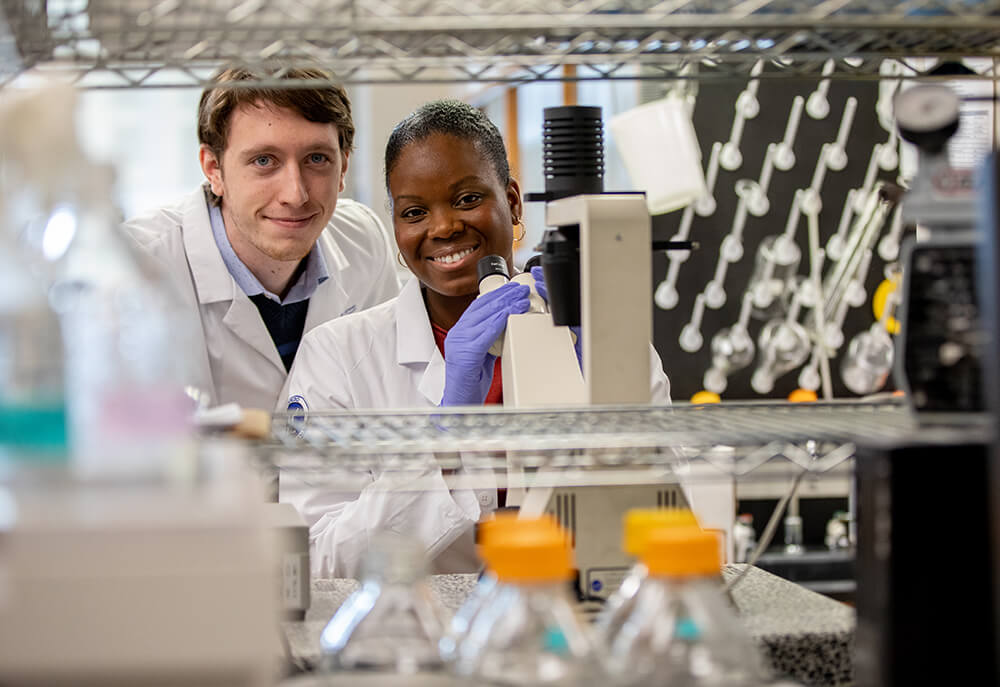 Most people think of the pharmacist as the person who helps them at the local CVS or Walmart. Also known as community pharmacists, they counsel patients about prescribed medicines and administer immunizations. But that is only one of the many exciting careers available today to new pharmacy graduates.
You may not realize that pharmacists are employed in hospitals, clinics, nursing homes, medical group practices, managed care organizations and health insurers, poison control centers, compounding and specialty pharmacies, the pharmaceutical and biotechnology industries, and at regulatory agencies like the FDA, CDC and DEA. There are also openings at pharmacy and medical universities as teachers and researchers, research institutes, and many other types of work.
There are a growing number of new opportunities such as home health, where pharmacists administer infusions and injections in a patient's home, and specialization and board certification in about a dozen areas including cardiology, oncology, pediatrics, psychiatry, infectious disease, etc. During the COVID-19 pandemic, U.S. pharmacists administered millions of tests and provided over 70% of all COVID-19 immunization injections and booster shots. And more and more states are authorizing pharmacists to dispense medication refills and to modify doses in the community pharmacy. Pharmacists in ambulatory care positions have authority to prescribe medicines, order lab tests, and perform targeted physical exams working as physician extenders while using their clinical pharmacy expertise to educate patients about their new treatments. Clinical pharmacists in the hospital setting participate with physicians in daily patient care rounds, prescribe medications, dose drugs using specialized calculations, and review medications with patients prior to discharge home.
If you're looking for a rewarding career with many opportunities for growth, the pharmacy field may be for you.
The Path to Pharmacist
Your journey to pharmacist begins as an undergraduate college student. You'll be required to take two years of specified courses that are available at most community and local colleges to apply to pharmacy school. As a pharmacy student, you'll be expected to complete four years of study, with your final year comprised of a series of clinical (hands-on) rotations at various practice sites. The degree of Doctor of Pharmacy (Pharm.D.) is awarded upon graduation.
Aside from the varied career options, pharmacists are among the highest-paid professionals in the US, earning an average annual salary of $152K. There are 322,200 pharmacists employed in 2022 and it is projected that there will be over 11,300 openings for new graduates per year for the next decade. There are 88,000 pharmacies in the U.S., and the top 25 pharmacy chains represent over 38,000 locations. National chain pharmacies such as Albertsons/Safeway, Kroger, CVS Health, Walgreens, and Rite Aid are avidly seeking pharmacists and offering sign-on bonuses and other perks. Of course, entrepreneurship and private ownership as an independent community pharmacy remain a popular option for pharmacists.
Many pharmacists appreciate the flexibility available within the profession, such as part-time work for persons with heavy family responsibilities, the ability to leave the profession and re-enter later, or even work seasonally. It's even possible to combine pharmacy and business administration or public health or law and some graduates follow those pathways.
With the exciting array of many new pharmaceuticals being introduced, today's pharmacy is unlike pharmacy practice during your parents' generation. Today's pharmacy graduate is a full and vital member of the health team and practices proudly in a time-honored and respected profession.