Steven Elrod is Always Coming Forward to Give Back
Touro College of Pharmacy Student Steven Elrod Receives Prestigious Award from U.S. Public Health Service
July 10, 2013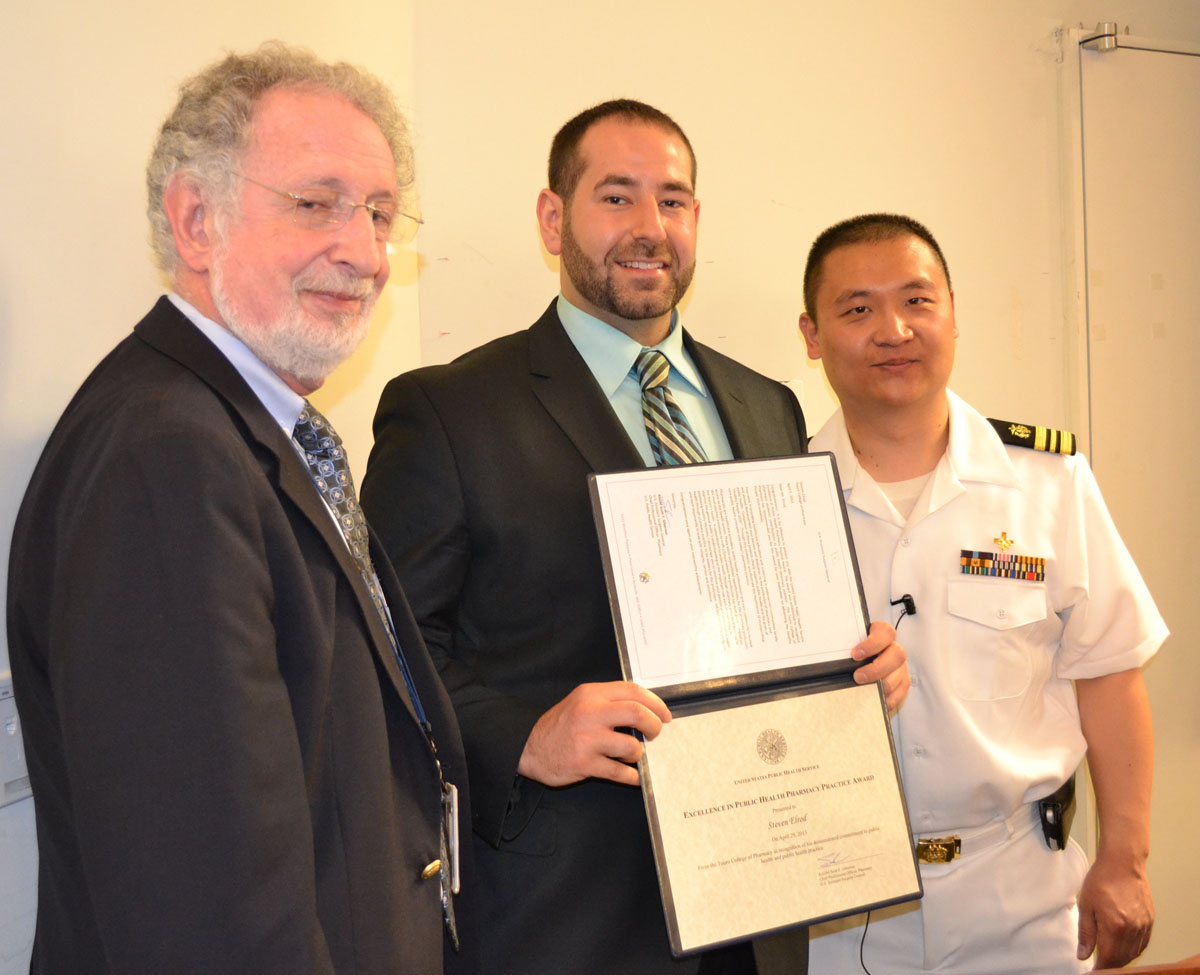 Take just the last academic year as a snapshot of Steven Elrod's commitment to improving people's lives: The third-year student at the Touro College of Pharmacy and Harlem resident traveled to the slums of India to counsel residents on how to use medications; spoke to children in Harlem about healthy eating as part of a national campaign; visited high school students in Staten Island to spread the word about the dangers of popping pills; and researched grocery store circulars in the poor neighborhoods of East Harlem, comparing them with those on the wealthier Upper East Side. Atop these extracurricular activities and his course load, Elrod also found time to organize an intramural basketball program for Touro College.
For his work in healthcare education Elrod recently received the prestigious "Excellence in Public Health Pharmacy Practice Award" from the United States Public Health Service (USPHS). Bestowed annually, the award recognizes pharmacy students' contributions to public health pharmacy practice and encourages them to be active in advancing public health - especially in meeting the objectives of the National Institutes of Health's "Healthy People 2020" campaign. The campaign provides 10-year objectives for improving the health of all Americans.
"Your work in providing healthcare education and screening in underserved communities locally and abroad demonstrates your passion and dedication to the profession of pharmacy and public health," wrote to RADM Scott F. Giberson, U.S. Assistant Surgeon General at USPHS, in his congratulatory letter to Elrod.
Elrod said he was "very flattered" at receiving the award. "There are a lot of [pharmacy] students who do a lot of great things," he said. "I was enthralled…it was just a beautiful gesture and I couldn't have appreciated it more."
A 2009 graduate in biology from the University of Wisconsin-Eau Claire, even before starting pharmacy school Elrod found the time to help others – working as a pharmacy intern, coaching and mentoring kids at summer camp and church, and organizing community blood drives.
His upbringing in Wisconsin provided good role models. His parents each worked 70 hours a week – his father helped with the family restaurant during the day and in a steel mill factory from midnight to 9 a.m., while his mother also worked in the restaurant and taught culinary classes on the side.
"They were gone a lot, busy trying to support my brother and me, and so there were a lot of people in the community taking care of us," he recalled.
In addition to the Touro work that earned him the USPHS accolades, Elrod has had several rotations since enrolling in pharmacy school that have enabled him to help patients while learning about public health. He has counseled patients at several major retail pharmacy chains and at Montefiore Medical Center, and worked at the New York Department for the Aging, Visiting Nursing Services of New York, and the Harlem Health Promotion Center.
In 2011, Elrod also went to Haiti to help rebuild a clinic and school demolished by the earthquake, and during Hurricanes Sandy and Irene, he volunteered with the American Red Cross. He has also been active in pharmacy school organizations – serving as student body president, class representative and as an active member of the Student National Pharmacy Association.
"I've always put school first, but I'm a huge proponent of giving back to whatever community I live in," he said. "I said when I moved to Harlem…any time I have, I have to give back – it's good for me and adds to the educational value of what I'm doing here at Touro."
Touro College of Pharmacy, which opened its doors in Harlem in September of 2008, is the first school of pharmacy to open in New York in 70 years and is dedicated to increasing educational opportunities in Harlem and serving the Harlem community.