TCOP Attends ASHP Midyear Conference
Eleven Pharm.D Candidates Present Posters; One Wins Award
January 10, 2016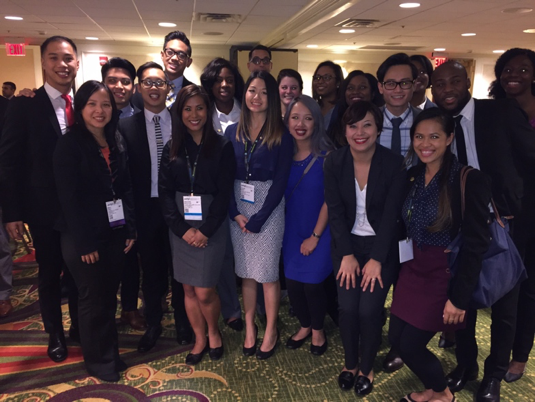 This past December, the American Society of Health-System Pharmacists (ASHP) celebrated its 50th Annual Midyear Clinical Meeting at the New Orleans Marriott-Ernest N. Morial Convention Center in New Orleans, Louisiana.
Eleven student representatives from the Touro College of Pharmacy—a record-breaking number—attended the meeting with faculty advisor Dr. Mary Choy, presenting posters and interviewing for residencies and post-graduate training. Terry Nguyen and Christopher Mendoza represented Touro at the national Clinical Skills Competition. Touro cosponsored the New York State Reception, held at the New Orleans Marriott Hotel after the meeting.
The ASHP Midyear Clinical Meeting is the largest gathering of pharmacists in the world. This year, the meeting was attended by more than 20,000 pharmacy professionals from 86 countries.
"It's an exciting conference for students overall," said Dr. Mary Choy, CGP, FASHP, Associate Professor and the ASHP-SSHP Faculty Liaison at TCOP. "We seem to outdo ourselves every year… It's really amazing seeing all the students actively participating in the conference. Not only do they attend; they also present posters and interview for residencies and post-graduate training. So it's a really busy meeting for them."
Several days before the conference, members of Touro ASHP-SSHP partnered with NYCSHP to prepare the pharmacy students for their interviews at the Midyear Conference.
One TCOP presentation won a ribbon at the local level. Gretchen Marcelino, a P-1 student at TCOP; Wai-Yee Chan, Director of Brooklyn Community Services—the Chinese-American Planning Council, Inc; andMary Choyreceived a winning ribbon—the Outstanding Professional Development Project Award—for their presentation "Community Outreach Flu Clinic Initiative: Improving Immunization Rates for the Underserved Community." They were recognized during the Awards Ceremony and Student Society Showcase held that same weekend.
Upon hearing that she and her co-authors were recipients of a winning ribbon, Marcelino said she was "very excited."
"I felt honored to see a ribbon next to our poster at my first ASHP Midyear Clinical Meeting. More so, I was very proud that I was able to represent Touro College of Pharmacy."