"The American Dream is Alive"
Second Year Pharmacy Student (P2) Alexander Agyei Marfo Journeyed from Ghana to US
December 27, 2017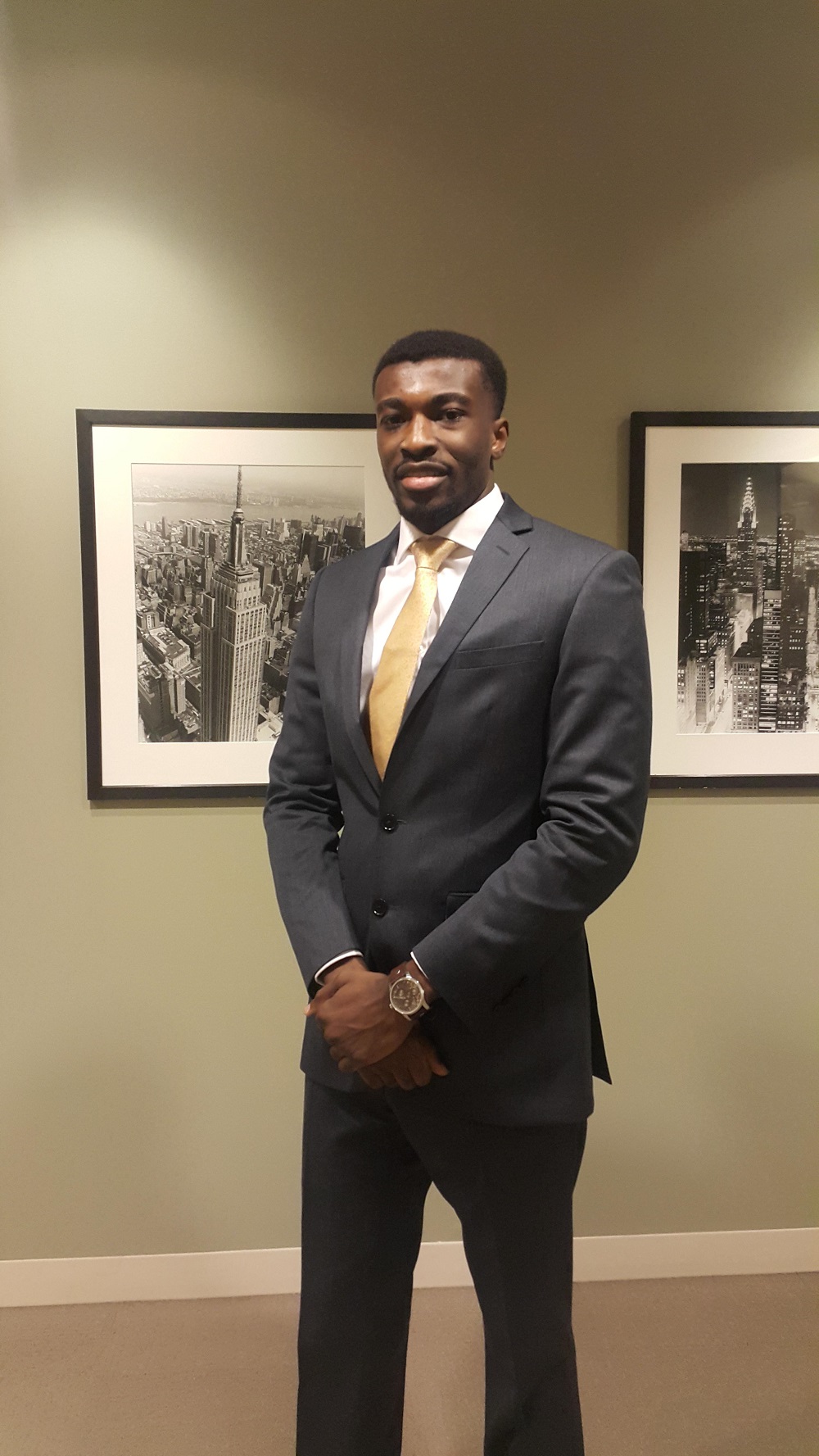 Alexander Marfo
Attaining his Pharm.D. is only the first step for Touro College of Pharmacy (TCOP) P2 Alexander Agyei Marfo. Once he finishes his Pharm.D., Agyei Marfo intends to work in the pharmaceutical world for several years while earning an MBA. After that, he hopes to start a hedge fund with a focus on the pharmaceutical industry.
His goal for the profits raised from the hedge fund? Combating health inequality around the world.
"The biggest problem in healthcare is the simplest one to explain," said Agyei Marfo. "Most people can't afford basic healthcare. The same problem cuts across the whole world—from America's Midwest to sub-Saharan Africa. I want to use a large portion of the profits from my hedge fund to support charity work to provide better healthcare globally."
As for sizing up the problems of healthcare, the multinational Agyei Marfo would know. A native of Ghana, Agyei Marfo has traveled the world as a medical science liaison for the medical conglomerate Merck Serono.
Agyei Marfo's interest in the pharmacy world began when, as a child, he realized that medications could be taken in pill form rather than injections.
"I realized that the only alternative to injections was to ingest medication," recalled Agyei Marfo. "It amazed me that I could take a tablet and I wouldn't need a shot. That was what started my interest in pharmacy."
Agyei Marfo received his BS in pharmacy from Kwame Nkrumah University of Science and Technology. After graduating he became a medical sales liaison at Merck Serono. As part of the well-established medical conglomerate, Agyei Marfo traveled the world before settling in England and gaining a post-graduate diploma in marketing from the London-based Chartered Institute of Marketing.
In London, Agyei Marfo quickly realized that the road to a greater impact consisted of moving up the hierarchy—a path he believed he could achieve with a Doctor of Pharmacy degree from the United States and an MBA.
"No one comes to America without a big dream," laughed Agyei Marfo.
Visiting New York on a business trip, Agyei Marfo looked into several pharmacy schools and after meeting with Heidi Fuchs, assistant dean for admissions and enrollment management at TCOP, decided the school would be a good fit.
"TCOP's smaller classes allow you to have a direct interaction with your professors," said Agyei Marfo. "You are able to form a connection with them and improve your own abilities and discernment."
Agyei Marfo moved to the US in 2015 and took a job as a pharmacy technician at Duane Reade while finishing up his pharmacy school pre-requisites at the Borough of Manhattan Community College.
He began his TCOP career in 2016 and jumped into his studies. He became a member of the e-board for IPhO (industry pharmacists) and did his introductory rotation in community pharmacy at the Duane Reade on 125th street. He is currently the President-Elect for Touro DIA (Drug Information Association).
At the tail-end of his first year, Agyei Marfo decided to apply for a pharmacy industry internship, a process typically only done after a second-year of pharmacy school. With the help of Dr. Paramita Basu, Agyei Marfo's research project supervisor, he landed an internship at Tris Pharma, a pharmaceutical company in New Jersey. At Tris Pharma, Agyei Marfo helped track FDA drug approval for the company's products as well as conducted research with the company's medical teams. Agyei Marfo was so successful the company offered him a continued remote internship during his second year.
"The American dream is alive," said Agyei Marfo. "There is so much you can do here that you can't do elsewhere."