Thriving on Teamwork
Touro College of Pharmacy Alumnus and Manager Charrai Byrd, PharmD, MBA, Values Working Together to Get the Job Done
July 01, 2022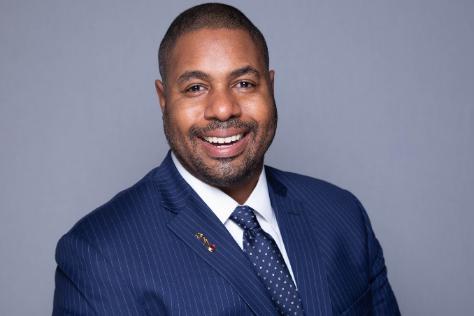 Charrai Byrd, PharmD, MBA
With his dedicated staff, Pharmacy Operations Manager-Controlled Substances Dr. Charrai Byrd, Class of 2012, loves solving mysteries as part of his job at New York-Presbyterian Hospital/Columbia.
How did you become interested in a career in pharmacy?
Pharmacy was not always my passion. For many years, I wanted to be an architect. It was in my blood. However, my stepmother was a pharmacy technician for a retail pharmacy and introduced me to pharmacy. She let it be known that there are not many black male pharmacists, and said I should look into it. Initially, I didn't think that I would like the field, but after I started working in the pharmacy and learning at the same time, I came to love it.
Why did you choose Touro?
I started my pharmacy education at another institution but did not complete the program. Years later, a hospital administrator encouraged me to go back to pharmacy school and finish my education. I met with the founding dean of Touro College of Pharmacy, Dr. Stuart Feldman, and was impressed by his vision and with the interview process. I recognized right away that Touro was interested in students who knew what teamwork meant. This convinced me it was time to go back and complete my training at Touro.
What is your current position and can you describe a day in your life on the job?
I'm a pharmacy operations manager for controlled substances at New York-Presbyterian Hospital/Columbia. I am responsible for all of the controlled substances that are dispensed throughout the 22-acre campus. I review transaction reports throughout the day and sign off on orders for controlled substances. I also attend many employee and enterprise-related meetings and oversee a small but dedicated staff of eight pharmacists and technicians. I emphasize dedicated, because they really care about their work and each other. They embody the term "teamwork".
What are some of the challenges and what do you like about it?
I'm a mystery buff and love to solve mysteries. Whenever a controlled substance is missing, I act like the investigator popularized on television - Columbo - and find the missing drug. Of course, there are times when I am not successful. When I cannot find a missing drug I then report it to the state and sometimes the federal government.
How did TCOP prepare you for your professional role?
Touro prepared many of us to work in teams, and you need that in a professional role. Each member of the team can bring their unique qualities to the job at hand, making any task successful. There is no "I" in team. Teamwork also enables you to learn and teach. My mentor and boss always says, "Each one, teach one".