Thriving on Touro's Specialized Research Track
Touro College of Pharmacy Student Irene Berger Studied Compound Inhibiting Key Pathogen in COPD
June 22, 2023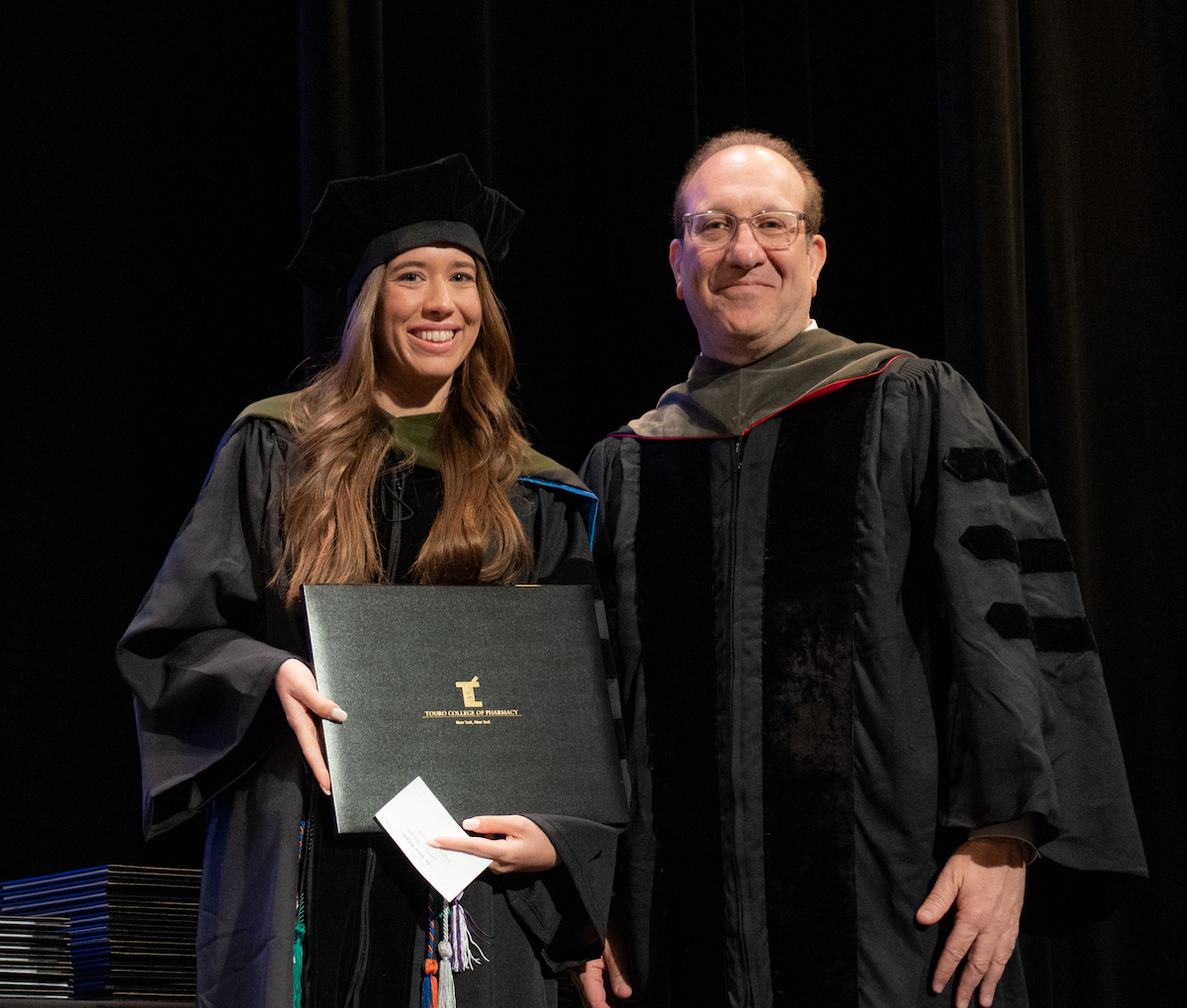 Irene Berger receiving her diploma from TCOP Dean Henry Cohen.
Brooklyn-born and raised, Irene Berger wanted to pursue a career in pharmacy beginning in high school. At Brooklyn College, she earned a bachelor's degree in business with a concentration in the health professions and minored in chemistry. Her decision was confirmed after spending the summer of her sophomore year of college working as an intern for a company in Israel involved in managing clinical trials. She was able to attend meetings at a hospital where the efficacy of medications were being studied in advanced clinical trials.
"There were hospital pharmacists who were strongly involved and asking all the right questions for the safety and well-being of the patients. That really attracted me. I was amazed to see how influential pharmacists were within the healthcare system," she recalled.
Her junior year she began taking additional courses to meet the prerequisites for pharmacy school and returned to Israel the following summer to volunteer at a hospital, where she was able to shadow a pharmacist and observe surgeries. The experiences taught her more about the different roles pharmacists can have in healthcare.
When it came time to apply to pharmacy school, Touro beckoned, with a curriculum that offered more experiential rotations than other schools, coupled with specialized electives that would allow her to pursue specific interests. In Berger's case, she was interested in the "Research Track" for students who wanted to sharpen their skills and expertise in research.
"The Research Track was one of the things that stood out to me about Touro's program compared with other programs," said Berger, explaining she had known about it through her older sister, who preceded her at Touro and had taken the courses. "I got involved in research because I saw how much she enjoyed it. So I knew it was something I would do in pharmacy school."
Berger thrived in the Research Track. In February 2021, she won the first-place award in Biomedical, Health and Natural Sciences at the Touro College and University System's Research Day for the quality and creativity of her research and clarity of her presentation. She showed that a natural compound inhibits growth of a key pathogen implicated in serious COPD infections and that the effects of the compound are greater depending on the dose and the timing.
"I was attracted to the project because of the significant impact the research could have on patients, with COPD being a leading cause of death in the U.S. and globally," she said.
Berger continued with her work on the project and in March 2022, shared first place for a presentation on the research at TCOP's second annual Research Week. The following December she presented the exciting discoveries with co-author Dr. Zvi Loewy, TCOP's Associate Dean for Research, at a major pharmaceutical clinical meeting and exhibition.
"The conference provided a unique platform for me to share our journey through the project, the encouraging results we were seeing in the lab and most importantly, how our results and findings could potentially help many patients," she said.
For the immediate future, Berger plans to continue doing research and also shadow pharmacists working in clinical settings to help her determine which of the many options open to her would be the best fit.