Touro Alum Finds a Balance
Touro College of Pharmacy Graduate Appointed 2021-2022 Academic Fellow – Postgraduate Fellowship Provides Blend of Teaching, Scholarship and Practice
July 02, 2021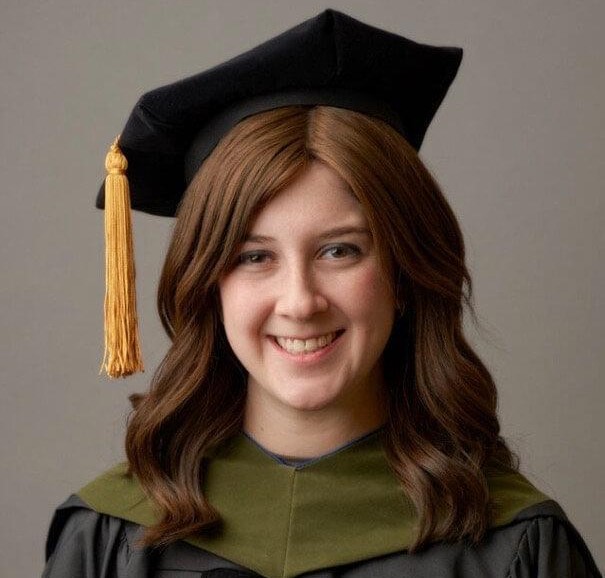 Talia Wall, Touro College of Pharmacy's 2021-22 Academic Fellow
Talia Wall, PharmD, is accustomed to being surprised. On her first day of classes as a new pharmacy student at Touro College of Pharmacy (TCOP) four years ago, she became engaged when her soon-to-be-husband came to school and, unexpectedly, proposed marriage.
Fast forward to this past spring and on the eve of graduation came another unforeseen development. Out of the blue, Wall was recruited by the school to apply for its prestigious Academic Fellowship – a one-year program that provides pharmacy professionals interested in academic pharmacy with postgraduate training. She had never thought seriously about applying for the fellowship, since she lacked the residency training typically required.
If she was offered the job and accepted, it would mean jettisoning her plans to go right to work as a staff pharmacist at a CVS pharmacy. But the fellowship was too intriguing to pass up, and so she threw her hat in the ring and after a round of interviews, was hired. Work started July 1.
"It's a fantastic opportunity," she says.
Aspired to Teach

Wall had thought often about teaching, which is a central focus of the fellowship experience at TCOP. At the same time, while growing up in Woodmere, Long Island, math and science became her favorite subjects in school. As an undergraduate at Lander College for Women-The Anna Ruth and Mark Hasten School, where she was an honors student, it was her chemistry professor she most admired. This led her to contemplate a career in medicine or as a physician's assistant - were it not for her aversion to seeing blood.
"I wanted to do something in the medical field. I wanted to be able to help patients and make a difference," Wall recalls.
Pharmacy seemed like it would be a great fit, and when she toured TCOP she loved what she saw. "The students seemed happy. The staff and professors were friendly. The curriculum seemed impressive – scary, at first – but also exciting in that I would complete it all and walk away with all of that knowledge."
She recalls at her infectious diseases class, the instructor trying to prepare the students for the amount of work ahead. The professor began with a slideshow, and the first image was of someone trying to drink from a firehose.
"That's how the professor described it. The topic was very big and very new to everybody. She said it would seem like we were trying to drink from an open firehose! It was very true," says Wall. In fact, the slide accurately depicted what the entire pharmacy school experience would be like, says Wall, "The class schedule is jam-packed and we learned a lot in all of them. And the pharmacy curriculum is all very new – it's not something you learn as an undergraduate."
In addition to juggling tight class schedules, Wall would participate in experiential rotations at nearly a dozen sites, learning about clinical practice, general medicine and pharmacy practice. Her favorite rotations were at hospitals.
"I really enjoyed the patient care," she says. At her rotation at St. Barnabas during the pandemic, for example, she found herself spending entire shifts reconstituting remdesivir and preparing IV bags with the antiviral drug to help stop the spread of the coronavirus in patients unable to breathe on their own.
Finding a Balance
After graduation, many of Wall's classmates would be going on to residency programs, a path she knew she, too, should follow if her ultimate goal was a career clinical pharmacy. Yet taking on a residency did not seem like a practical option. She'd given birth to her two young children while at TCOP, and her husband was busy studying full-time out of the house. So, Wall opted for a job as a staff pharmacist at a local CVS pharmacy and was set to go when she received the surprise call from TCOP about the academic fellowship.
On the phone was her former professor, Dr. Nelly Adel, who told Wall she was interviewing candidates for the position and encouraged her to apply. The fellowship would provide postgraduate training in teaching, scholarship and practice – all things she loved and excelled at, and would be great experience should she decide to pursue either academic or clinical pharmacy down the road.
"I would be able to develop myself and add to my skills," says Wall. "What appealed to me most was that it's balanced."
Academic fellowships are rare in pharmacy, offered by only about ten schools in the country, says Adel, who chairs TCOP's Department of Pharmacy Practice and oversees the program.
In the coming year, Wall will teach in the classroom as well as precept students on rotation. She will also help design courses and assess student progress. She'll get more clinical practice through rotations, and also participate in a research project and present the results at a major national conference. At the end, she will receive two certificates – in teaching and in leadership.
Adel interviewed applicants from other schools for the position but says she is confident that she, and Wall, have made the right choice. "Talia is very intense, sharp and no-nonsense," observes Adel, who had Wall as a student during her second and third years at TCOP. "She's a shining star!"