Touro College of Pharmacy Celebrates 10th Commencement
58 Graduates Commended for Persevering and Providing Aid During COVID-19 - "The Future is Bright for Pharmacy"
May 21, 2021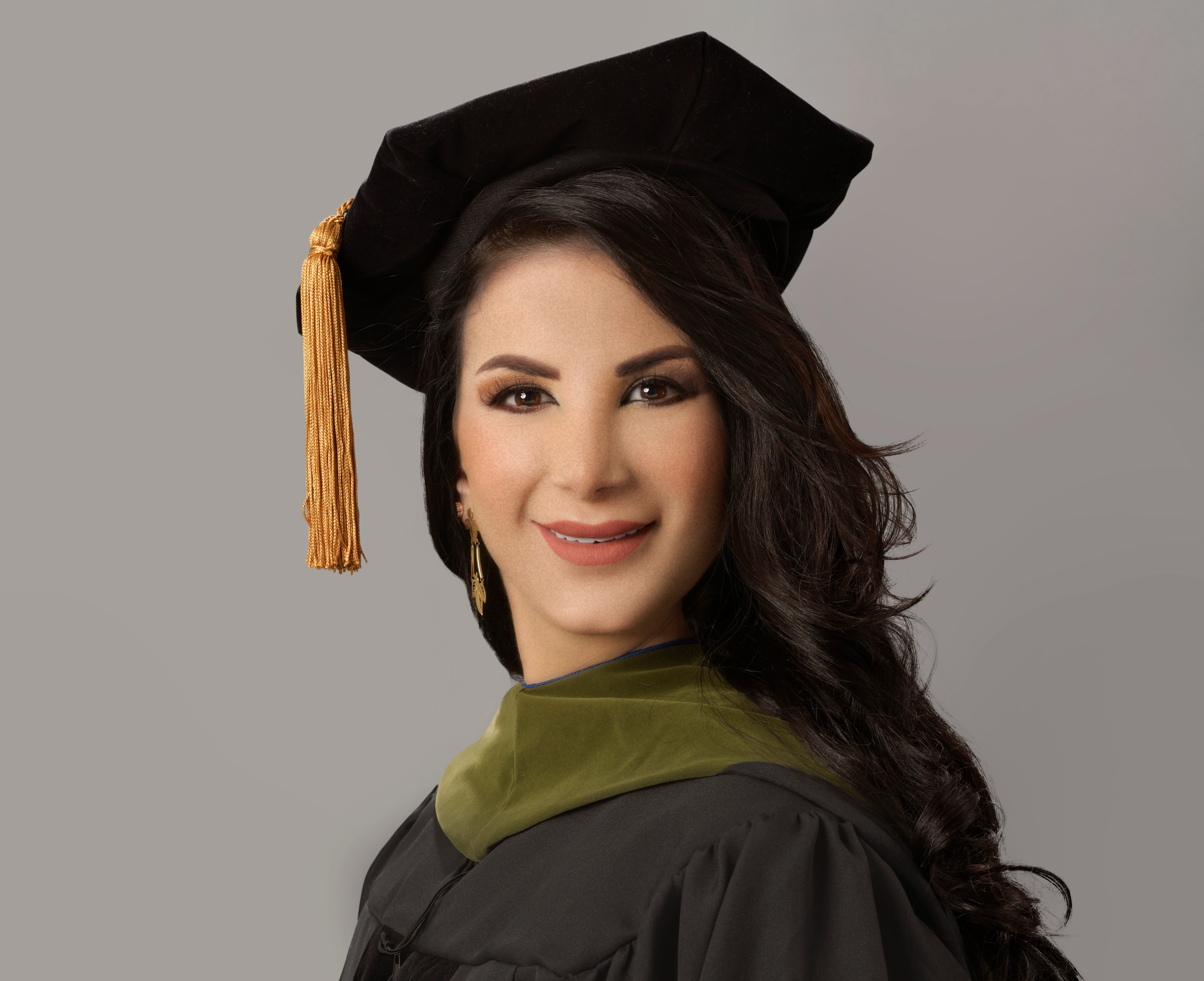 One of two commencement student speakers, Rana El-Sheikh-Ali
Touro College of Pharmacy (TCOP) graduated 58 new PharmDs on Thursday at its 10th commencement ceremony, the second to be held virtually during the COVID-19 pandemic.
The graduates were congratulated by their deans, senior-level administrators from Touro College and University System (TCUS) and others, who welcomed them to the profession and thanked them for their dedication and tenacity navigating academics, rotations and volunteer work during COVID-19.
"The hardest times teach us the most valuable lessons," said Dean Henry Cohen, PharmD. "You have lived through a once-in-a-lifetime crisis. Many of you have served on the front lines of the COVID-19 battle, conducting surveillance tests, administering vaccines, compounding hand sanitizers, participating in research and counseling patients. In the years to come people may well say this was our profession's finest hour – of which you were an integral part."
"Persevered as a Nation"
TCUS President Dr. Alan Kadish addressed the pandemic's impact all around and noted it has been especially hard on students, who have had to adapt to a "paradigm shift" that he observed may not be temporary.
Still, there is good news, Dr. Kadish said, "We have persevered as a nation and seen firsthand how science and medicine have advanced. As a result, I am hoping that humanity may be a little closer to seeing everyone in the same light because we have had this horrifying but shared experience."
The president noted lessons learned: that we can quickly isolate a virus and create a vaccine, and how misinformation about the virus "spreads more quickly than the disease itself, and that this misinformation can be deadly."
"Not least of all," Dr. Kadish continued, "We learned a lesson that we already knew: that in a time of crisis, there are many people who will step up and offer their services and resources. Our school, our faculty and many of our students can proudly say we were part of the solution in many ways."
TCUS Senior Vice President and Provost Patricia Salkin, J.D. also saluted the graduates for committing to help others by choosing a career that is critically important to society.
"It is the work of pharmacists to help develop medications and to help treat health challenges and - to be honest - during our current public health crisis, your expertise is needed now more than ever," she said. "Make a difference, particularly among the elderly, the less fortunate and the disenfranchised. Help make people healthier physically and mentally. The pandemic we are living through has put the pharmacy profession front and center."
Future is Bright
Keynote speaker Paul Abramowitz, PharmD, CEO of the American Society of Health-System Pharmacists, urged the graduates to reflect on the importance of their chosen career and their commitments.
"Navigating through these unpredictable times, know this," he said, "The future is bright for pharmacy. Each and every one of you, with varied career paths before you, has the opportunity to embrace this commitment and positively impact your patients, members of the healthcare team, your community and your profession."
Remarks were also delivered by two student speakers, Thomas Jackson and Rana El-Sheikh-Ali, both of whom shared personal stories of obstacles overcome. Ms. El-Sheikh-Ali told how she started at TCOP with two young children, a full-time job and had just beaten a cancer diagnosis delivered eight years beforehand. She hopes to open her own pharmacy one day. "As cliché as it may sound, I believe it is crucial that we not only follow our dreams but chase them."
The Class of 2021 will be working in a variety of settings, including retail or hospital pharmacies, clinics, pharmaceutical companies, public health organizations and government agencies. Two students accepted postgraduate fellowships – at Rutgers Pharmaceutical and Eli Lilly and Company. Six graduates will be postgraduate residents: at Montefiore Medical Center in the Bronx, University of Maryland Eastern Shore, Brookdale Hospital in Brooklyn, BronxCare Health System and Montefiore Nyack Hospital.