Touro College of Pharmacy Graduate Wins Award for Essay on Drug Shortage Crisis
Erin Duffy, Member of TCOP's Inaugural Class Wins Award From the New York State Council of Health-system Pharmacists (NYSCHP)
May 22, 2012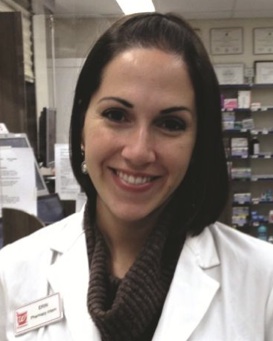 New York, New York – Erin Duffy, a newly-minted graduate of the inaugural class of the Touro College of Pharmacy in Harlem, has won the 2012 Corporate Member Scholarship Award from the New York State Council of Health-system Pharmacists (NYSCHP). Ms. Duffy, who recently received her PharmD (doctor of pharmacy) degree, won for an essay entitled, "The Drug Shortage Crisis and What Manufacturers Can Do To Alleviate the Crisis."
A native of Safety Harbor, Fla. who currently resides in Manhattan, Ms. Duffy accepted her award recently in Saratoga Springs, N.Y. at the NYSCHP annual assembly. She was the first Touro student ever to win the award, which was open to all students in the last two years of pharmacy school. Her essay was selected from over 20 submissions from all seven pharmacy schools in New York state. The essay will be published in an upcoming edition of the peer- reviewed Journal of Pharmacy Practice.
"The drug shortage was a part of my daily working life, whether in a hospital or retail setting," said Ms. Duffy, in explaining what led her to research the topic. "It was a great surprise for me to win the award and to be honored at the assembly."
Mary Choy, PharmD, Ms. Duffy's Touro student organization faculty advisor, offered congratulations on behalf of the school. "The nationwide drug shortage, especially with critical medications such as anti-seizure and cancer treatments, has had a great impact on providing optimal patient care. We congratulate Erin for using her education and intern experience to write a paper on this timely topic," Dr. Choy said.
Ms. Duffy said her plans for the immediate future are to work for Walgreens at various sites around New York City. "I like the social interaction with patients," Ms. Duffy said. "I like to be able to tell people how to live a healthier life. The retail community pharmacy is a great way to do this."
She began working for Walgreens while a community college student at St. Petersburg College in Florida. She graduated with a B.S. in biomedical science from the University of South Florida in 2007, before enrolling at Touro College of Pharmacy in 2008.
While at Touro, Ms. Duffy took a leadership role as part of the school's first class, serving on committees that provided feedback to the administration. She also wrote a research paper this year as part of her final year "Capstone Project" looking at existing research on ways to make insulin available in pill form instead of by injection.
Touro College of Pharmacy, which opened in Harlem in September 2008 as New York City's first pharmacy school in 68 years, is committed to offering increased educational opportunities – especially in Harlem - through programs in pharmacy education, research and scholarship, and through service to the community and the profession.
Media Contact:
Barbara Franklin
Director of Communications
212-463-0400 x5530
Barbara.franklin@touro.edu