Touro College of Pharmacy Graduates Class of 2023
New PharmDs Urged to Advocate for Public Health, Address Healthcare Disparities and Promote Change
June 01, 2023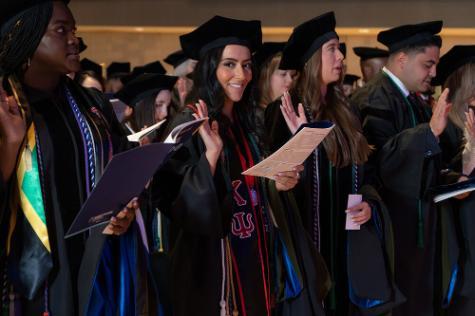 Touro College of Pharmacy Class of 2023 reciting the Oath of a Pharmacist.
Touro College of Pharmacy (TCOP) graduates from the Class of 2023 received their Doctor of Pharmacy degrees last week at the school's 12th annual commencement exercises. The festive event was held at Columbia University's Albert Lerner Hall.
In opening remarks to family members, friends and other well-wishers in attendance, Touro University Executive Vice President Rabbi Moshe Krupka thanked the graduates for their dedication and perseverance displayed during the pandemic, pursuing their degrees while volunteering to help Touro and local communities with testing and vaccinations.
"You started your journey right before the pandemic and you felt the full fury of COVID as you began your studies," said Rabbi Krupka. "All of you sustained Touro, and we are so proud of each and every one of you."
Dean Dr. Henry Cohen followed with congratulatory remarks, carrying forward the message to help others.
"I urge you to remember the fundamental purpose of your chosen field, to help others," said Dean Cohen. "The knowledge and skills you have acquired will enable you to make a meaningful impact on the health and well-being of your patients, families and communities."
Address Disparities, Change the World
Keynote speaker New York Assemblyman John T. McDonald III, himself a pharmacist who built a family-owned business that has become one of the largest independent pharmacy operations in the Albany region, offered the graduates a unique perspective on healthcare and their journey ahead. He urged them to become "champions for public health."
"You could not be coming into pharmacy at a more critical time in our healthcare arena, (which) needs dramatic change. Healthcare disparities, which significantly impact underserved communities, are at an all-time high," he said, noting the difficulty of attracting professionals to work in underserved communities as well as the post-pandemic exodus of healthcare workers and lack of faith in health care and science.
"Pharmacy is really the connector," he continued. "Diversity is now needed more than ever before and I believe this class represents that broad and strong diversity that we need to serve all of our communities."
"You will be one of the most trusted professionals. Your voice matters. You will possess both expertise and experience with a focus on what is best for the patient. Go out there, make a change in the world of pharmacy and a change in the world itself."
Postgraduate Residencies and Fellowships
Valedictorian Madrona Boutros and Class President Kenneth Pawa addressed their classmates together from the podium, delivering inspiring remarks that reflected on lessons learned at TCOP and tips for success going forward.
The Class of 2023 will be pursuing a variety of careers, including with community and hospital pharmacies, and in clinical settings, the pharmaceutical industry, public health organizations and government agencies. Many are beginning prestigious postgraduate residencies or fellowships, including at NYU Langone Hospital – Long Island, Mount Sinai Beth Israel, SBH Health System in the Bronx, and Novartis-Rutgers Pharmaceutical Industry Program.
In July, Boutros will be starting a newly-created postgraduate Rutgers University Industry Fellowship, working at Novartis as a Global Development Fellow in "Clinical Development Excellence."
"I am looking forward to applying all the skills and knowledge I received at TCOP to influence the development of medications and how they impact patients' lives. TCOP will forever be my second home, so I won't be surprised if I find my way back at some point in my career!