Touro College of Pharmacy Graduates Fourth Class
Commencement Speaker Points Out That Pharmacists Were the First Practitioners of Medicine
June 09, 2015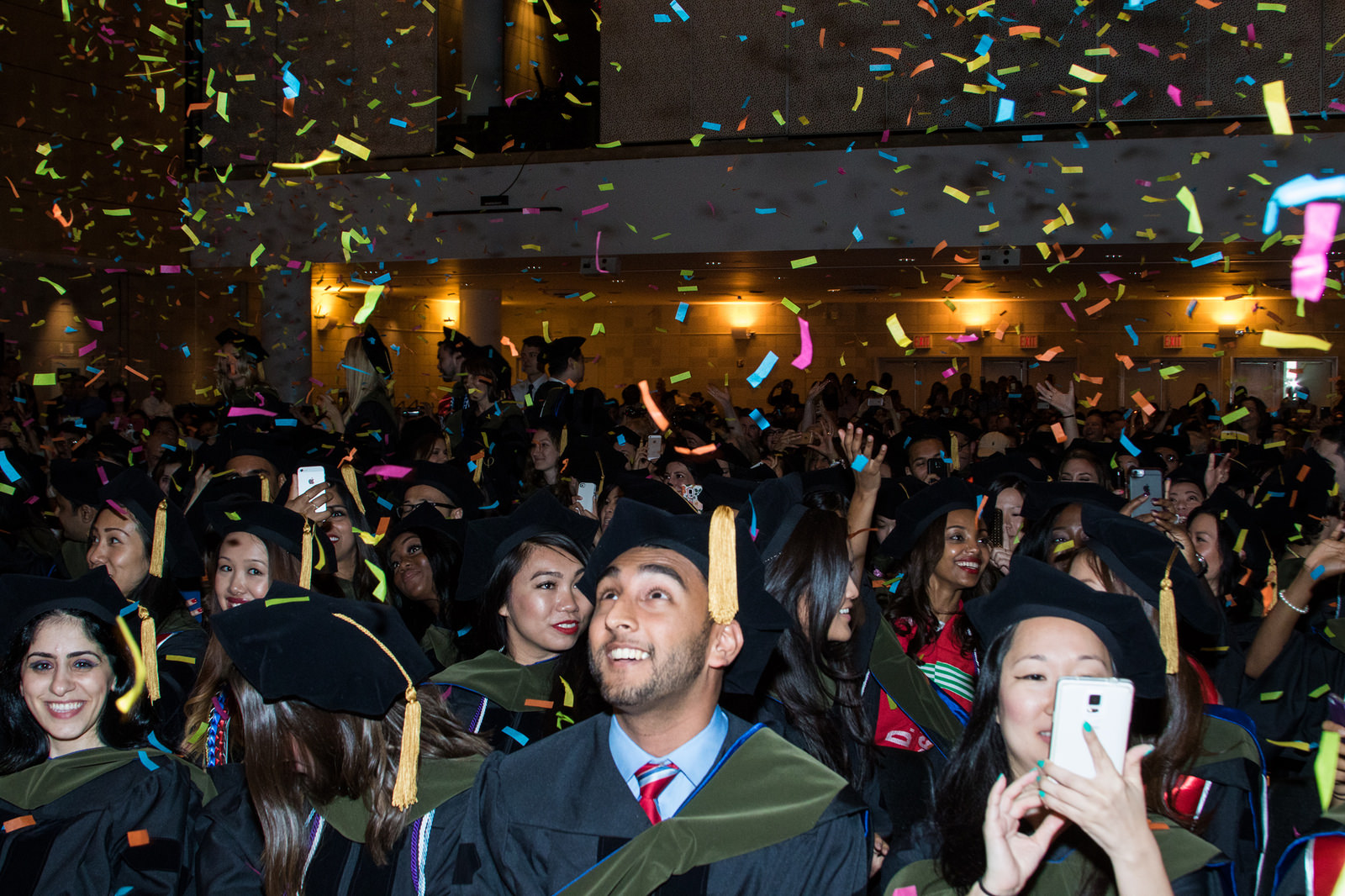 New York, N.Y. – In an auditorium packed with family, friends and well-wishers, 92 graduating students of the fourth class of the Touro College of Pharmacy (TCOP) received their PharmD (Doctor of Pharmacy) degrees last week at commencement ceremonies held at Columbia University's Roone Arledge Auditorium.
The class of 2015, which entered the College three years after its opening in Harlem, is the only pharmacy program in Manhattan.
TCOP strives to educate a diverse student body to serve underrepresented communities and work to minimize health disparities. Combined with research, scholarship, and expanded experiential opportunities, the school's mission is to improve the health of the underserved in Harlem and beyond and prepare students to practice, with a focus on public health, in an evolving health care system.
Interim Dean Zvi Loewy, Ph.D. welcomed the graduates, saluting them for their hard work and accomplishments. "Graduation means 'completion' and commencement means 'beginning'," Dean Loewy said. "Your pharmacy years are only the beginning of a lifelong journey. You have chosen well in your career. You have chosen well in your school. We are all here to assist you. We are very proud of each of you and wish you the best of luck in all your future endeavors."
The commencement address was delivered by Dr. Harry Leider, M.D., MBA and chief medical officer and group vice president of Walgreens. Dr. Leider took the audience through some of the past, present, and future of pharmacy. "It was pharmacists who put together compounds – for hundreds and perhaps thousands of years," he said. "They were the first practitioners of medicine."
Today, pharmacists are highly trusted by the public, Dr. Leider noted. Many factors including automation, the shortage of primary care physicians, new laws expanding pharmacists' ability to prescribe medication coupled with "consumer-driven health care" are all forces impacting the future of pharmacy practice that will "push pharmacists to the forefront in new ways….Medicine is now a team sport. Physicians are embracing pharmacists to help them succeed," he said.
Dr. Leider advised the graduates as they move forward to try different things, commit to lifelong learning, and to make a difference whatever they do. "Be a leader in an organization or call a patient and get them in for an immunization. No matter what you do, don't let the routine distract you from your privilege of making a difference."
The audience also heard inspirational remarks from Victor Chen, who was chosen by his classmates to give the student address. Chen was among the several standout students receiving awards. He received the Academic Excellence Award for the highest GPA in the class, 4.0, and recently landed a prestigious post-graduate residency at Brooklyn Hospital Center while publishing research on how a community hospital optimized antibiotics during patient stays, and counseling patients on medication safety at community events.
"Four years ago, we entered the doors of Touro College of Pharmacy, each of us with a different story to tell," Chen reminded his classmates. "We have all chosen different paths in pharmacy but we will continue to share what brought us together in the first place: our desire to help people."
TCOP is committed to offering increased educational opportunities through programs in pharmacy education, research and scholarship, and through service to the community and the profession. The school's unique "2+2" educational model provides two years of didactic instruction followed by two years of full-time experiential education.
The College has established significant practice experience affiliations for students including with retail pharmacies, hospitals, community-based organizations, public agencies, pharmaceutical and biotechnology companies, and health insurance organizations. Additionally, the school and its students have won significant awards and recognition, including from the U.S. Public Health Service, the New York State Council of Health-System Pharmacists, the American Society of Health-System Pharmacists, and The New York City Society of Health-System Pharmacists.
About the Touro College and University System
Touro is a system of non-profit institutions of higher and professional education. Touro College was chartered in 1970 primarily to enrich the Jewish heritage, and to serve the larger American and global community. Approximately 19,000 students are currently enrolled in its various schools and divisions. Touro College has branch campuses, locations and instructional sites in the New York area, as well as branch campuses and programs in Berlin, Jerusalem, Moscow, Paris and Florida. New York Medical College, Touro University California and its Nevada branch campus, as well as Touro University Worldwide and its Touro College Los Angeles division are separately accredited institutions within the Touro College and University System. For further information on Touro College, please go to: http://www.touro.edu/news/