Touro College of Pharmacy Holds 11th Commencement
Class of 2022 Celebrates Achievements and Looks Ahead to More Challenges - Together at Apollo Theater
May 31, 2022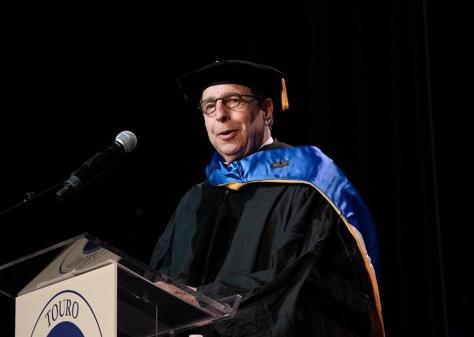 Dr. Paul Abramowitz
Donning masks and boosted up, 47 Touro College of Pharmacy student pharmacists from the Class of 2022 gathered with family and friends at the Apollo Theater in Harlem last week to celebrate at the school's 11th annual commencement exercises.
The future PharmDs were overjoyed to be together for the event rather than on zoom, which has dominated their lives for over two years. They cheered one another on as they listened to congratulatory speeches about their accomplishments and perseverance, and reflected on their futures.
"The hardest times teach us the most valuable lessons," said Dean Henry Cohen, PharmD, in opening remarks. "You have come to maturity at a transformative time for our world and our profession. You have lived through a once-in-a-lifetime crisis, [weathering] extraordinary disruptions…Whatever path you choose, we are confident you will be successful pharmacists prepared to practice at the top of the profession."
Presidential Kudos for High Pass Rates, COVID-19 Testing and Screening
Recognizing the achievements of the graduates, Touro University President Dr. Alan Kadish recalled that since TCOP's opening in 2008, the school has combined academic teaching with hands-on learning and community service. He proudly announced that the graduates achieved first-time pass rates on their licensure exams that are higher than the national average and "much higher" than the average in New York State.
Even more important, Dr. Kadish said, is the leadership shown by faculty and students in delivering COVID-19 vaccinations and screenings to the community. Since September 2020, TCOP collected 7,200 samples to test for COVID and helped administer 1,600 vaccines.
"That experience…will prepare the students very well for the challenges they face in these future uncertain times," the president said. "The pandemic has also reinforced a lesson that we probably already knew. At a time of crisis, there are many people who will be able to step forward and offer their services and resources to others, who aren't as well-equipped to deal with the challenges…After all, that's what the healthcare professions are all about."
Dr. Kadish then conferred an honorary Doctor of Pharmacy degree upon keynote speaker Paul Abramowitz, PharmD, ScD [Hon], chief executive officer, American Society of Health-System Pharmacists.
Changes and Challenges Ahead
Dr. Abramowitz took the graduates through some of the responsibilities and challenges they will face in a changing profession. He recalled when he was a student in the 1970s, pharmacy focused heavily on preparing and distributing medicines; whereas today, graduates will be drug therapy experts and primary care providers responsible for getting and keeping patients healthy and well.
"You will be an essential part of every healthcare team - in the hospital, in the clinic, in the community pharmacy and even in the new "Hospital at Home" model and other care settings," he said. "You will be involved in the creation of new models of care. The innovation you will create will become the routine practices of the future."
Acknowledging the scope of change that lies ahead, Dr. Abramowitz cited the rapid development of coronavirus treatments, and drug expenditures in the United States last year that exceeded $577 billion.
"Healthcare restructuring, dramatically rising healthcare costs, population health concerns, equitable access to care and competing priorities…will affect and influence your practices," he noted, and present opportunities to improve healthcare.
Recognition Certificates and Awards
Certificates of Recognition were presented to postgraduate year two (PGY-2) residents and fellows, followed by remarks from two student speakers, Page Briggs and Aderinola Omoniyi. Both women received numerous leadership awards the previous day at a recognition ceremony. Ms. Omoniyi attained the highest grade point average in the class, achieving summa cum laude.
Graduates will be working in a variety of settings, including retail or hospital pharmacies, clinics, pharmaceutical companies, public health organizations and government agencies.
Five students will be PGY-1 residents: Michael Gualano at Norwalk Hospital in CT; Kaitlyn Infante and Michael Stuart at One Brooklyn Health in Brooklyn; and Ms. Omoniyi and Gloria Paulino at SBH Health System in the Bronx. Joyce Oh will be a fellow at Oak Ridge Institute for Science and Education at the U.S. Food and Drug Administration and Divya Sarvaiya will intern at Gilead Life Sciences in San Francisco.