Touro College of Pharmacy Holds Annual White Coat Ceremony for Class of 2025
Diverse Class Enthused and Honored to Mark the Milestone
November 02, 2021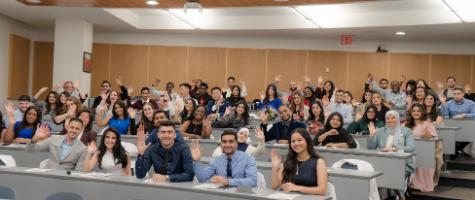 Touro College of Pharmacy, Class of 2025, awaiting official "cloaking" at White Coat Ceremony.
Touro College of Pharmacy's Class of 2025 gathered in person Thursday night at their Harlem campus for the profession's traditional White Coat Ceremony, marking the official start of their pharmacy education.
After remarks from Dean Dr. Henry Cohen and others welcoming them to the profession, the students were cloaked by faculty, enjoyed a class video and recited a pledge of professionalism before adjourning to a reception to celebrate with family and friends.
"I couldn't be more excited to get my White Coat," said Bronx native Ryan Fabian. After earning his bachelor's degree from City College of New York, Fabian worked at a Harlem pharmacy specializing in anti-viral medications – a niche he plans to return to after completing his PharmD. "With our classes now starting to focus on drugs, I'm starting to really feel like a pharmacist. Now I'll look like one too!"
Commitment to Science, Compassion, Honor
Dean Cohen took the students through a history of the white coat and the significance of the evening's event. "The ceremony welcomes [you] to the community of medical professionals by giving you this powerful symbol of your commitment to science, compassion and honor. Your white coat will be a constant reminder…of the standards against which you must measure your every act of care for the patients who trust you."
Other speakers included Touro College Provost and Senior Vice President for Academic Affairs Patricia Salkin, TCOP COO Dr. Abraham Jeger and TCOP Associate Dean of Academic Affairs Martin Brown. The invocation was delivered by Campus Rabbi Robert Fogel.
Keynote speaker Michael Fedida, R.Ph., M.S., and CEO of J&J Pharmacy in New Jersey, shared his story – beginning with his immigration to Brooklyn at age 13 from Morocco with his parents and four siblings.
"No one spoke English; there was no money. We lived in a two-bedroom apartment with one bathroom. We knew early on that education was going to be the key to success," he said. "My siblings and I all went to work after school to make ends meet."
His 40-plus year career as a registered pharmacist in New York and N.J. included experience as an officer and director of retail pharmacies, and consulting or membership on boards of numerous pharmaceutical companies.
"I would like my story to motivate each and every one of you who may have similar dreams or goals," he said. "Never shy away from any challenge. You can do anything you want as long as you show up every day and give it your best."
Diversity at TCOP "Broad and Wide"
Mr. Fedida also favorably contrasted the TCOP class of '25 with his pharmacy school class in 1972, which was composed of one woman, one African American and "two or three" foreign-born students. At TCOP, he said, "Seventy percent of the class is made up of women and the diversity is broad and wide."
Indeed, pharmacy is a second career for P1 student Kwado Asante and a long-held dream. Diabetes ran in the family, and how drugs interacted with the body were not well understood. "I always wanted to find solutions…and to be the person who could explain how medicines worked," said Asante, who came to the United States from Ghana. "White Coat means a lot to me…I'm the first person in my family to achieve this kind of education. It's something I take pride in."
Urijan Pimentel decided on pharmacy at 18, when she was homeless with only $81 in her wallet and the hopes that came with a full-ride scholarship to college. "Every wish since then has been a wish to get into pharmacy school," she reflected. "Every late-night study session, every volunteer hour logged, every extra hour of overtime, everything I did has been a step toward becoming a pharmacist. This year's ceremony is truly a dream come true."
A resident of Spanish Harlem and CUNY graduate, 43-year old Roberto Maldonado grew up in Hell's Kitchen with a passion for boxing. Though he notes he beat cancer, he was not able to help family members overcome other illnesses. He has also seen patients affected by COVID-19 and HIV. When his mother-in-law lost her battle with lung cancer last summer, the confluence of her fight and a molecular genetics class motivated him to help find cures. "I said to myself, 'I have to do something.' The White Coat represents the trust placed in me by the people I will fight for," he said.