Touro College of Pharmacy Holds Ninth Commencement
75 PharmDs Awarded Diplomas in Virtual Ceremony – Graduating into a Public Health Emergency
June 08, 2020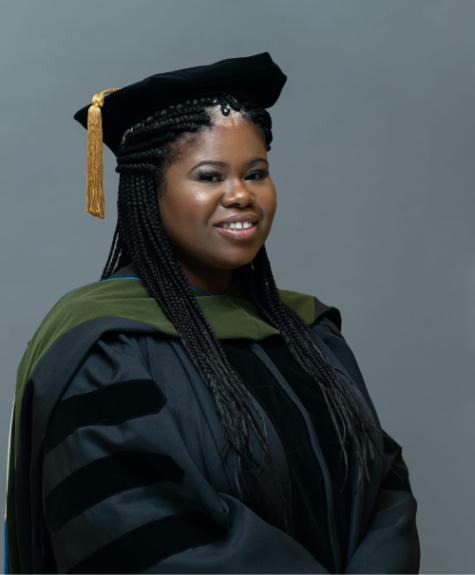 Touro College of Pharmacy (TCOP) in Harlem awarded 75 Doctor of Pharmacy (PharmD) degrees during a virtual ceremony on May 20th. Though the Class of 2020 could not celebrate together in person, surrounded by family and friends, they were able to connect remotely with faculty and other well-wishers tuning in through a live chat box that streamed 100 congratulatory messages during the one-hour program.
In spite of the cloud of the pandemic hovering over the event, organizers held to many familiar traditions. COO and Associate Dean Abraham Jeger, Ph.D. opened the program, followed by a student from Touro College of Osteopathic Medicine, Chantell Melgarejo, who recited the Pledge of Allegiance and sang the national anthem.
Following an inspirational invocation delivered by Touro College and University System (TCUS) Executive Vice President Moshe D. Krupka, TCOP Dean Henry Cohen, PharmD welcomed the new graduates. He observed that as they enter the profession during the pandemic, they will experience increased opportunities, responsibilities and expectations.
"We see this in the growing reliance of other members of the health care team on our skills and knowledge, and the official recognition in the expansion of our scope of practice," Dr. Cohen said, adding pharmacists are now authorized to administer vaccines, test for COVID-19 and antibodies, and are given greater autonomy in preparing medications.
"Glimmers of Meaning to Build Upon"
In congratulatory remarks, TCUS President Dr. Alan Kadish expressed hope and confidence about the future. He said people are better equipped to deal with the coronavirus than they would have been in the past, and predicted a vaccine will come - though exactly when he was not sure. The pandemic is challenging for everyone, the president said, "It's been difficult, as tragedy erodes confidence, but with effort and actions we can find glimmers of meaning and build upon that foundation."
President Kadish expressed confidence that the graduates would continue to meet the challenges they will face. "We've prepared you to help repair the world with compassion and service. Never have these values been more important than they are today, in the midst of our health crisis, and never have they been more needed. Now, more than ever, the world is counting on you."
Adding her warm congratulations, TCUS Provost for the Graduate and Professional Divisions Patricia E. Salkin, J.D. also stressed the importance of the work that lies ahead as the graduates try to live up to high expectations. "You've chosen a career critically important to society. Your expertise is needed now more than ever," she said. "Pharmacy is changing. It's your turn to go out…and make a difference."
Keynote speaker Paul Abramowitz, PharmD, CEO of the American Society of Health-System Pharmacists, also discussed the vital role the graduates will now have, with pharmacists being asked to respond to a public health emergency unfamiliar to most. Pharmacists have been at the front lines of the COVID-19 response, he noted, providing a range of services – from caring for mechanically ventilated patients in critical care, to managing medications at local pharmacies.
Two graduates, Tamisha Charles-Cacho and Michelle Rabi, addressed remarks to their classmates, followed by a video montage of class photos from their four years together. After conferral of degrees, photos of graduates in caps and gowns were displayed and their individual student activities, accomplishments and awards were read aloud. Over 30 awards were announced, for academics, service and leadership. They included the "Academic Excellence Award" to Shana Wolfstein, and the United States Public Health Service "Excellence in Public Health Pharmacy Award" to Claudette Donatien.
Serving the Underserved
Dr. Donatien will be joining a postgraduate residency program at Flushing Hospital Medical Center in Queens. She hopes eventually to earn a master's degree in public health and serve the underserved. "I am very excited to have been able to obtain my pharmacy degree," said Dr. Donatien, who has worked in retail pharmacy for over 10 years. "I have always dreamed of becoming a pharmacist. Although it took some time to complete, I am glad I kept pushing against the many adversities that I faced along the way."
The Class of 2020 will be working in a variety of settings, including retail or hospital pharmacies, clinics, pharmaceutical companies, public health organizations and government agencies. Four students accepted postgraduate fellowships, two with the prestigious Rutgers Pharmaceutical Fellowship Program at Pfizer in NYC. In addition to Dr. Donatien, a dozen other graduates are going to postgraduate residencies, at Yale New Haven Hospital; The Brooklyn Hospital Center, Mount Sinai Brooklyn and Kingsbrook Jewish Medical Center in Brooklyn; SBH Health System and Bronx Health Care System, in the Bronx; Staten Island University Hospital-Northwell; Mount Sinai Hospital in Manhattan; NYU Winthrop Hospital in Mineola; Montefiore Nyack Hospital in Nyack; and Baptist Hospital of Miami in FL.
About Touro College of Pharmacy
Since opening the doors to its Harlem campus in 2008, the Touro College of Pharmacy has offered a truly unique educational experience. Touro's exceptional curriculum sets it apart, providing students with nine rotations and other opportunities to put learning into practice, and offers an extraordinary focus on public health, cultural awareness, and community outreach. Small classes maximize personalized instruction, where students' futures come first, providing outstanding opportunities to work closely with knowledgeable and skilled faculty and network with a variety of health care providers. For further information on Touro College of Pharmacy, please go to: http://tcop.touro.edu/
About the Touro College and University System
Touro is a system of non-profit institutions of higher and professional education. Touro College was chartered in 1970 primarily to enrich the Jewish heritage, and to serve the larger American and global community. Approximately 18,000 students are currently enrolled in its various schools and divisions. Touro College has 34 campuses and locations in New York, California, Nevada, Berlin, Jerusalem and Moscow. New York Medical College; Touro University California and Touro University Nevada; Touro University Worldwide and its Touro College Los Angeles division; as well as Hebrew Theological College in Skokie, Ill. are separately accredited institutions within the Touro College and University System. For further information on Touro College, please go to: www.touro.edu/news