Touro College of Pharmacy Student Receives Prestigious Award
Colleen Kim, TCOP 2015, Was This Year's Recipient of "Excellence in Public Health Pharmacy Practice Award" from U.S. Public Health
June 03, 2015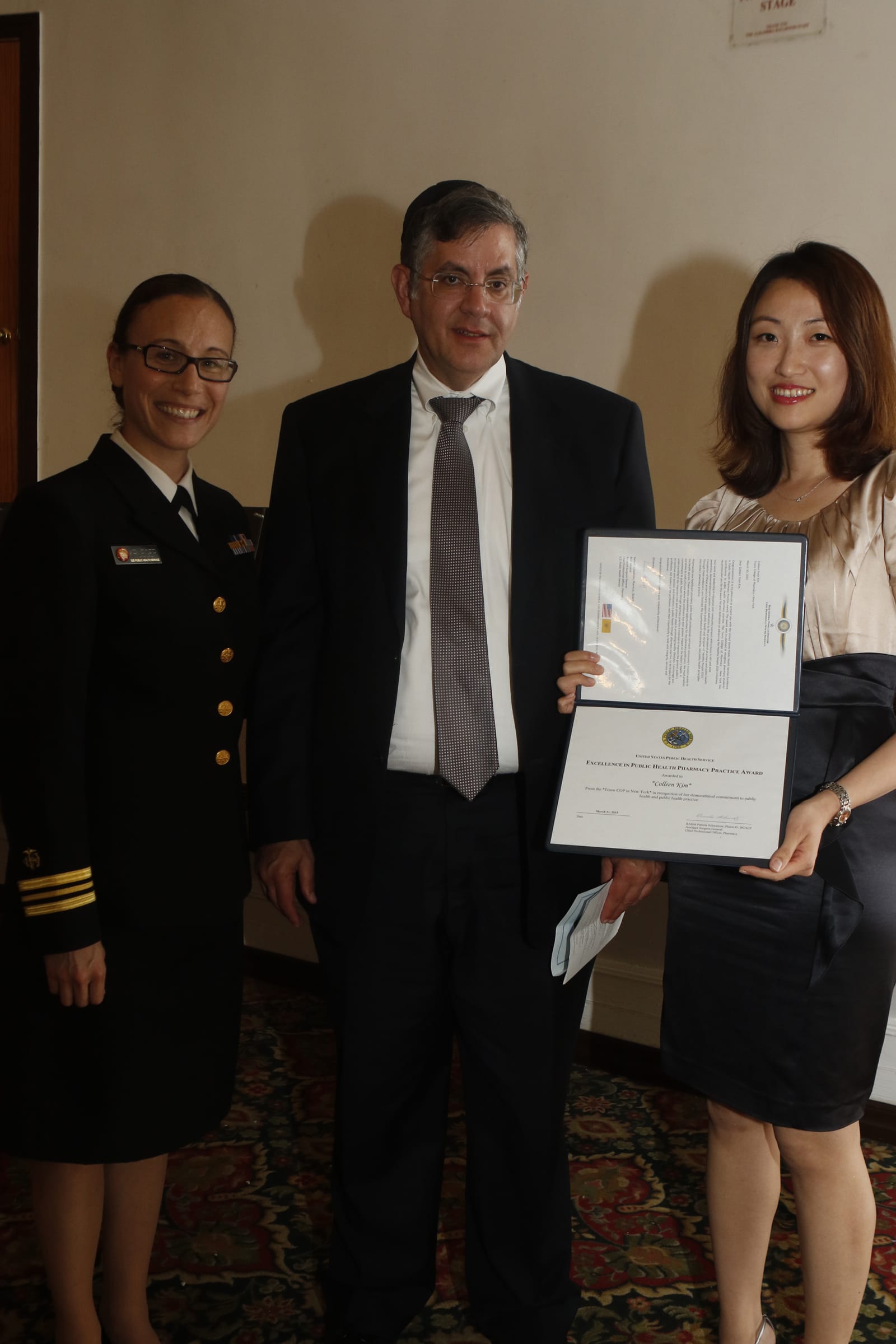 New York, N.Y. - Six years ago, Colleen Kim was employed as a software engineer in San Diego, putting her degree in aerospace engineering to work. Engaged to be married and working for one of the leading manufacturers of mobile communications, life was good.
But the UCSD grad wanted to keep learning, and so in the evenings she continued to take classes in a range of subjects, including biology, a subject she found fun for the first time in her life. She wanted to know more about healthcare, and when a friend achieved a long-coveted goal of a slot in pharmacy school, she became curious and began to explore the pharmacy profession.
"I was fascinated with tissues and cells and wanted to understand more about the body and the healthcare field. I decided to take my career in a new direction and go to pharmacy school."
And so she did. Last week Kim -- a new mom with her husband and seven-month-old in tow, and a part-time position as a pharmacist awaiting her at a major New York City hospital pharmacy upon receiving her license -- graduated from Touro College of Pharmacy.
She was awarded the prestigious "Excellence in Public Health Service Award" from the United States Public Health Service for her commitment to public health, leadership, education and community outreach on HIV and AIDS awareness, as well as prescription drug abuse.
The award was presented in recognition of her four years of service in the public health arena while studying at TCOP for her doctorate degree granted at commencement ceremonies May 27.
The USPHS award was presented at a banquet on the eve of commencement by Liatte Krueger, Pharm.D., USPHS.
"This annual award recognizes a student who has demonstrated a commitment to public health through pharmacy practice," said Dr. Krueger, adding Kim "has displayed commitment to public health and community participation."
Dr. Krueger cited a long list of Kim's activities including chairing the Student National Pharmaceutical Associations' 'Remember the Ribbon' HIV/ADS Committee, and earning recognition for Touro with its participation in the largest number of HIV/AIDS events among the 23 pharmacy schools in the northeast that make up Region 1 and for having the greatest number of students and Walgreens pharmacies participate in HIV/AIDS community events among all pharmacy schools in the U.S.
She also cited Kim's work with TCOP's Prescription Drug Abuse Prevention Education Program, which educates high school students in Staten Island about the consequences of prescription drug abuse, and her leadership of Touro's chapter of the American Pharmacist Association Academy of Student Pharmacists and its efforts in a nationwide campaign to further spread awareness on this issue.
"I am delighted that Colleen Kim is the recipient of the Excellence in Public Health Pharmacy Practice Award," said Dr. Zvi Loewy, interim dean of the College. "Colleen has excelled at Touro College of Pharmacy in the didactic program as well as in our clinical program. Most notably, Colleen led and contributed to several key public health initiatives during her four years at Touro."
Kim said she was honored and humbled to be receiving the award, and grateful to her colleagues and professors for their support. "Touro College of Pharmacy helped me recognize the importance of public health and how pharmacists can have a leading role in building a healthier community. I hope to continue to show excellence in public health as a healthcare professional."
About the Touro College and University System
Touro is a system of non-profit institutions of higher and professional education. Touro College was chartered in 1970 primarily to enrich the Jewish heritage, and to serve the larger American and global community. Approximately 19,000 students are currently enrolled in its various schools and divisions. Touro College has branch campuses, locations and instructional sites in the New York area, as well as branch campuses and programs in Berlin, Jerusalem, Moscow, Paris and Florida. New York Medical College, Touro University California and its Nevada branch campus, as well as Touro University Worldwide and its Touro College Los Angeles division are separately accredited institutions within the Touro College and University System. For further information on Touro College, please go to: http://www.touro.edu/news/
About the U.S. Public Health Service
The Commissioned Corps of the U.S. Public Health Service is a team of more than 6,500 full-time, well-trained, highly qualified public health professionals dedicated to delivering the Nation's public health promotion and disease prevention programs and advancing public health science. As one of America's seven uniformed services, the Commissioned Corps fills essential public health leadership and service roles within the Nation's Federal Government agencies and programs. Officers serve their country in communities that are most in need by providing essential health care services to underserved and vulnerable populations. For further information, visit https://www.usphs.gov/.