Touro College of Pharmacy Student Tiffany Murray is Recipient of CVS Caremark Charitable Trust Scholarship
The Grant is Awarded to Promising Pharmacy Students as They Complete Their Education
July 02, 2014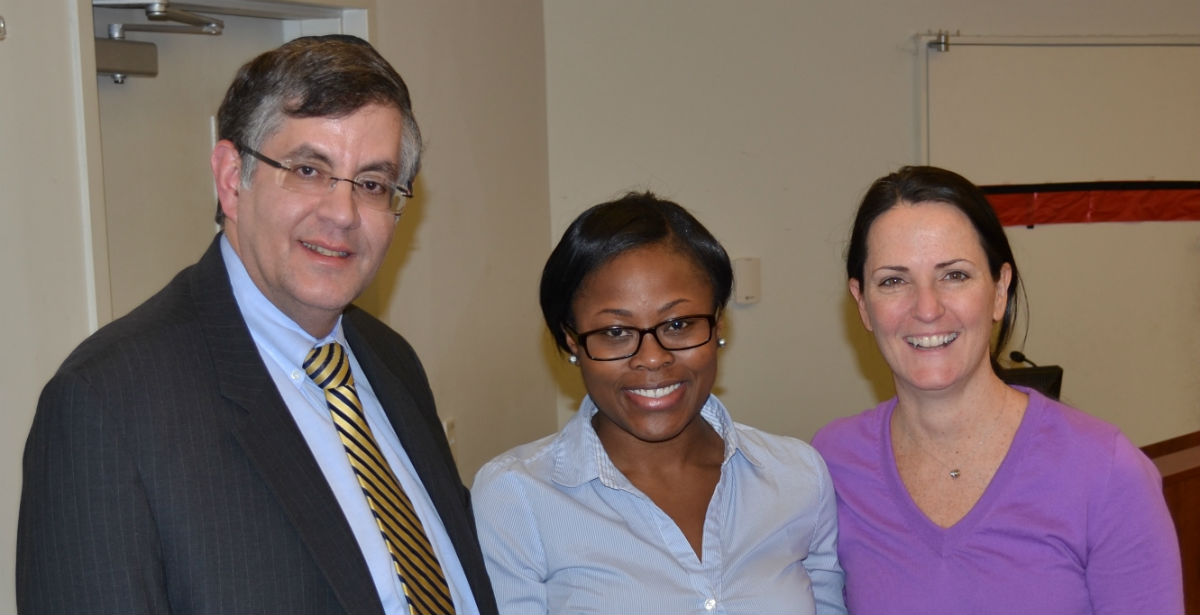 New York, N.Y. – When she was a little girl growing up in Guyana, Tiffany Murray watched with wonder as her grandmother prepared traditional plant-based remedies to treat an aunt who had polio. She remembers imitating her grandmother's behavior, grinding Hibiscus flowers to make medicine for her dolls.
"Witnessing the healing process fascinated me," she said. "Like my grandmother, I wanted to be a healer, and I envisioned myself one day helping to cure people around the world."
Years later, what Murray envisioned would become a reality.
Murray is enrolled at Touro College of Pharmacy (Class of '15) in Harlem, and this year her outstanding accomplishments there have earned her a CVS Caremark Charitable Trust Pharmacy Scholarship. The grant is awarded to future promising pharmacists as they complete their education.
Dr. Zvi Loewy, interim dean of the pharmacy school, and Dr. Maureen Sullivan, chair of the Dept. of Pharmacy Practice, presented the award to Murray. "I am delighted that Tiffany was awarded a scholarship from CVS Caremark," said Dr. Loewy. "The CVS scholarship recognizes the contributions that Tiffany has made to student pharmacy organizations and her community involvement."
At Touro, Murray became chapter president of the American Pharmacist Association's Academy of Student Pharmacists (APhA-ASP) where she was involved in several community outreach projects, including Operation Immunization, Generation Rx, Women as the Face of AIDS Summit Health Fair, and the YMCA Emblem Health Fair.
Murray said she valued her experiences with Operation Immunization and the Generation Rx programs in particular, "because I learned the importance of the pharmacist's role within the community" and that she is not someone who works "just behind the counter."
At Operation Immunization, students and members collaborated with local pharmacies to educate patients on the importance of being immunized− urging parents to update their children's immunization records and distributing educational materials about immunizations within New York City's Harlem neighborhood. Residents also received flu shots and were counseled on their blood pressure readings.
Generation Rx is a program at the Touro College Chapter of the APhA-ASP that is dedicated to educating high school students about prescription drug abuse through interactive presentations, educational literature and feedback from participants about the program's effectiveness.
Before enrolling at Touro, Murray received her Bachelor of Science in chemistry at Stevenson University in Maryland. She also volunteered at the outpatient pharmacy at the National Institute of Health in Bethesda, Md. while working at a CVS pharmacy.
Murray said she enrolled at Touro because its unique, four-year program−which couples two years of classroom with two years of hands-on clinical experience− and strong public health emphasis, "will tremendously assist me in my professional practice."
After she graduates, Murray said she plans to pursue a career in retail pharmacy and hopes to be "a caring and vigilant pharmacist who looks out for the best interest of my clients." Ultimately, she said her goal is to make a difference back in Guyana by opening her own pharmacy there, one that will "provide the best consulting services for communities in need."