Touro Offers Direct Pathways to Pharmacy
Schools Sign Agreements to Offer Pre-Pharmacy Tracks for Undergraduates Seeking Pharmacy Careers, Saving Time and Money
April 28, 2022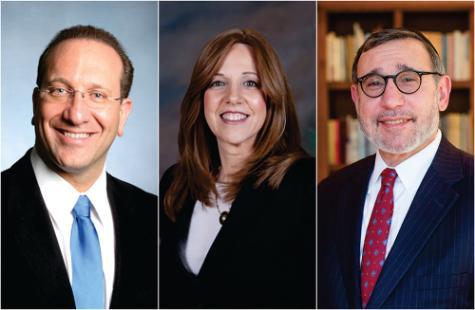 L-R, Dr. Henry Cohen, Dr. Marian Stoltz-Loike, Dr. Moshe Sokol
The schools have created pre-pharmacy tracks that will allow undergraduate students to become professional pharmacists by earning both bachelor's and Doctor of Pharmacy (PharmD) degrees in seven years, rather than the eight years usually needed to complete both.
"We are proud to partner with Touro University's Lander College for Men and Lander College for Women, whose high-quality, professionally-oriented degree programs and hands-on training are a perfect match for TCOP's mission to develop the next generation of pharmacists committed to promoting wellness, especially in underserved communities," said TCOP Dean Dr. Henry Cohen. "For students, this is a unique opportunity to get started in a respected and rewarding career in less time, and for less money, than if they had pursued both degrees separately."
Said Dr. Moshe Sokol, dean and professor at LCM, "Professional pharmacists make a very important contribution to the health and well-being of so many. We are delighted to partner with Touro's excellent College of Pharmacy to make it easier and more efficient for our students to join their ranks."
"A career in pharmacy offers students a wide range of professional opportunities," said Dr. Marian Stoltz-Loike, dean at LCW and chief online education officer and vice president at Touro University. "We are pleased to partner with Touro's College of Pharmacy, with its focus on academic excellence, superior patient care and student success, to offer this outstanding career pathway for our students."
Pathway to Pharmacy
Under the agreements, LCM and LCW students can apply to TCOP after completing pre-requisites in science, math, humanities, social sciences, and English and economics, including for LCW a minimum of 60 credits in residence. Also required are academic achievement, favorable recommendations, a personal interview at TCOP, and submission of a formal application to TCOP through the Pharmacy College Application Service. Interested students can apply from now through June 1, 2022.
Under the articulation agreements, LCM and LCW agree to provide counseling, advising and resources to students interested in pursuing this pathway to TCOP. Students admitted to TCOP must satisfactorily complete their first year of pharmacy school to obtain their bachelor's degrees from LCM and LCW.
With the partnerships, LCM and LCW join Touro's Lander College of Arts & Sciences – Flatbush and New York School of Career and Applied Studies, which already have such agreements in place.
TCOP has also signed similar linkage agreements with Touro College Los Angeles, Ramapo College, Caldwell University, Felician University, Marymount Manhattan College, Mount Saint Mary College, and CUNY's Brooklyn College, Lehman College, and Medgar Evers College.
Learn more about TCOP's linkage agreements.