Touro Pharmacy Students in the Spotlight at Research Week
From Alzheimer's Disease to Cannabis: Five Students Take Top Prizes for Research
March 11, 2022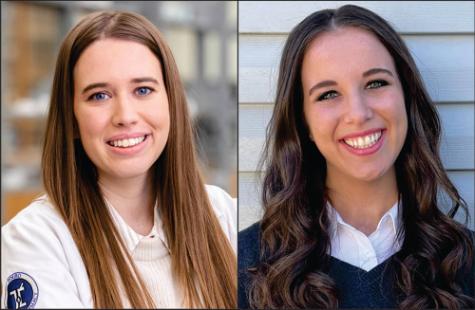 Left to right: Irene Berger and Yehudis Rosenwasser
Touro College of Pharmacy students shared their research with the college community at the school's second annual Research Week, held recently.
This year's event drew research presentations on a range of important topics – from a study on gene expression in cancer cells to antimicrobial activity of CBD derived from Cannabis, emphasizing the growing importance of pharmacists in health and medical research.
"Congratulations to the faculty, staff and students who contributed to the success of Research Week," said Dean Dr. Henry Cohen. "Pharmacy research drives the future of drug development and delivery, creating new medications, discovering different uses for existing drugs, and applying the latest technologies to create better patient outcomes. The event also underscores the College's full-time commitment to research, with a dedicated research track that includes cutting-edge courses, unique practice experience electives, and a committed research faculty who involve students in their ongoing projects."
Top Prizewinners
The five top prizewinners were selected based on the quality and creativity of the research and clarity of the presentations. A panel of four TCOP alumni served as judges. Many of the posters submitted were based on student projects developed within the College of Pharmacy's Research Track.
"We are very proud of the productivity emanating from this unique Touro offering," said Dr. Zvi Loewy, associate dean of research and professor, Department of Pharmaceutical and Biomedical Sciences. "The quality and professionalism of this year's event was superb. Our outside speakers are top leaders in the field. Our students and faculty that participated distinguished themselves."
P3 Irene Berger and P3 Yehudis Rosenwasser shared first place for their separate presentations, both of which focused on novel antimicrobial activities exhibited by natural products on pathogenic organisms. Dr. Loewy served as faculty advisor for both projects.
Rosenwasser's presentation, Effect of Cannabidiol on Pseudomonas aeruginosa in Planktonic and Biofilm Formation focused on the use of a phytochemical found in marijuana, and its ability to kill Pseudomonas aeruginosa, a bacteria that is known to be harmful to humans.
"In the body, P. aeruginosa often adheres to and grows on foreign objects such as medical devices, and forms what is known as a biofilm," explained Rosenwasser. "When P. aeruginosa forms biofilms it becomes resistant to most antibiotics. I found that when it grows as a biofilm, Cannabis compounds can effectively kill it. These findings are very important, as more bacteria are becoming resistant to common antibiotics and it is imperative to find new drugs that can effectively inhibit the growth of bacteria."
Berger's first place research and presentation, Effect of Probiotic Bacteriocin on Respiratory Pathogens, focused on determining how probiotics can fight bacteria that may be present in patients with respiratory tract infections. Berger found that a probiotic inhibits growth of the respiratory bacteria Haemophilus influenza, and that the effects of probiotics on inhibiting growth of harmful bacteria are dose-dependent and time-dependent.
"We also learned that the probiotic's nutrient source greatly impacts the antibacterial effects of the probiotic," said Berger. "Our findings have significant clinical importance in that we are working to find a novel approach to destroy the pathogens responsible for exacerbating respiratory diseases like chronic obstructive pulmonary disease (COPD). A new treatment approach for these respiratory infections is needed due to shortcomings of current treatment options with antibiotics, due to their resistance."
More Winners, Speakers
Second place went to P2 Ingrid Viguera for her presentation, Evaluating the Activity of Natural Actives Incorporated into Commercial Denture Adhesives as a Drug Delivery Vehicle" with advisor Dr. Loewy.
Third place winners (2 posters), were P3 Haley Kandelshein for her research, Evaluation of Adiponectin, AdipoR1 and AdipoR2 in the Pathogenesis of Alzheimer's Disease, with advisor Dr. Jenna Bloemer; and Determination of Protein Binding of CBD in Human Plasma, by P3 Jonathan Lara, Nathan Schweky of Lander College for Men, and research scientist Iva Sdranovic with faculty advisor Dr. Mariana Babayeva.
The weeklong event featured lectures on research from TCOP faculty and guests. Michael J. Rybak, PharmD, MPH, Ph.D., professor of pharmacy practice at Wayne State University's Eugene Applebaum College of Pharmacy and Health Science, spoke on "New Approaches to the Management of Gram-Positive Infections: Are Two Antibiotics Better Than One?"
TCOP faculty Drs. Justin Andrade, Ellen Loh, and Michael Papetti presented summaries of research initiatives from the College's three departments: Pharmacy Practice, Pharmaceutical and Biomedical Sciences and Social, Behavioral and Administrative Sciences.
Students and the entire TCOP community benefit from Research Week and related activities that take place throughout the year, Dr. Loewy noted. In April, George Yancopoulos, M.D., Ph.D., president, chief science officer and founding scientist of Regeneron Pharmaceuticals will visit and present a seminar as TCOP's 2022 Student Invited Speaker.
"Students are able to distinguish themselves through their work, which they later present at national meetings and publish in peer-reviewed journals," said Dr. Loewy. "Advancements in research serve as the underpinning and drive for pharmacy. Touro College of Pharmacy is proud of our contributions in advancing pharmacy."