Touro Professor Invents New Medical Device to Help Millions
College of Pharmacy's Zvi Loewy creates "all in one" system for diabetics
June 06, 2016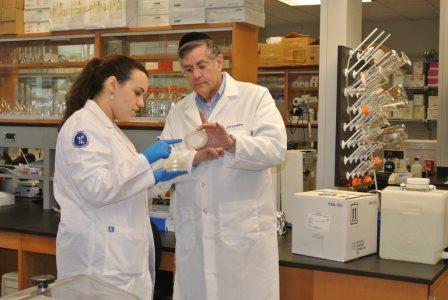 Professor Zvi Loewy, who heads the Department of Pharmaceutical and Biomedical Sciences at Touro College of Pharmacy and has served as VP of Research at two major pharmaceutical companies, invented the first "all in one" system to help diabetics measure glucose levels. This innovative medical device just received approval from the Food and Drug Administration and will soon be hitting the market. Touro Talk caught up with Prof. Loewy to learn more about this exciting development.
First of all, congratulations Professor Loewy. Can you explain how this new device works and how it's different from what's currently available?
The device that is being commercialized by Intuity Medical is unique in that it is an "all in one" system. Other products currently marketed require the patient to have on hand a piercing device, chemical strips and a small reader. This device, called the POGO system, is a self-contained 3-in-1 product. It's much more user-friendly and provides for better test accuracy.
When did you first think of this invention? What steps did you take to bring it from idea to reality?
I conceived of the invention several years ago. At the time, we were exploring the creation of novel devices for different healthcare applications including point-of-care glucose testing. We broke the glucose testing process into the three steps, optimized each step independently and then designed the unit that would "put it all together."
How do you think this will impact the lives of those with diabetes?
The product provides for ease of use and portability while providing high quality results. Hopefully, people will use the product according to the frequency recommended by their healthcare provider. Control of diabetes is linked to glucose monitoring several times daily. Because our system uses thin needles that are less painful, it will be much easier for people to monitor regularly.
What advice do you have for students who are interested in pursuing inventions and patents?
Think "out of the box", try to address a technical challenge that has an unmet market need. Share your ideas with friends and colleagues who can help you build upon it.
Who would you say is your own professional mentor?
Today it is my close network of scientists and engineers, colleagues that I have had the privilege of working together on different projects throughout my career.
Are you working on any other inventions that will improve quality of life and health?
Yes. We are currently developing new chemistries for oral care applications. The objective of the new chemistry is to change the distribution of bacteria in one's mouth. Essentially, we reduce the "disease- causing bacteria" and allow non-disease bacteria to replace them. One can envision the new chemistry functioning similar to "probiotics" but on an oral device including braces, mouth-guards and dentures!
What opportunities exist at Touro for students interested in researching and developing medical devices?
The beauty of the diverse and comprehensive Touro College and University System is our ability to collaborate on a multi-disciplinary level. In my lab at the pharmacy school, I offer opportunities for Touro undergraduates, pharmacy students and medical students to conduct fundamental research on a variety of projects. The more disciplines we involve in the research, the more ideas we will generate and the potential for breakthroughs becomes so much greater. My vision is that our collaboration will bear fruit in the form of many new inventions that will improve health and lives.
To learn more, contact Professor Loewy at zvi.loewy@touro.edu