Touro Student Chosen for New Pharmacy Quality Scholars Program
CVS and the Pharmacy Quality Alliance (PQA) Establish a Scholars Program and Touro College of Pharmacy Student is Among First Participants
August 23, 2016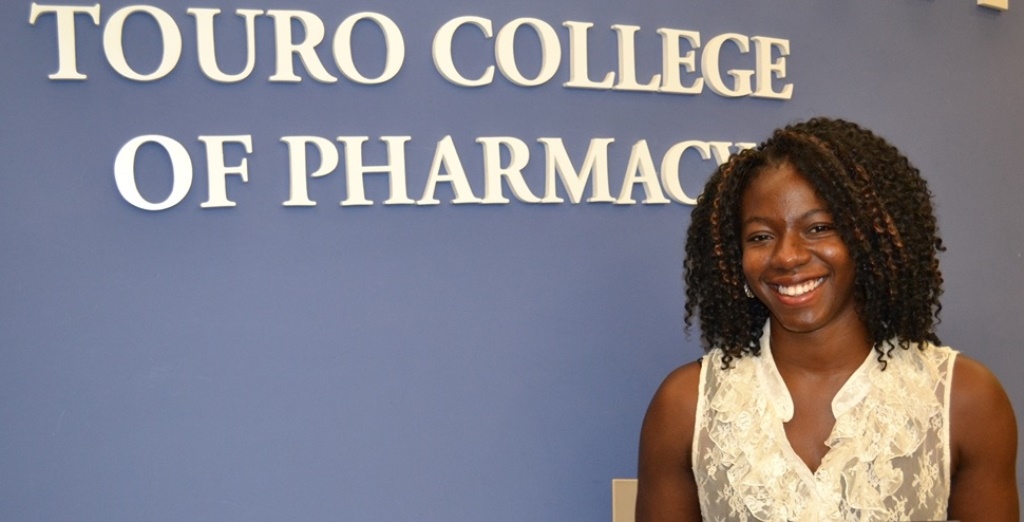 New York, N.Y. – Touro College of Pharmacy (TCOP) student Sefa Kploanyi has been chosen to participate in the inaugural Pharmacy Quality Alliance-CVS Health Foundation Scholars Program, which is launching on September 1, 2016.
The Scholars Program was established by CVS and the Pharmacy Quality Alliance (PQA) to recognize student excellence in projects centered on quality-related medication initiatives.
Designed to support up to 15 student-mentor pairs, the scholars chosen will design, implement and present a project related to quality measurement or improvement at PQA's annual meeting in the spring. PQA represents a variety of stakeholders interested in improving the quality of medication use.
The "Treatment Gap"
Ms. Kploanyi, a fourth year PharmD candidate, will be assessing what she calls the "treatment gap" of medication-assisted treatment ("MAT") for opioid and other addictions, which has become increasingly popular and is expected to continue to grow in acceptance as more steps are taken to combat opioid addiction.
"The purpose of my project is to discern potential healthcare gaps by investigating prescribing patterns, assessing adherence to medication-assisted treatment guideline recommendations and evaluating patient medication adherence to buprenorphine, one of the leading FDA-approved medications used to help wean patients off opiates as well as transition to an addiction-free life," she said.
Ms. Kploany said she was grateful for the opportunity to participate in the Scholars Program because it encompasses research, public health, and the improvement of healthcare quality, "everything I am passionate about." she said. "Opiate addiction is now acknowledged as a growing public health matter. There has been some progress as the federal government and several states are taking initiatives to finally address it but more research will be needed and I hope my research can provide valuable information as to how buprenorphine is used to treat addiction."
Her project will involve literature reviews and data analyses to assess deficits in guideline and medication adherence for buprenorphine, followed by an education campaign directed towards providers to spread awareness about treatment options and methods to decrease opioid addiction.
"With this data, an educational intervention targeted for providers will be created to increase awareness of MAT and treatment guidelines," she said.
As she pursues her work, Ms. Kploanyi will be mentored by TCOP Assistant Dean of Curriculum/ Interim Assistant Dean of Academic affairs and Associate Professor Dr. Batoul Senhaji-Tomza, who previously served as a patient safety consultant with various U.S. hospitals. Ms. Kploanyi took Dr. Senhaji-Tomza's Foundations of Patient Safety course at Touro, and her professor has served as a mentor as she has continued to explore the field.
"She has brought me into the fold of her own research projects, introduced me to new concepts and encouraged me to pursue my passions," Ms. Kploanyi said. "I learned that with ample research, simple behavioral and structural changes and measurable outcomes, a significant difference could be made in the quality of care provided to patients."
About the Touro College and University System
Touro is a system of non-profit institutions of higher and professional education. Touro College was chartered in 1970 primarily to enrich the Jewish heritage, and to serve the larger American and global community. Approximately 18,000 students are currently enrolled in its various schools and divisions. Touro College has 30 campuses and locations in New York, California, Nevada, Berlin, Jerusalem and Moscow. New York Medical College; Touro University California and its Nevada branch campus; Touro University Worldwide and its Touro College Los Angeles division; as well as Hebrew Theological College in Skokie, Ill. are separately accredited institutions within the Touro College and University System. For further information on Touro College, please go to: www.touro.edu/news
Media Contact:
Barbara Franklin
Director of Communications
646-565-6530
Barbara.franklin@touro.edu