TouroCOM and TCOP Celebrate Black History Month
Event Honors Two African American Faculty Members
March 07, 2019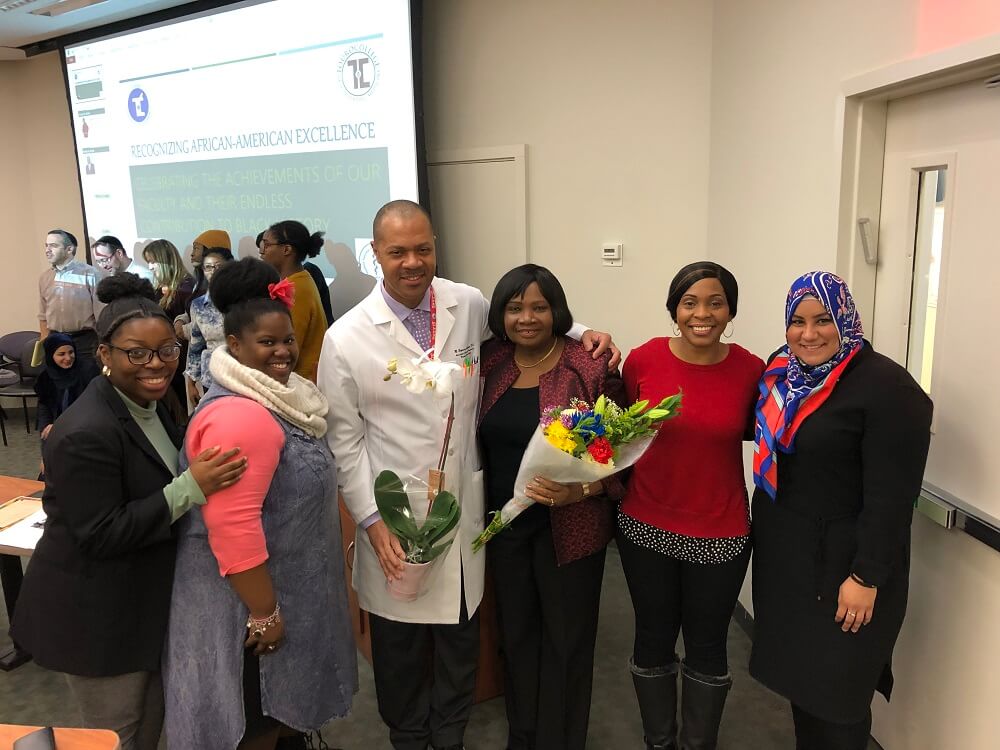 TouroCOM and TCOP celebrated the conclusion of Black History Month by honoring two of their prominent black faculty members, Dr. Joyce Addo-Atuah, PhD, MSc, BPharm, and Dr. Melvin Esquire Anthony, DO, on Feb. 28. The event was organized by the TCOP chapter of the Student Affiliate of the National Pharmacy Association (SNPhA) and the TouroCOM chapter of the Student National Medical Association (SNMA).
TCOP Dean Dr. Henry Cohen opened the event by speaking about prominent black physicians and pharmacists, like James McCune Smith, the first African-American to graduate from medical school in America and whose pharmacy became a stop on the Underground Railroad, and Ella Phillips Steward, one of the first African American women licensed to practice pharmacy.
"It's not only about the history, the examples set by these courageous pioneers are a true legacy for the present and a roadmap for the future," said Dean Cohen.
Dr. Addo-Atuah, a founding faculty member of TCOP, spoke of her many accomplishments including being the first member of her family to attend college and earn a Ph.D., her work with the World Health Organization and her role in Ghana's Health Service Counsel.
"Be confident in yourself or otherwise you allow others to define you," said Dr. Addo-Atuah, "Integrity and honesty will carry you far; be enthusiastic in everything you do." She concluded her lecture by discussing her recently published memoir, The Power of Thanksgiving: A Blueprint for Contentment, Fulfillment, and Well-Being through Gratitude.
Dr. Anthony spoke about his colorful childhood and teenage years, being shuttled between his single mother in Philadelphia and his uncle, a cross dressing performer, in Newark, New Jersey. He received a scholarship to attend the University of Maryland, and, after graduation, was recruited by the Oklahoma College of Osteopathic Medicine. He became a successful anesthesiologist and eventually found himself delivering a presentation about healthcare disparities at TouroCOM Harlem.
"I loved the students, I loved teaching, and I loved the mission and message of the school, so I joined the faculty," he said.
He offered the following advice to the students in attendance: "Find a mentor," he said. "I didn't have one and that is one of the reasons why my journey was a bit windy. I didn't have someone that I felt comfortable with."
"Keep your eyes on opportunities that are out there," said Dr. Anthony. "Stay current with what's happening around you."
Krystal Savice, OMS-II and outgoing president of SNMA, delivered the closing remarks.
"Our interprofessional history includes that of the Civil Rights era, in which black pharmacists and black physicians fought so hard to lay down the groundwork for integration in acknowledgment of black professionals," said Savice. "We honor their courageous and resilient spirit. Let us revel in how far we've come and remember that black and African American excellence is to be recognized, not just for one month, but year-round."
"it's important to remember black history and the progress we have made as a society," said SNPhA president-elect Jenna Eldib.