TouroCOM-Harlem and TCOP Lead Joint Health Fair
Touro College of Osteopathic Medicine-Harlem and Touro College of Pharmacy held their fall health fair on Friday, September 25.
September 28, 2015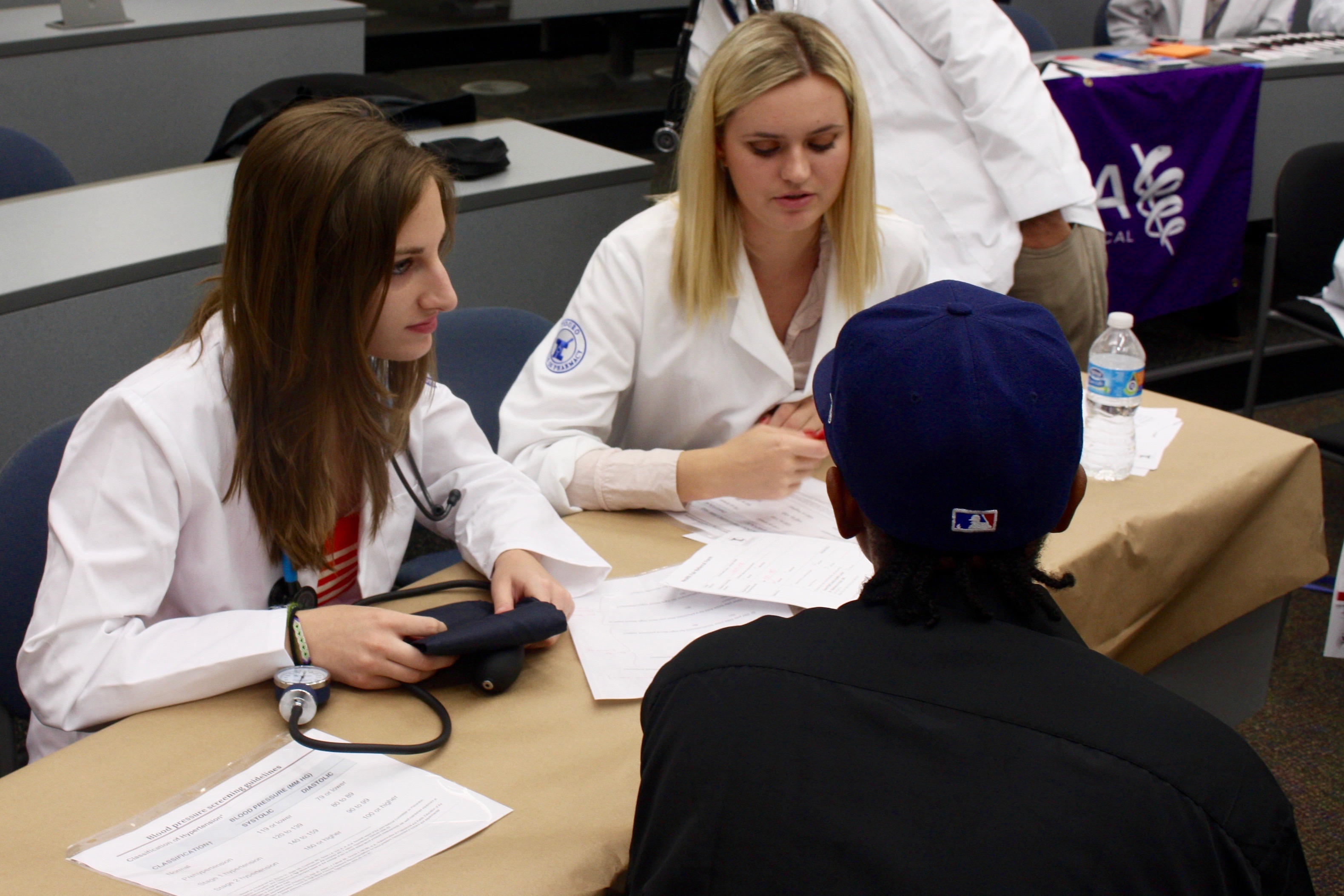 "Where can I get alcohol swabs?" a breathless D.O. student asked his peer. "Sir, do you take any medications? Would you like to have them reviewed?" a PharmD candidate asked an approaching visitor.
Although most of Manhattan was abuzz with news of the Pope's imminent visit to New York on Friday, September 25, the streets of West Harlem were humming for an entirely different reason: TouroCOM and TCOP's health fair. Pharmacy and D.O. students lined Harlem's W. 125th Street as they held signs promoting the fourth semiannual "Fall Into Health" fair, which offered free health services and medical information to residents of the Harlem community and surrounding neighborhoods.
As part of the health fair, TouroCOM and TCOP students administered seasonal flu shots, health screenings (such as bone density screenings and BMI screenings), one-on-one medical consultations; and blood glucose-, blood pressure- and HIV tests. Student clubs also distributed educational pamphlets about nutrition, chronic illnesses, and healthier lifestyles, while PharmD candidates (supervised by faculty advisors) offered private brown-bag medication reviews. Although this year's health fair featured many of the same resources and booths as last semester's event, this fair included a new OMM (Osteopathic Manipulative Medicine) booth—manned by D.O. student Ezra Hoover—offered free osteopathic structural examinations and evaluations of gait for visitors with musculoskeletal complaints.
D.O. student leaders Jessica Koren, Vice President of Sigma Sigma Phi (SSP), and Kimberly Chen, Vice Chair of American Medical Association (AMA), coordinated the successful event in conjunction with 25 student organizations and five external organizations, including the Renaissance Health Care Network, the Harlem Family Center, and the Link to Life Network, Inc.
While Dr. Rebecca Cope supervised the pharmacy students alongside faculty members Dr. Maria Sorbera, Dr. Michelle Friedman, and Dr. Rebecca Salbu; Dr. Tipsuda Bahri, chair of Basic Biomedical Services, and Dr. John Palmer, director of Community Affairs and Diversity, acted as faculty advisors for TouroCOM alongside Dr. Harold Sirota (Chair of the Primary Care Department), Dr. Jennifer Zepf, Dr. Grace Vasconez-Peireira, Dr. Lily Lam, and Dr. Todd Levi.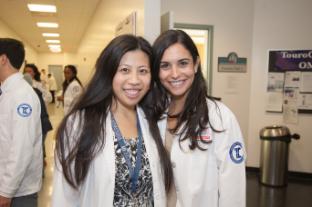 D.O. student leaders Jessica Koren, Vice President of Sigma Sigma Phi (SSP), and Kimberly Chen, Vice Chair of American Medical Association (AMA) organized the TouroCOM-Harlem fall health fair.
Community residents and organizers alike seemed inspired by the fair. "Honestly, I think you should do this more often," enthused Harlem-resident Jessica Deliazard, who stopped in when she saw a sea of white coats on her walk home. "It's great for people like me, who can't afford health insurance and can't afford an appointment to the doctor or medications…at least we can have a free health screening to know where we're at and such."
Even faculty took advantage of the day for a quick check-up—like TouroCOM Dean Dr. Robert Goldberg, who was delighted to get his flu shot.
"Going forward, we expect more joint health and community outreach events between the osteopathic medical and pharmacy schools to be the new trend," confirmed Dr. Rebecca Cope of TCOP. "We're making collaborations as inter-professional as possible—for the osteopathic medical students to know what we do, and for our pharmacy students to know what they do—and this has been a great example of that."
Representatives from the South Harlem Community Emergency Response Teams (CERT) also had a booth at the fair, educating visitors on emergency disaster preparedness. Team Chief Ramona Ponce was inspired by the sheer numbers of student volunteers she saw. "It gives me a great deal of confidence for the future that so many young people are choosing to enter the health profession. For someone of a certain age like myself, it's good to know that there are going to be people around in the future taking care of me when I grow elderly—after I've taken so much of my time to take care of them."