TouroCOM-Harlem Inaugurates Medical Library, Scholarship Fund in Honor of Sheldon L. Sirota
The Touro Harlem Medical Library has now been officially renamed the Sheldon L. Sirota, DO, Memorial Library.
May 11, 2015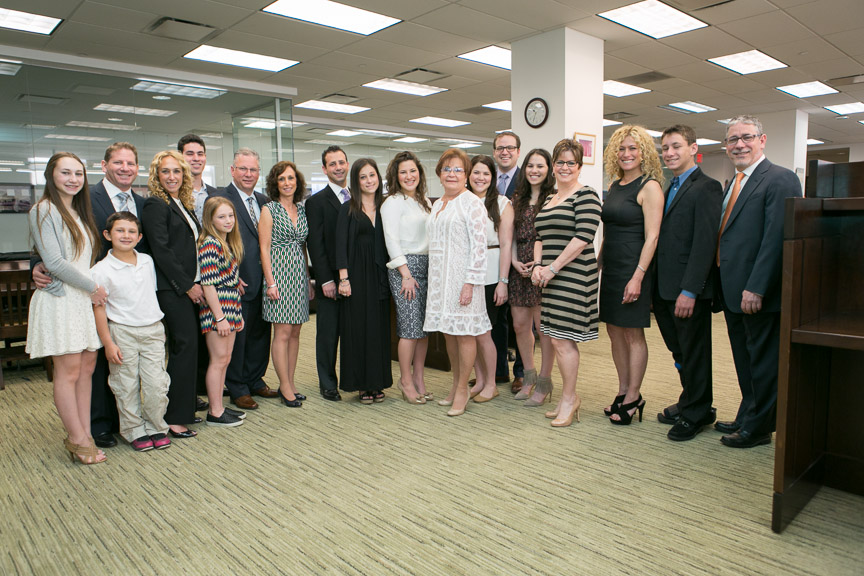 On May 8, 2015, the Touro Harlem Medical Library was renamed the Sheldon L. Sirota, DO, Memorial Library in honor of the late Touro vice president in a dedication ceremony and reception at Touro College of Osteopathic Medicine (TouroCOM)-Harlem.
Dr. Sheldon Sirota, who passed away on April 21, 2013, was a founder of the Touro osteopathic medical schools in California, Nevada, and New York. He served as vice president of osteopathic medical affairs for Touro from 1994 until his death and was the first osteopathic cardiothoracic heart surgeon in the state of New York. Throughout his extensive career, Dr. Sirota was responsible for training tens of thousands of medical students and residents.
Emceeing the dedication ceremony was Dr. Harold Sirota, son of Dr. Sheldon Sirota and chair of the primary care department at TouroCOM-Harlem. In his address, Dr. Harold Sirota spoke about the untimely passing of his father, his pride in his father's many accomplishments, and his gratitude to the family members, friends, colleagues, and Touro administration for honoring Dr. Sirota. Family members present at the ceremony included Dr. Sheldon Sirota's wife Ruth; children Harold, Larry, Craig, and Suzanne; and their respective families.
"To acknowledge his lifelong dedication to the osteopathic profession, healing, and service to humanity, we felt that it would be most fitting to dedicate the medical library—where hundreds of osteopathic students study, research, and socialize as they matriculate throughout their four years of medical school—in his memory," said Dr. Harold Sirota in his speech.
The library-naming ceremony comes on the heels of the Dr. Sheldon Sirota Memorial Tribute Dinner last April, in which guests recognized Dr. Sirota's accomplishments throughout his illustrious career and his loyalty to Touro.
Almost $400,000 has been contributed from donors to the Sheldon L. Sirota Memorial Fund, which offers scholarships for TouroCOM-Harlem students entering post-graduate residencies. "In allowing students to fulfill their dreams of going into residencies and ultimately entering the medical profession, this fund allows my father's legacy to continue," explained Dr. Harold Sirota.
"The generosity of the Sirota family and their friends and colleagues was astonishing, and a true tribute to how beloved and popular he was," said Sheldon Weiner, senior events coordinator at Touro College.
At the ceremony, Touro College President Dr. Alan Kadish delivered opening remarks and Executive Vice President Rabbi Moshe Krupka offered benedictions. Congressman Charles Rangel, U.S. Representative for TouroCOM-Harlem's district, also addressed the audience.
A large bronze plaque outside the library bears the new library name. Inside, a glass donor wall acknowledges the generous contributions of family members, colleagues, friends and community members who donated in memory of Dr. Sirota, including Dr. and Mrs. Hemant Patel, the former of whom is director of internal medicine at TouroCOM's Family Health Center.
"Dr. Sirota was a visionary whose entire life was dedicated to medical education," said Dr. Robert Goldberg, dean of TouroCOM-Harlem. "What better way to salute him than to name the center of our learning at our medical school after him?"