Veteran Spotlight: William Jordan
Touro College of Pharmacy (TCOP) Salutes Students Who Have Served Ahead of Veterans Day
November 09, 2020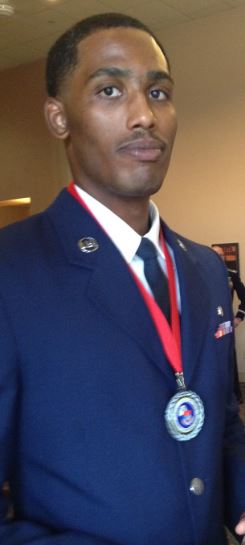 Touro College of Pharmacy student and Air Force veteran, William Jordan
As Veterans Day approaches, we spoke with Air Force veteran and second-year Touro College of Pharmacy student, William Jordan, on why he enlisted, where he served, and more.
Reason he enlisted: I was looking to do something meaningful in my life that would enable me to travel and experience varied cultures firsthand. During my initial meeting with a recruiter, I learned that once I enlisted, I could also pursue my undergraduate degree in my field of choice, so I considered this a win-win scenario.
Active duty assignments: I was assigned to Wilford Hall Ambulatory Surgical Center at Lackland Air Force Base in San Antonio, Texas where I worked in neuropsychology as a psychometrist and in the clinical health psychology unit. Many patients that come to neuropsychology had cognition concerns and I would evaluate their intelligence, long and short-term memory, dexterity, decision-making abilities, and how well they were able to pay attention before creating their treatment plan.
Military awards: Air Force Achievement Medal, the Noncommissioned Officer Professional Military Education Graduate Ribbon, and the Air Force Good Conduct Medal after completing three consecutive years of honorable service
Why he's passionate about the pharmaceutical field: I chose this field as I love helping people get well. Being a part of a healthcare team that is knowledgeable and compassionate will enable me to change the lives of patients by dispensing medication that can help them live longer and healthier.
Experiences had while serving that are helping him now as a pharmacy student: While serving, I provided direct patient care. During these interactions, I saw that it's vital to develop a rapport with people in need of help to ensure they're comfortable explaining their issues. Their comfort directly influenced their diagnosis and the treatment's overall effect. It's because of these situations that I'm very comfortable interacting with patients of different backgrounds.
Military skills applied at Touro: As the Air Force is dedicated to excellence through education, there was always a huge focus placed on studying and continuous self-improvement. Serving in the military helped me to fine tune my studying techniques and I have continued to build upon this skillset while enrolled at Touro.