TCOP Student Presents at APHA Conference
Chris Milan, TCOP '17, presented his research on public health at APHA's Annual Meeting and Expo in Chicago last month.
December 01, 2015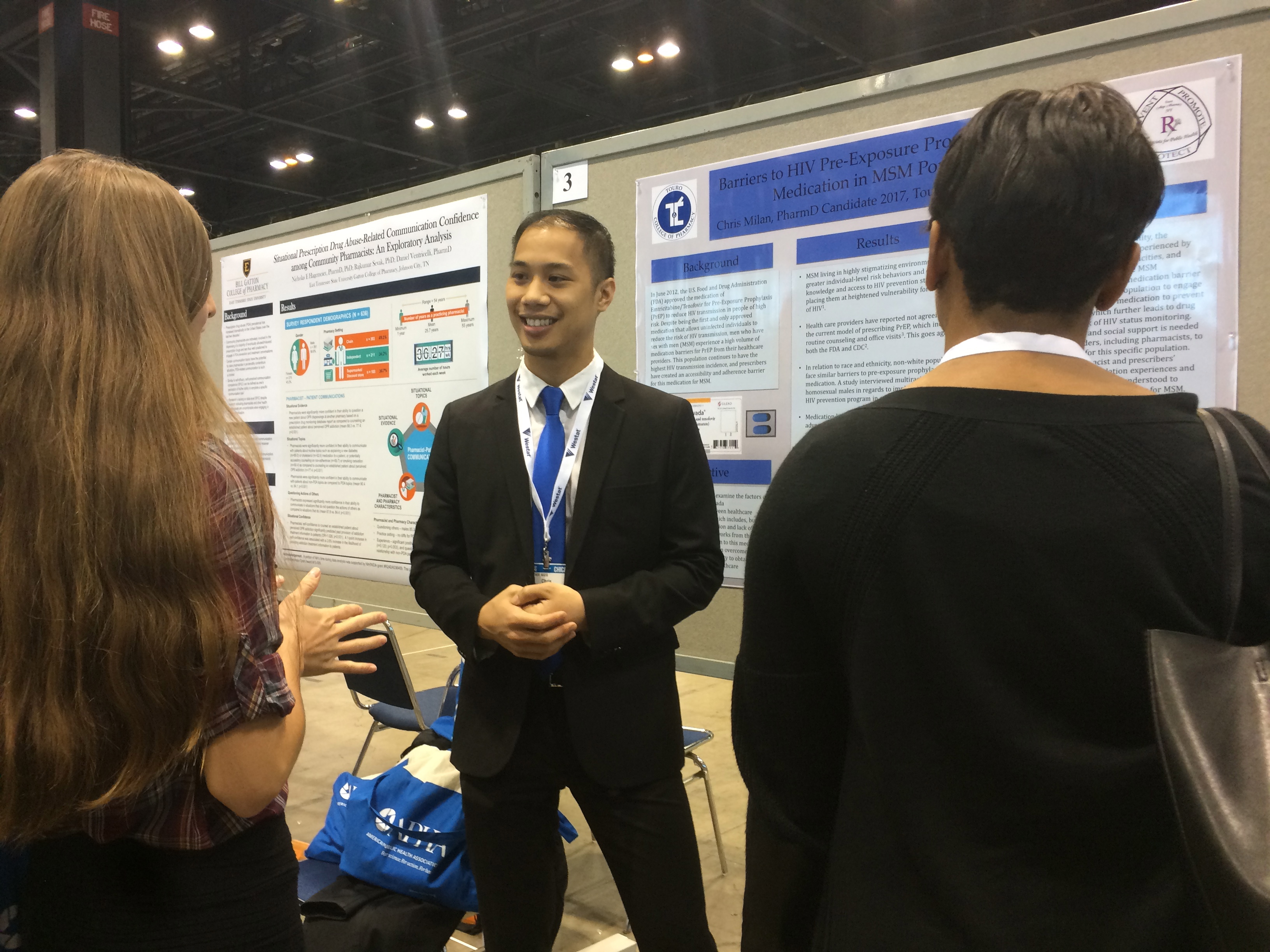 Last month, PharmD Candidate Chris Milan delivered a poster presentation on "Barriers to HIV Pre-Exposure Prophylaxis (PrEP) medications among gay patients" at the American Public Health Association's 143rd Annual Meeting and Expo at McCormick Place in Chicago.
Founded in 1872, the American Public Health Association (APHA) is the oldest and most diverse public health organization in the world, and its annual meeting is the largest gathering worldwide of public health professionals. This year's conference, themed "Health in All Policies," took place from October 31-November 4, drawing a crowd of about 12,000 public health professionals from across the U.S. and around the world…including TCOP's very own Chris Milan, who is the first student in the history of Touro College of Pharmacy to have research accepted by the prestigious organization.
A Class Assignment
For the Vice President of TCOP's Student Government Association, it started as a pharmacy school assignment that grew into something more.
Milan first began researching HIV medications as an assignment in a public health course, in which students were required to answer a clinical question based on pharmacy publications and research. Milan chose to focus on the inaccessibility of HIV medications—a topic he developed interest in while working at a New York outpatient surgery center, where many of the patients had HIV. His original clinical question: "Why are people still having problems obtaining HIV medications when the drug is FDA-approved and, at times, free?"
While researching the topic, Milan realized that the issue was still very new and progressive: The articles he was reading, for example, had only been published in the last 2-3 years.
Intrigued, he kept up with the research even after he handed in his assignment, and slowly began revising his original paper. "I didn't look at it as just a research assignment for class," he said. "I knew it had potential for something more." Using his updated findings, Milan began adding more to his research and, eventually, developing an abstract. A few months later, he submitted this abstract to APHA.
APHA Acceptance
"When I first received the acceptance, I didn't know how big of a deal it all was and how competitive the [APHA] review process was," remembers Milan. "When Dr. [Dipan] Ray told me that I was the first student from Touro College of Pharmacy to ever get accepted, I was astonished. I just gave it a shot…and lo and behold, I got in. It was truly an honor," he says.
The next thing he knew, Milan was presenting his findings on "Barriers to HIV Pre-Exposure Prophylaxis (PrEP) medications among gay patients" to pharmacists, healthcare experts, and other public health professionals at this year's APHA Annual Meeting and Expo in Chicago.
Going Solo
Milan's research was among more than 1,000 scientific sessions presented at the APHA Annual Meeting.
"People actually looked me up in the program agenda and sought out my poster," he says. "I was amazed at how many people were interested in the research."
Although he attended the conference with TCOP faculty member Dr. Ellen Loh and fellow classmates Vered Zino and Mi Bui, Milan was one of the only researchers presenting solo—without a co-author or professor in attendance.
"It was a little intimidating at first," he said, "There were whole teams of researchers there, and then just me! But as more people approached me I grew more comfortable talking about my research, and I think my passion about my research revealed itself in the end."
"Overall, the experience was just awe-inspiring."