PharmD Program
Abraham M. Jeger, PhD, FAODME
Professor
Department of Social, Behavioral and Administrative Sciences
Touro College of Pharmacy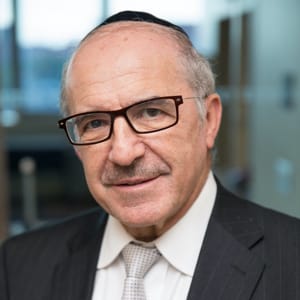 Contact
3 Times Square, Suite 929 New York, NY 10036
Following completion of a Ph.D. in Psychology at SUNY-Stony Brook (1977), Dr. Jeger joined the NY Institute of Technology (NYIT) as a full-time Assistant Professor and continued in various academic and administrative, diversified leadership roles – spanning a 41-year career. He retired from its medical school (NYITCOM) in 2018 as Assistant Dean of Academic Outreach/Site Development and Professor of Psychiatry & Behavioral Medicine, where he previously served as Assistant/Associate Dean of Clinical Education for over 23 years.
Upon his retirement (which lasted one weekend), Dr. Jeger was appointed COO/Associate Dean for Student Affairs at the Touro College of Pharmacy, and Professor in its Department of Social, Behavioral and Administrative Sciences. Since retiring from the dual role of COO/Associate Dean for Student Affairs in 2022, Dr. Jeger continues his passion for developing and implementing leadership curricula for students and diverse health care professionals.
On a personal note, Dr. Jeger resides with his wife, Rochelle, in Lawrence, NY. Born to parents of Holocaust survivors in Sighet, Romania, English is his 5th language. The Jegers are blessed with four children, and numerous grandchildren and great-grandchildren. Dr. Jeger's religious education included Yeshiva Chofetz Chaim in Manhattan and Mesivta Torah Vodaath in Brooklyn. In addition to his professional commitments and rich family life, Dr. Jeger leads weekly study groups on classical and contemporary Jewish thought at the Young Israel of Lawrence-Cedarhurst and the Young Israel of Long Beach. Some of his original essays have been published on-line at www.torah.org.
Education
New York State Licensed Psychologist, March 1979
PhD, Psychology, SUNY at Stony Brook, 1977
BS, Psychology, Brooklyn College, 1973
Honors and Awards
Lifetime Honorary Member Status, Assembly of Osteopathic Graduate Medical Educators (AOGME), 2021
Award of Excellence, Touro College of Pharmacy, 2021
Champion of Diversity, Manhattan-Staten Island Area Health Education Center (MSI-AHEC), 2018
NYS Osteopathic Medical Society – Meritorious Service in Clinical Education Award, 2019
BS., Summa Cum Laude, 1973
Phi Beta Kappa, 1973
Psi Chi ‑‑ National Honor Society in Psychology, 1972
NYS Osteopathic Medical Society ‑‑ President's Citation Award for Rural Medical Education, 1994
NY Colleges of Osteopathic Medicine Educational Consortium (NYCOMEC) – President's Service Award, 2000
Fellow, Association of Osteopathic Directors and Medical Educators (AODME), 2001
Standard of Excellence Award, Office of the Dean, NYITCOM, 2004
Humanitarian Award, Peninsula Hospital Center, 2008
Special Lifetime Achievement Award, AODME, 2017
Research
Needs Assessment for Leadership Education Among Pharmacists
Research Interests:
Leadership Development
Psychosocial Aspects of Health
Professional Service
Member, Advisory Board, the NBOME Comprehensive Osteopathic Medical Achievement Tests (COMAT), 2010-2015;
Member, Advisory Board, NYS Area Health Education Centers (AHEC), 2013-present.
Teaching Responsibilities
SBAN 685 – Leadership: Theory & Practice
Hobbies
Spending time with family and friends; personal development reading; walking the boardwalk & ocean viewing; conducting spiritual classes on Judaic thought; and Talmudic study.