PharmD Program
Joyce Addo-Atuah, PhD, MSc, BPharm
Associate Professor
Department of Social, Behavioral and Administrative Sciences
Touro College of Pharmacy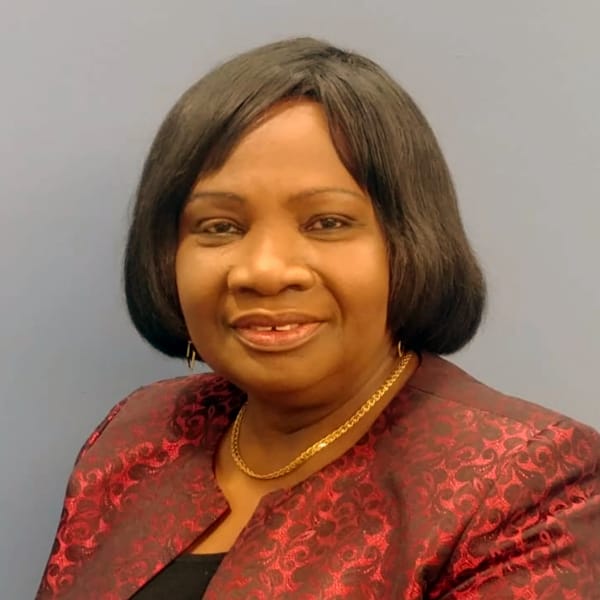 Contact
3 Times Square, Suite 921 New York, NY 10036
As a founding faculty of the Touro College of Pharmacy, Dr. Addo-Atuah brings to Touro, for the benefit of our students, a passion for pharmacy, an experience of pharmacy leadership in a global public health setting, and that of policy formulation and implementation at the national level. Drawing on her experience of working with multidisciplinary and multicultural teams at the clinical and highest levels of health system management, she takes every opportunity to inculcate in Touro students the art of bringing in the pharmacy perspective in all multidisciplinary team discussions and endeavors.
Her global health career with the World Health Organization (WHO) and her global travels, spanning all the habitable continents of the world, have developed her into a true global citizen, enhancing her ability to relate extremely well with the vibrant multicultural student body at Touro. Through her elective courses and Global Public Health Advance Practice Experience in Ghana, Dr. Addo-Atuah is hoping to assist in developing our students into global citizens and competent professionals able to compete in the global market place for fulfilling careers by helping to address the many medicines-related global health challenges of our time.
Clinical Specialty
Global Health, Public Health, Health Policy, Healthcare Systems, Health Disparities & Cultural Competency
Education
PhD, University of Tennessee Health Science Center, Memphis, TN; 2008
MSc, Victoria University of Manchester, United Kingdom; 1992
B.Pharm (Honors), Kwame Nkrumah University of Science & Technology, Kumasi, Ghana; 1977
Honors and Awards
Received the Touro College of Pharmacy Professor of the Year Award for outstanding teaching during the 2017-2018 academic year, May 23, 2018
Associate Editor, Pharmacy Education, journal of FIP (June 2020-June 2023)
Received the Touro College of Pharmacy's Faculty Research Award for delivering scholarship reflecting outstanding research during the 2015-2016 academic year, May 24, 2016
Appointed an International Consultant/Evaluation Panel Member for the Accreditation Council for Pharmaceutical Education/International Services Program (ACPE/ISP) [Jan 2016-current]
Awarded a complimentary print copy of the 4-volume The SAGE Encyclopedia of Pharmacology and Society, 2016 for contributing 6 chapters to the Encyclopedia, January 2016.
Editorial Board Member—Clinical Journal of HIV & AIDS (July 2016—Current)
Editorial Panel Member---EC Pharmacology & Toxicology (Sept 2015-current)
Editorial Board Member---International Journal of Public Health & Safety (July 2015-current)
Editorial Board Member---SOJ Pharmacy & Pharmaceutical Sciences (October, 2014-current)
Editorial Board Member----Pharmacy & Pharmacology International Journal (October, 2014-current)
Review Panel Member for Federal Grants (HRSA & CMS) since 2012
Abstract Review Committee Member—American Association of Colleges of Pharmacy (AACP), Social & Administrative Sciences (SAS) Section since 2009
Abstracts Review Panel Member-International Society for Pharmacoeconomics & Outcomes Research (ISPOR) for their international (US), European, & Latin American conferences
Abstracts Review Committee Member- American Public Health Association (APHA), Medical Care section
Current & regular manuscripts Peer Reviewer for 23 Peer-reviewed journals
Received the New Investigators in Global Health Award by the Global Health Council (May 2009)
Received the ISPOR (International Society for Pharmacoeconomics & Outcomes Research) Distinguished Service Award in May 2007 & 2006 for being the President of the University of Tennessee, Memphis ISPOR Chapter which won the Chapter of the Year Award year award for these 2 years under my leadership.
Research
Central Harlem community residents' perceptions and knowledge of the role and capabilities of the pharmacist in the community setting
Access to health care and the outcomes of such access for various population groups.
Special focus is on access to Antiretroviral Therapy (ART) and outcomes for people living with HIV/AIDS (PLWHA).
Outcomes research in health and education; use of students' perception data for ongoing curricular development.
Healthcare services and systems research.
Public health-related research at the local and global levels
Publications
Addo-Atuah, J. & Gardere, J.(2021, March 18). Breaking down professional and cultural barriers in the classroom: Our experience [Presentation]. TCUS Interprofessional Education Summit.
Addo-Atuah, J., Senhaji-Tomza, B., Ray, D., Basu, P., Loh, F. E., & Owusu-Daaku, F. (2020). Global health research partnerships in the context of the Sustainable Development Goals (SDGs). Research in Social & Administrative Pharmacy, 16(11), 1614–1618. https://doi.org/10.1016/j.sapharm.2020.08.015
Lukas, S., Crowe, S. J., Law, M., Kahaleh, A., Addo-Atuah, J., Nonyel, N. P., Ombengi, D., Singhal, M., Sultan, D., & Tamukong, R. (2020). An Ethics-based Approach to Global Health Research Part 2: Strategies for Overcoming Logistic and Implementation Challenges. Research in Social & Administrative Pharmacy, 16(11), 1580–1587. https://doi.org/10.1016/j.sapharm.2020.07.010
Javaid, S., Kaur, M., & Addo-Atuah, J. (2019, December). A descriptive report of a pharmacy-based HIV education and awareness campaign in a low-income, high-risk, medically-underserved population [Poster presentation]. American Society of Healthy-System Pharmacists Midyear Clinical Meeting and Exhibition, Las Vegas, NV.
Addo-Atuah, J. Gardere J (2019). Medical and Pharmacy Students Developing Cultural Competency and IPE Simultaneously. Book of Abstracts of the 79th FIP World Congress of Pharmacy and Pharmaceutical Sciences, September 22-26, Abu Dhabi, United Arab Emirates.
Haack, S. L., Mazar, I., Carter, E. M., Addo-Atuah, J., Ryan, M., Salazar Preciado, L. L., . . . Barrera Ralda, A. L. (2019). Cultural sensitivity and global pharmacy engagement in Latin America: Argentina, Brazil, Ecuador, Guatemala, and Mexico. American Journal of Pharmaceutical Education, 83(4), [Article 7218].
Addo-Atuah, J. (2018, September). Towards A Unified Understanding of Public Health and Pharmacy. Presentation at the First General Body Meeting of the Pharmacists for Public Health, New York, NY.
View All on Touro Scholar
Professional Service
Chair-Elect, Global Education SIG of AACP (May 2020-May 2021); Chair (2021-2022); Immediate Past Chair (2022-2023)
Christian Pharmacists Fellowship International (CPFI)
Interim Chair, SBA Department (July 2017-July 2019)
Chair, Global Health Committee (2016-current)
Chair, ACPE Self Study Subcommittee for Section II-Structure and Process to Promote Achievement of Educational Outcomes (Jan 2017-current)
Chair, Faculty Council (July 2015-March 2017)
Member: (1) ACPE Self Study Steering Committee; (2) Admissions & Recruitment Committee; (3) Promotions Committee; (4) Interprofessional Education (IPE) Committee; (5) Co-Curricular Committee; (6) PharmD/MPH Dual Degree Taskforce (2016-current).
Chair, Academic Standing Committee (Jan 2009-Mar 2014)
Chair, AdHoc Committee on Global Education (Jan 2012-Mar 2014)
Faculty Advisor, Student National Pharmaceutical Association (SNPhA) & Pharmacists for Public Health (PPH)
National Pharmaceutical Advisor for Ghana, World Health Organization (WHO) Country Office, Accra, Ghana, Jan 2002- July 2003
In Charge of Clinical Pharmacy Services, Police Hospital, Accra, Ghana, 1992-2001
Member, Ghana Health Service Council (GHSC), 1998-2003
Chair, Appointments & Promotions Committee of the GHSC, 2000-2003
Member, Pharmacy Council, Ghana (regulatory body); 1999-2001
Hon Treasurer, Pharmaceutical Society of Ghana, 1998-2003
National Chairperson, Lady Pharmacists Association of Ghana, 1999-2001
Teaching Responsibilities
SBAN 504 - Healthcare Systems & Health Policies
SBAN 640 - Global Health
SBAN 560 - Cultural Competency
SBAN 570 - Professional Practice I|
PHRM 800A - Global Public Health Advance Practice Experience in Ghana
Hobbies
Traveling-learning about new places, people, & cultures and reading