PharmD Program
Tyler Maxwell, PharmD, BCIDP
Assistant Professor
Department of Pharmacy Practice
Touro College of Pharmacy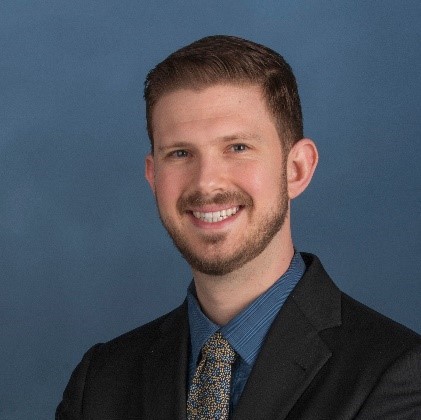 Contact
212-851-1192 ext. 42584

Three Times Square, Suite 905 New York, NY 10036
Areas of Expertise
Infectious Diseases
Biography
Dr. Maxwell was originally born in Merced, California and moved to Colorado to complete his undergraduate and pharmacy education. After graduating in 2019, he concluded his move across the United States and began residency in New York. He is excited to be a part of Touro College of Pharmacy and continue working at SUNY Downstate in Infectious Diseases. His interests include Microbiology, Medical Bacteriology, and Emerging Infectious Diseases.
Clinical Specialty
Infectious Diseases
Education
PGY-2 Infectious Disease Pharmacy Practice Residency - SUNY Downstate Medical Center, NY, 2020-2021
PGY-1 Pharmacy Practice Residency - Stony Brook University Hospital, NY, 2019-2020
PharmD, Regis University, CO, 2019
Bachelor of Science – Microbiology, Colorado State University, CO, 2014
Research
Infection of Trisomy-21 and Disomy-21 cells and observed downstream effects.
Evaluation of the Effectiveness and Sustainability of a Pharmacist-prompted Antibiotic Time-out Program
Continuous infusion of Ketamine for Sedation in Mechanically Ventilated Patients Infected with SARS-CoV-2
Outcomes and Risk Factors for Fungal Coinfections in COVID-19 Patients
Evaluation of Clinical Outcomes of Empiric Antimicrobial Regimens for Patients at Low Risk of Methicillin-resistant Staphylococcus aureus
Outcomes Associated with Broad-Spectrum Antibiotic Use in a Level III Neonatal Intensive Care Unit
Recent Presentations
Selected Presentations:
A Tale of Two Disease States: Extrapulmonary Tuberculosis vs. Hemophagocytic Lymphohistiocytosis
Its Time to Break the Mold: Invasive Pulmonary Aspergillosis
Treatment for Gonococcal Infections: 2020 CDC Updates
Low Dose Intra-Catheter Antibiotics: "Locking out" the Bad Guys
Vancomycin Monitoring: AUC-ing the way into the future
Carbapenem-Resistant Klebsiella pneumoniae Infection
Tick-Borne Diseases of Long Island: Prevalence and Effective Therapies
CEs
2022: Updates in COVID-19 Pharmacotherapeutics
Anticipated 2022: Enough Monkeying Around! What you should know about Monkeypox
Memberships and Affiliations
American College of Clinical Pharmacy
American Society of Health System Pharmacists
Society of Infectious Diseases Pharmacists
Infectious Diseases Society of America
Teaching Responsibilities
PHPN 835 – Seminars in Pharmacy Practice III
PHPN 722 – Comprehensive Patient Care Management
PHPN 683 – Pharmacotherapeutics III
PHPN 834: Seminars in Pharmacy Practice II
PHPN 784: Pharmacotherapeutics IV
Abstracts
ID Week 2021:
Maxwell T, Kanner E, Hernandez N, et al. Impact of the COVID-19 Pandemic on Diabetes Surrogate Markers in a Population of People Living with HIV. 2021.
Maxwell T, Orban J, Kufel WD, et al. Comparative Outcomes Among Patients Receiving Varying Daptomycin Dosing Regimens in Hemodialysis. 2021.
Hobbies
In his free time, Dr. Maxwell enjoys gardening, cooking, and taking care of his husky. He also enjoys scuba diving and skiing when the occasion presents itself.