Admissions & Aid
Student Ambassadors
Get the real scoop from current students. These P1 (first year), P2 (second year), P3 (third year), and P4 (fourth year) volunteers can answer your questions about the pharmacy school curriculum, facilities, student life, commuting to our 3 Times Square Campus, and more. Feel free to reach out to them! Please use "Student Ambassador" in the subject line so they know to look out for your email, and allow them a couple of days to respond – they're juggling the many responsibilities of our PharmD students!
A message from our ambassadors: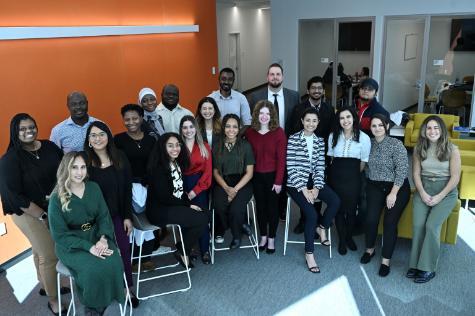 'We are thrilled to extend our warmest greetings to you. As enthusiastic representatives of TCOP, we are committed to sharing our unique experiences and insights with prospective students.
At TCOP, we take pride in fostering an environment of academic excellence, hands-on learning, and community engagement. As ambassadors, we embody these values and strive to showcase the vibrant tapestry of opportunities available here.
Navigating the pharmacy education journey can be an exciting but complex endeavor. That's why we're here to offer guidance, answer questions, and provide a firsthand perspective on life at TCOP. Whether it's about coursework, extracurricular activities, or finding the best study spots on our 3 Times Square campus, we've got you covered!
TCOP is a place where diversity is celebrated, and inclusivity is cherished. We come from various backgrounds, cultures, and walks of life, contributing to the rich experiences that define and shape our community.
We believe in the power of connections. Touro College of Pharmacy is not just a place of learning; it's a platform for growth, innovation, and leadership. As ambassadors, we're excited to inspire and support you in your journey to pharmacy school
Feel free to reach out to us with any questions. We're here to assist you in making your TCOP experience exceptional.'
Hi all! l live in New Jersey and I am of Nigerian heritage. I spent my undergrad years at Rutgers university, where I majored in biology and minored in chemistry. There I also interned as a research assistant and worked alongside professors. Science and health have always been my passion so I knew I would always find myself in this field. Having the opportunity to attend Touro College of Pharmacy has been a dream come true and such a huge step towards attaining my goal of becoming a healthcare provider. When I am not studying, you can find me watching movies, traveling, or catching up with friends. I am super excited to share with you all the tips and lessons I have learned thus far. Please feel free to reach out to me whenever. Wishing you all a great school year!
Hello and welcome! In addition to being a Doctor of Pharmacy candidate at TCOP, I am also enrolled in the Master of Public Health (MPH) program offered with New York Medical College through the PharmD/MPH collaborative program. Prior to joining TCOP, I graduated Magna Cum Laude from City College of New York with a Bachelor of Chemistry in 2021. During my undergraduate studies, I was determined to pursue a future in healthcare, so I became a certified pharmacy technician. As time progressed, I was fortunate enough to apply my knowledge as a Pharmacy Technician at CVS Pharmacy, a Patient-Care Coordinator at CareMed Specialty Pharmacy, then finally as a Pharmacy Technician at Walgreens Pharmacy. TCOP's faculty, diverse student body, and their dual-degree PharmD/MPH program are some of the many reasons why your pharmacy career would thrive at this institution. I am excited to have the opportunity to aid in your transition to TCOP, and I am always happy to help, please don't hesitate to reach out about anything, I'll always available to you guys.
Hi everyone! I love Touro and am very excited to be able to share my knowledge and enthusiasm for all the school has to offer. Coming from Massachusetts was a big transition for me, but with the help of the students and staff at Touro, I've felt so welcome and comfortable to learn and grow with my peers in pharmacy school. When I'm not studying, I enjoy doing yoga, exercising, and being outside. Iced Caramel Macchiatos are my favorite go-to drinks and add a boost of flavor to the start of my days. I am also trilingual and love learning new languages so that I may connect with others in their native tongue and immerse myself into other cultures. Feel free to reach out if you have any questions about life at Touro and life as a pharmacy student. We've all been where you are now, trying to decide on the path ahead, and if I can help in any way, it would be my pleasure.
Hey guys, I'm from Bronx, New York and I came to Touro from Lehman College. Working as a Pharmacy Technician for more than 7 years has more than prepared me to take on pharmacy school. When I'm not studying or working you can find me playing video games and traveling. A bit controversial but I love pineapple on pizza! My experience at TCOP has been amazing so far. Being at a small school allows me to get to know everyone on a personal level and everyone is eager to lend a hand if you need. So if you need any advice, have any burning questions or just need to chat feel free to email me!
Hi everyone! I grew up here in New York and attended Muhlenberg College in Allentown, PA where I studied Biology and Public Health. During my last two years of college, I worked as a pharmacy technician at CVS Pharmacy. Outside of school, I enjoy long walks, building Legos, and meeting all the dogs NYC has to offer. I look forward to experiencing more of TCOP by building connections with peers and faculty, and joining organizations around campus! I look forward to meeting you, and helping you on your pharmacy school journey!
Hi! I was born in Albania but raised in Brooklyn. I graduated Hunter College with a bachelor's degree in Biology. Having over six years of pharmacy experience as a Certified Pharmacy Technician motivated me to pursue pharmacy as a lifelong career. Throughout my first year as a pharmacy student, I had the privilege of being a part of the Student Government Association where I represented my class. However, the most heartwarming title I have is being a mom. Being a mom, working, and a student has its challenges but being a part of Touro has made this much easier. I look forward to meeting you all in person and please don't hesitate to reach out with any questions you may have.
Greetings Future Students! I am a pharmacy student at our new and beautiful 3 Time Square campus, in the Heart of New York City! As a Florida native transitioning to the Big Apple can be a challenge, but with the right community and involvement at Touro, you are sure to have a much easier transition. I am a non-traditional applicant, with a B.S. in Health Care Management (2014), and Master of Public Health (2017) from a Historically Black College/ University, Florida A&M University. This experience affords me a unique perspective to promote Touro's commitment to diversity and inclusive campus life. I am excited about the unique experiences and opportunities available here for you. Please feel free to contact me if you have any questions. We are rooting for your success and are here to support!
Hey there! I am originally from Queens, NY but moved upstate for four years to complete my Bachelor of Science in biology from SUNY, University at Albany. I enjoy listening to music, painting, and I am an aromatherapy enthusiast. As intimidating as your pharmacy school transition may seem, just know that Touro fosters a perfect combination of big resources and a tight-knit community. I am so proud to be a part of a community that actively works to make their students feel valued on campus. Please feel free to contact me, I will be more than happy to answer any questions you may have!
Hi! Although my name is Sol I go by Selene. I am super excited to have reached my APPE rotations. I was born and raised in Brooklyn, New York, and always loved living in a big city. Prior to joining TCOP, I graduated Cum Laude from Hofstra University with a Bachelor of Exercise Science while being on the pre-med track. In 2019, I volunteered at a hospital, where I was exposed to clinical pharmacists' job, and was amazed by their role in patient care. Soon afterward, I began to explore the pharmacy field and decided to attend the info session at TCOP. Right from the start, I knew this school was for me. I was attracted to the small class size, which fast-forward today is like my second family. When I am not studying, I enjoy traveling, exercising, and baking! I am happy to help you learn more about TCOP and NYC life as a pharmacy student. Looking forward to hearing from you and seeing you around campus!
Hello and welcome! I was born and raised in the Bay Area, California but moved to New York City to attend Touro College of Pharmacy. I graduated from the University of California, Berkeley in 2017 and worked in Silicon Valley shortly after graduating. Although working in the field of tech was fun and exciting, I decided to pursue a career more catered to my passion for science, preventative medicine and giving back to my community as a culturally competent healthcare provider. It was very intimidating at first to change careers and go back to school after a long period of time but Touro provided me with the perfect resources and a tight-knit community needed to succeed in the field of pharmacy as a student. Please feel free to email me for any questions or advice you may need!
Hello! Originally from Harrisburg, PA, I am a bilingual first generation Hispanic American student who graduated from Lebanon Valley College, with a major in Neuroscience and minor in Psychology. It was following the completion of a master's in pharmacology, at Georgetown University, along with my experience as a pharmacy technician, that I discovered my love and passion for pharmacy. At times when I am not studying, I am most likely working out or spending time with family and friends. I always enjoy sharing my insight with others and look forward to answering any questions you may have. Feel free to email me at any time!
Hello everyone! Born and raised in New Jersey, starting school in NYC was a challenge for me but getting involved on campus and utilizing all the tools Touro offers allowed the transition to be smooth and effortless. In my free time, I enjoy going to sporting events, watching a film at the cinema, and going to the gym. I graduated from Stevens Institute of Technology with a biomedical engineering degree in 2018. As a non-traditional applicant, I took some time to work in the medical engineering industry between undergrad and Pharmacy. This has given me a unique perspective on how industry experience can impact education and vice-versa. Feel free to reach out if you have any questions at all about the Touro experience and how TCOP can enable you to reach your goals.
Hello! I am a first-generation college student. I graduated from CUNY Hunter College with my BA in biological sciences and Davenport University with an MBA in healthcare administration and management. I am passionate about clinical research, medicine, public health, and pharmacy. I hope to one day work as an infectious disease clinical pharmacist. Touro has allowed me to explore my interests through its academic courses, professional affiliations, and extracurricular activities. When I am not in school, I am an avid cook and love cooking, and spending time with my family. I am honored to be a resource for you all, please do not hesitate to reach out if you have any questions or simply want to connect! Remember: Just be yourself and enjoy the ride!
Hello everyone! I graduated from Rutgers University-New Brunswick with a Dual Degree in Public Health in only three years time. I truly love to volunteer and help those in need since it has always been a great passion of mine. This ultimately led me towards choosing a career in Pharmacy. Other than school and extra-curriculars, I love to bake, play with my puppy Coco, and ski. Please do not hesitate to reach out with any questions or concerns. Here at the Touro College of Pharmacy, we are an uplifting family of future colleagues.
Welcome to Touro College of Pharmacy! The TCOP family and I are very excited to meet you as you embark upon your journey into the field of pharmacy with us.
I was born and raised in a small town in rural Guyana then moved to New York when I turned 18 years old. I have an AS in chemistry from the University of Guyana and a BSc in biology from Long Island University Brooklyn. I first discovered my passion for the field of pharmacy while working as a Pharmacy Technician Trainee at CVS Pharmacy. Since then, I have been a certified pharmacy technician for approximately 7 years in a variety of pharmacy settings, such as long-term care, specialty as well as hospital pharmacy at Cohen Children's Medical Center. My primary area of interest in the field is clinical pharmacy centered around pediatric specialization.
Some of the activities I enjoy during my downtime are weightlifting and restoring vintage furniture. Maintaining a healthy balance between these activities and my academic life has given me a chance to enjoy the journey through pharmacy school thus far.
I look forward to seeing you on campus. If you have any questions, concerns or need suggestions on how to navigate student life at TCOP, please feel free to contact me.
Hi! I was born and raised in California. I graduated with a Bachelor's in Biology from Mercy College in Westchester, NY and I have a Master's in Science from Touro College, Harlem. My mother is a pharmacist who had worked for retail and eventually opened up 2 of her own independent pharmacies in her name. Growing up, I would see how important pharmacists are in the healthcare community. My goal is to become a clinical pharmacist and give back to my community. TCOP is the epitome of diversity, hospitality, and inspiration.
Welcome to TCOP! I was born and raised in New Jersey. In 2018 I graduated from Rutgers University, New Brunswick with a BS in Public Health and concentration in Modern Greek Studies where I served as president of the Rutgers Club Softball team. I am proud to share that I have recently been elected to the position of Student Government Association President for the 2023-2024 academic year as well as Vice President of the American Society of Consultant Pharmacists on campus. I love being an advocate and problem solver for my peers which lead me to become a student ambassador. When I am not on campus, I enjoy playing softball, soccer, or basketball, snowboarding, going to Yankee games, and traveling especially to Europe! Not only do I respect people who eat pastries for breakfast, I practice the art myself. Can't wait to see you on campus!
Hello and welcome to TCOP, my name is Dylan. I attended college at Stony Brook University however, during my junior year I left Stony Brook and my bachelor's degree behind and transferred to TCOP. This created several obstacles for me to overcome and I've learned much from this experience. Currently I live in Nassau county and drive each day to Touro which provides me with many insights about commuting to TCOP that I'm happy to share. I look forward to exciting you about the unique aspects of TCOP and providing you with support while you are here. Feel free to email me with any questions or concerns you may have.
Hi! I am proud to call Brooklyn my hometown. After graduating from Wesleyan University with a double major in Biology and Italian Studies, along with a minor in Chemistry, I spent one year exploring healthcare professions during which I had the opportunity to shadow a team of hospital pharmacists. Witnessing their commitment to ensuring the best possible patient care solidified my desire to pursue a career in pharmacy. I'm eager to further explore the wide array of pharmacy experiences that TCOP offers its students, starting right from the first year.
As a student ambassador here at Touro College of Pharmacy, I'm excited to share my experiences and insights with you. I understand the difficulties and rewards of starting a new academic chapter, especially in the vibrant environment of New York City. When I'm not busy with my studies, you can often find me taking dance classes, staying active in the gym, or exploring the endless culinary delights that NYC has to offer. Please don't hesitate to reach out if you have any questions or if there's anything I can assist you with!
Hey everyone! I am a native New Yorker who received their Bachelor's Degree from SUNY Empire for Biochemistry. I have 10+ years pharmacy experience as a retail pharmacy technician and a hospital Medication History Technician. My life revolves around 3 major factors; my family, traveling, and movies. My motivation is my daughter who reminds me everyday of why I started this journey. My motto in life is keep upgrading, and Touro has allowed me to continue that. I look forward to working with all of you and feel free to reach out anytime.